Jasper Celebrates building tourism product from the ground up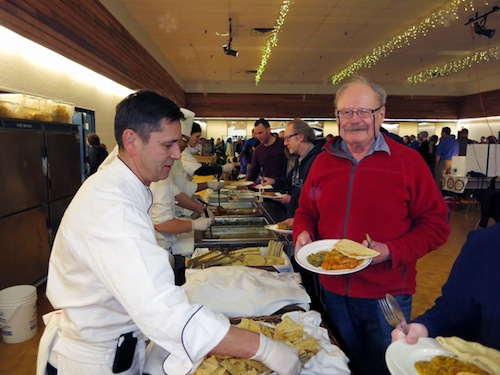 Jasper's famous Community Dinners were started when Jasper recognized front line staff could use a hot meal in the cold winter. They've since evolved into a community gathering.
Photo courtesy Jasper Rotary Club
BOB COVEY
Like my dad in a pastry shop, Jasper has always been susceptible to turnovers.
For many newcomers, a variety of factors make this town a 'stop'over, rather than a settling down point, but despite Jasper?s transient nature?maybe even because of it?there is a strong sense of cooperation imbued in Jasper?s general population.
You see this at the weekly Community Dinners, a winter event unique to Jasper. The Sunday night dinners bring residents of all ages to break bread together and embody the collaborative spirit. Hotel staff can be seen sitting next to senior citizens; families line up with lifties. Everybody is welcome to the by-donation dinners, which usually feed about 400 people anything from butter chicken to wieners and beans.
?The dinners are a chance for residents of all backgrounds and life stages to meet each other,? says Kathleen Waxer. Waxer is the director of the Community and Family Services department, which spearheads the volunteer-run program. She estimates they?ve put out more than 15,000 plates.
?It?s amazing. There?s always more volunteer groups wanting to cook than we can use,? she says.
The dinners have run for 10 years, but there?s a host of events and activities that happen in Jasper where camaraderie and collaboration are on display. The annual Winter Pentathlon, summer Farmer?s Market and myriad fundraisers come to mind.
Jasper has a reputation as a party town, but at its core, it?s a caring community. Just ask Janet Barker, who has raised money her whole life for community health projects.
?People in Jasper are always opening their hearts,? says Barker, who?s 85. ?It?s amazing how much people will give when they know it?s for the community.?
Now, tourism experts are hoping to leverage this compassionate capital. Consultant Laura Campbell says with a little foreplanning and an open mind, Jasper businesses can learn from the fellowships, which have become familiar to non-profit organizations.
?Jasper?s safe, everybody?s friendly, there?s a strong community spirit here,? she said. ?And there?s also so many people here with so many amazing skills.?
Campbell, who was born in the UK, 20 years ago fell in love with the town and its awe-inspiring surroundings. In 2005, she moved here permanently. Now that she?s got her own sense of the spirit, Campbell thinks Jasper?s ability to work together can help fill the seams so the community?and the iconic tourism destinations that encompass it ?can be properly celebrated.
?If everybody can work together to make Jasper as a whole this amazing product, the health and well being of residents will improve,? she said.
What makes Jasper Celebrates different than other marketing exercises is the effort partners are putting into giving young staff a better experience in Jasper. Campbell wants to work from the ground, up.
Cooking classes, discounts on must-do experiences and life-skills training opportunities are some of the ways the Jasper Celebrates team are hoping to give new recruits a value-added working experience.
?We want to make sure Jasper?s staff love it here,? Campbell said.
While their ultimate gain is to make Jasper a more sustainable tourism product, it?s nice to see new staff are top-of-mind for Campbell and the Jasper Celebrates campaign. After all, it?s to the entire community?s benefit that young adults who come to work here for a season feel supported by their employers and their community.
?If you look after your staff, customer service is just a given,? Campbell said.
Kathleen Waxer would probably agree. 
For more stories and detail on Jasper check out our SnowSeekers' destination page.