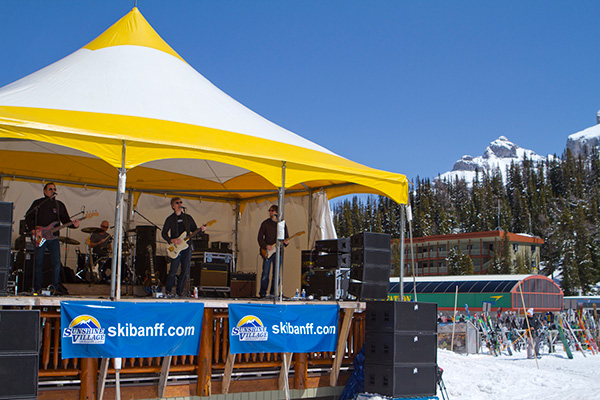 Sunshine Village can proudly say it has the longest ski season in North America. Starting April 20th is the Spring Concert Series, which each weekend features a different band and it goes right to May 19.
Photo courtesy of www.skibanff.com
DOC POW
FERNIE, BC - WOW! How about the mountains we skied and ripped this past six months receiving so far 603 feet of POW this season! Don?t believe me, check out our snow conditions page and add up all the total snowfall counts from the resorts SnowSeekers? covers.  That works out to be around 60 storeys of snow!
We?re well into spring ski season and by the looks of those base packs we could be skiing until Canada Day if we wanted to. I know I do.  Rad that in addition to all that snow we get to enjoy epic patio sessions in the sunshine, and there?s also a buffet of kick-ass events to ensure a spring ski season that?s stellar.
May 10 ? May 12
Banff
Rocky Mountain Wine & Food Festival - On Friday and Saturday, Banff will be hosting the largest and most exciting food and wine event in Alberta. Come to Banff to sample various wines, scotch, import beer, and premium spirits. Taste the gourmet food of Banff's local restaurants and hotels as well. Visit our festival overview page for more information.
Sunshine Village
Spring Concert Series - TR3 is bringing their R&B style music that gets people dancing on Saturday. They've been named "Banff's best local band" by Rolling Stone magazine.
On Sunday, Funk & Disorderly will bring the funk to the mountain.
May 18 - 20
Spring Concert Series - On Saturday and Sunday, The Steadies bring their "island-rock" music to transition your mood from the mountain to the beach.
85th Annual Slush Cup - The Slush Cup has been adopted by many resorts, but it's here at Sunshine Village that the craziness started. The May long weekend will bring thousands of spectators to the base of the ski resort for the wacky competition. Read the history of the Slush Cup here.
The party doesn't stop here. Come to Festival Seekers to find out how much there is to do in the summer months!