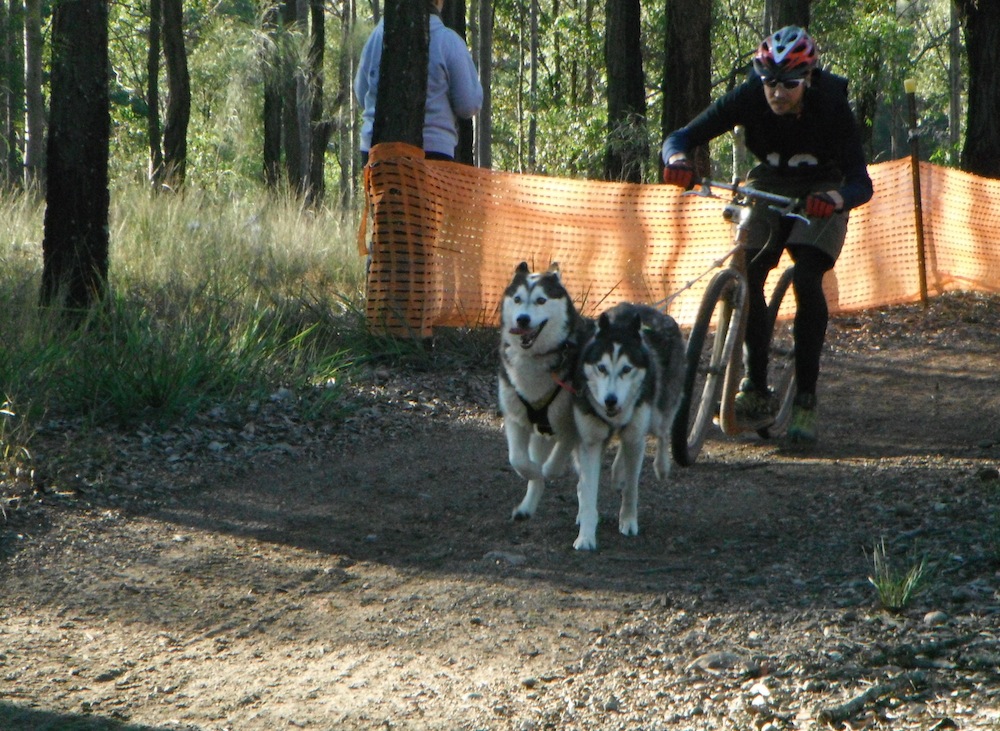 Scootering is one of four categories in the Hunter Valley Dryland Racing.
All photos by Richard Long
RICHARD LONG
HUNTER VALLEY, AUSTRALIA - The 2013 Hunter Valley Dryland Race was not dry, not dry at all.  In the early morning, I awoke from the rain hammering down on the metal roof of my accommodations in Australia's Blue Mountains.  Rain means mud and I thought to myself, "This race will be a slow race."
The 'dry' in dryland racing does not refer to the dusty hard-packed earthen trails but rather to a lack of snow – and cold toes, fingers, and ears.  In my years of volunteering as a veterinarian at sled dog races I have experienced my share of numb noses.
After my first experience with sled dogs in 1986, I was hooked. I have volunteered at two, sometimes three long-distance races a year since then.
As a member of the ISDVMA (International Sled Dog Veterinary Medical Association) I help race organizations and governments set rules and regulations, monitor the health of dogs at races, perform drug testing, encourage research into sled dog medicine, and set up sled dog medicine conferences around the world.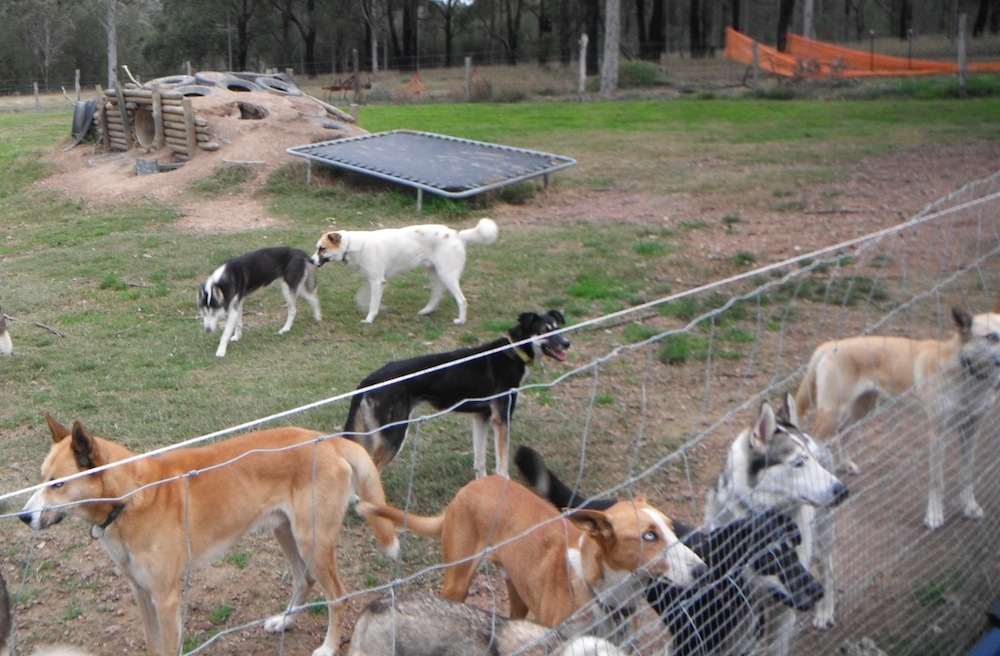 Purebred Siberian Huskies and their crosses can outperform any other animal in speed and pulling power.
I've seen sled dog and dryland races in Alaska, the Yukon, the northern States, Spain, Russia, Norway, South Africa, and now Australia. 
Long-distance sled dog races are up to 620 kilometres long and to be classified a winner, racers have to complete the distance in less than 10 days. Various checkpoints are set for resupply and mandatory examinations done by the vet crews. Sport medicine for dogs at this level is challenging on its own.
It becomes a whole other level of challenge when one is working past an 18-hour shift in mid-Alaska's February temperature, in the dark.
In Alaska and the Yukon, dryland racing is summer training.  In the southern hemisphere, dryland racing is the main event.  Most races are short sprint distances under five kilometres.  South Africa hosts one race, which is 150 kilometers in three days of stage racing.
North of Sydney, Australia is a wine growing and coal-mining region named Hunter Valley. The 13th annual Hunter Valley Dryland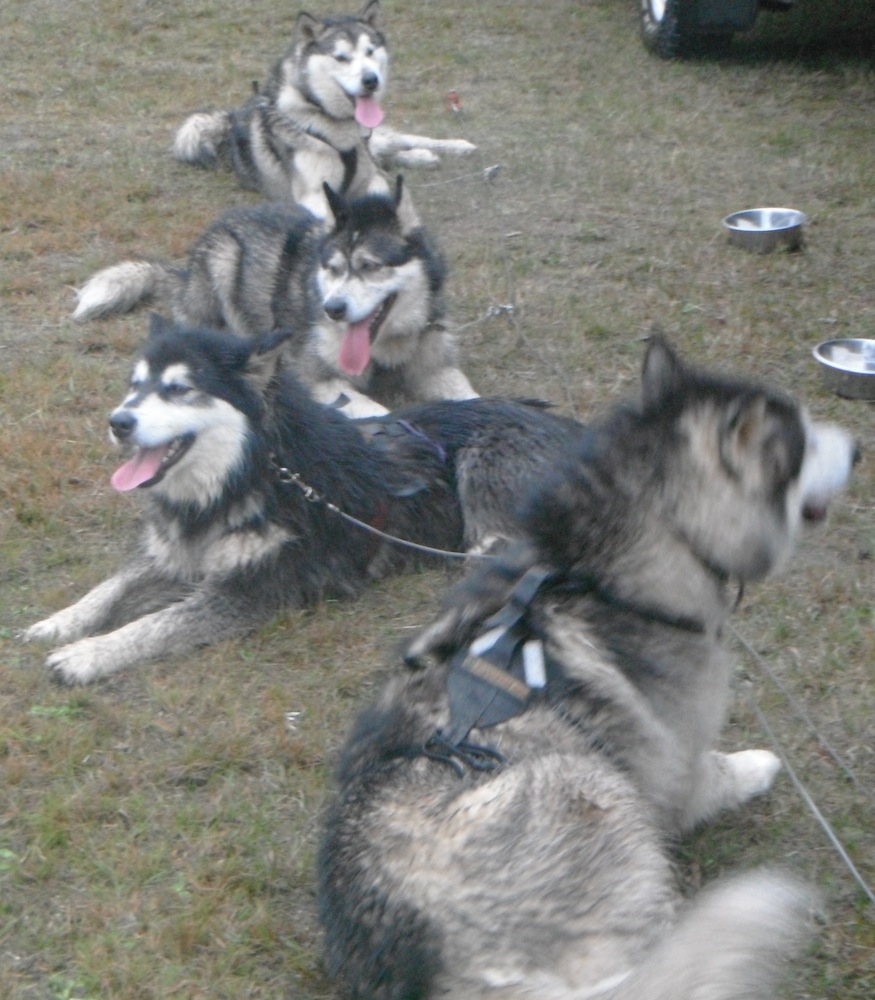 The elite canine athletes take a water break.
Race had 32 entrants from around eastern Australia competing in canicross, bikejorring, scootering, and/or carts categories.
In canicross, runners attach a jet engine in the form of a sled dog to their waist and run fast.  Bikejorring is a dog or two attached to the stem of a mountain bike.
Scootering attaches one or two dogs to a two-wheeled bike with a low platform and no pedals. Carts are three or four-wheeled low-slung chariots.
The engines for these conveyances are some of the elite running athletes of the world.  Purebred Siberian Huskies and their crosses can outperform any other animal in speed and pulling power.
They are certainly different from the housedogs I see in my veterinary practice in Stony Plain.
As event veterinarian at these races it is my responsibility to keep the athletes safe and healthy.
Despite all the trials and tribulations as an event vet, the opportunity to work with elite canines and meet some very interesting characters in some of the most beautiful places in the world is its own reward.
Check out our newest stories on SnowSeekers.ca on the right-hand sidebar