Originally posted in 2014 
Marmot looks into the future with expansion plans

Get ready for a great winter season in Jasper.
Photo by Bob Covey 
JOHN KOROBANIK
JASPER - It?s time, skiers and snowboarders, to get out your gear and stretch out those leg and back muscles.
That?s right, ski season is upon us with Alberta?s Big 3 Rocky Mountain resorts ? Lake Louise, Sunshine and Marmot Basin - all planning to open next week. Still weather dependant, of course, but Louise has opening day set for Nov. 13 while Marmot and Sunshine are looking at Nov. 14.
It will be early season conditions so skiers and boarders are reminded to be cautious because while the runs will look fabulously white, the snow may not be packed everywhere. 
Six months of downhill fun
It?s the beauty of snowmaking that allows Marmot and Louise to open next week.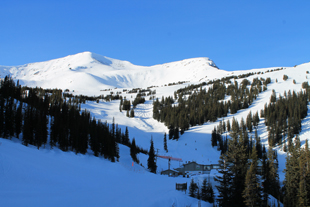 Snowmaking allows for an extra long ski season in Jasper.
Photo by Doc Pow
?If we didn?t have snowmaking we would open somewhere around the end of November, the middle of December, two days before Christmas, I?ve done it all,? says Dave Gibson, Marmot president.
Snowmaking allows for an extra long ski season in Jasper with the closing day falling on the first Sunday in May. That?s six months of downhill fun.
New hotel for Jasper
Technically, it?s not new, but when the Crimson is fully open in December, it will essentially be a spanking new hotel in its old skin. The outside walls of the old Amethyst Lodge will be all that remains, after a multi-million-dollar renovation by the Mountain Park Lodges group.
Everything inside was basically gutted and the hotel rebuilt from the inside, said John Day, part owner and managing director of MPL. ?It is a brand new hotel.?
The hotel will feature all new rooms with kitchenettes, swimming pool, hot tubs, fitness facilities and a restaurant with an extensive menu. The Crimson has 29 rooms open now.
Mary Darling of Tourism Jasper said there are also renovations underway at the Sawridge and Jasper Park Lodge. The hotel rooms at both properties are all undergoing renovations in the past two years and that will continue over the next couple of years.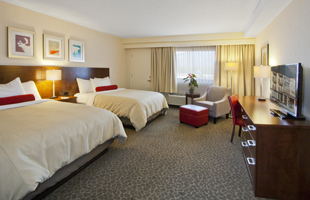 The Amethyst Lodge, after a multi-million-dollar renovation.
Photo by Kevin Henderson
A look into Marmot?s future
Gibson told a gathering in Edmonton this week that having spent about $30 million on Marmot Basin since the ownership group headed by Day took over in 2003, he still has big plans for the future.
The new long-range plan calls for snowmaking over the entire resort, expansion of the Caribou Chalet, doubling the size of the parking lots, widening the road and upper mountain glading.
Down the road, he sees the Knob Chair gone and replaced by a quad to the peak of the mountain, giving access to the huge bowl above the Knob, cross-country skiing, a children?s area, maybe even a lift in Outer Limits.
?They?re not pie in the ski, they?re real and they?ll happen,? Gibson said, adding that one of his big goals is to get Tres Hombres open.
Gibson said he hopes Park Canada approval for the new long-range plan comes before Christmas.
For the latest deals, snow reports and contests, sign up today to our SnowSeekers e-newsletter.