DOC POW
BANFF, AB — This season has really gotten off to an epic start and with big snow dumps early this season, it means everyone has lots of snow to play in or with, including the terrain park team at Sunshine Village. I caught up on the scene at Sunshine's Rogers Terrain Park from its supervisor, Tim Hyndman.  
With a team of 10, 12 acres of land and some serious snow, Hyndman's been living the dream.  He started with Sunshine 10 years ago and two years later, he received an offer he couldn't refuse. 
"They were looking for someone to develop the terrain park up here," said Hyndman. "It was the chance for a dream job."  
Input from everyone  
Sunshine's park used to be just one or two jumps, with Hydman's help, it's now evolved into an amusement park which he figures will offer up 50 features by the end of the season.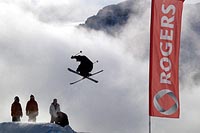 Sunshine's Rogers Terrain Park
Courtesy SUNSHINE VILLAGE
Much of the team's time this month has been spent snow farming – technologies learned off Goat's Eye – cultivating the white stuff and getting it ready for some serious sculpting. aving Havddfa
One thing that came across loud and clear during our time exploring the park's potentials is the strength in his team.  
"My guys study the latest ski and snowboard magazines like bibles, everyone of them brings in different elements. Scott is a big skateboarder, Zach brings a big urban component – they all bring something specific to the table," said Hyndman.  "So when it's time to sit down and say, 'OK so what do we see in our park this year?' the ideas come fast and furious."  
The fun part for them now is making the plans reality. 
Keeping the flow
"All of my crew are locals, we don't bring professionals in at the top of the season who build our park and then hand it over to a cat driver to take care of. We are in here every day shaping, and improving the flow."  
That flow he speaks of is the terrain park features, the jumps and hits, matched to the landing and the run you'll have up to the next one – it's their goal to keep it smooth. Hyndman's team has a combined 26 years experience building what they describe as, "workable, trick-able features."
"There is a certain amount of people who are looking for a terrain park and these elements, if you don't provide that in a safe environment they might be off and finding it themselves," said Doug Firby, Sunshine's associate director of Communications.
A mountain of opportunities
 "Sunshine offers this incredible variety of options, from big mountain riding with some really challenging terrain, an exceptional terrain park or great family opportunities. With over 3,300 acres we've definitely got the space so let's build a great park," said Firby.
"It's awesome to see families heading into the park, where the parents will take on certain features and the kids will take to others," said Hyndman.  
A big part of the offerings is something for everyone; an idea Hyndman's team is focusing on, creating even more beginner or intermediate features. And for those of us who may need a little guidance on the art of the Lincoln Roll or on how to improve our air time, Sunshine's Ski and Snowboard School is there to help.  
Mom, Dad this includes their specific "Park Riders Program" a multi-weekend offering for those 11-17 years of age. Go rig the kids up with a stellar adventure for the weekend while you shred the slopes on your own. 
For more stories and detail on Sunshine Village check out our SnowSeekers' destination page.