DOC POW
BANFF AB — It's funny how I get the butterflies, a little nervous to be on the snow. Me! I have been a snowboarder for over eight years now, but I grew up a skier, so once in a while I get to put on the sticks and head out for ski.
Such was the case during a recent visit to Sunshine Village. I like getting the odd ski in because it re-sets the vibe on the slopes. t gives you a new perspective on what could be the same old blue run.
"I am a big believer of mixing things up and in being an all around athlete," said Dominic Roy of Sunshine's ski instructing team who took me out for a morning spin to pass along some tips. "This includes a solid level of fitness and experience with a host of disciplines. As a snowboarder, it makes you a better skier, as with both disciplines it comes down to balance, and if you have the balance than you can move up from there."
Balance is key
I hadn't been on skis in over two years so my tension was pretty good, but at the same time I was stoked to mix it up.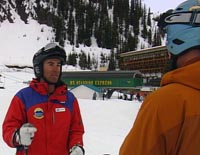 Sunshine ski school instructor, Dominic Roy gives Doc Pow some pointers as the Doc gives up the board for the sticks for one day.
BRANDON BOUCHER/SnowSeekers
"Last season I had someone, a lady who hadn't been skiing in 25 years. She showed up and said to me, 'I am going to be on the magic carpet all day.' Within 30 minutes we had her off the bunny slopes and onto a green run," said Roy, who has been instructing for nine years. "We can't promise that everyone is going to have these kinds of results, but a lot of times it just like riding a bike, it comes back quick."
A few turns later
And Roy's right. Within three runs I was back with an aggressive stance charging my way down a black diamond run called Ecstasy. Roy ran me through some real-time coaching,as I skied in his tracks while he passed along specifics to improve my stance and concepts to improve.
"You are making wide sweeps across the slopes and that's good, now you want to work on eliminating those traverses and link the turns more. That will come by keeping the shoulders square and allowing the skis to work more for you. These Parabolic skis will almost turn for you from the way they are cut," explained Roy.
All-around ski school
The other thing I needed to work on was my stance. Switching up from a snowboarder's stance, it's always funky to try and bring the knees together. But as soon as I started focusing on the suggestions, the flow in my legs came through and not only did I have my stance, but I was skiing.
Sunshine's Snow School is perfect, not just for those who are new to the slopes, but for those who may want to switch it up and work on the all-around athlete opportunities. In addition to beginner and intermediate education, and terrain park lessons, the school offers advanced lessons that can have you skiing Sunshine's freeride zones in no time.
For more stories and detail on Sunshine Village check out our SnowSeekers' destination page.