'Ski whisperer' releases Catherine Dunwoody's inner ski bunny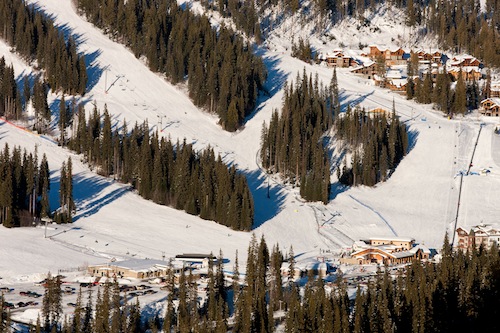 Every lift on Sun Peaks has green runs right from the top, so there is lots of terrain for people to train their ski-legs.
Photo courtesy Sun Peaks Resort
CATHERINE DUNWOODY
SUN PEAKS, B.C. - And to think I almost passed on this assignment.
When my editor asked me to visit Sun Peaks Resort recently, I was game, not knowing the deal breaker involved.
"You do ski, right?" he added near the end of our chat. My hesitation said it all. "I do. Did. I mean, last time was about fifteen years ago, so…." I managed to mutter. 
Canada's second largest resort is calling your name. Plan your winter vacation today!
"Even better," he said. "We'll make it a 'return to the slopes after a long absence' piece." 
A few days later, I'm driving from Vancouver to Kamloops in a rented eight-passenger SUV with snow tires, praying to the Coquihalla Highway gods for dry, ice-free roads and easy-to-access good coffee along the way. Far too much "vehicle" for just my pal and I - but this is how I roll. I'm a crosser of T's. Ready for anything. Prepared. Safety first and all that. Or perhaps just plain chicken s*@#....
A five-hour, wonderfully uneventful drive and I'm checking into the Coast Sundance Lodge in Sun Peaks Resort, interior B.C.'s largest all season destination resort, about 45 minutes northeast of Kamloops.

Why such a long absence from schussing? Starting 25 years ago, I tried skiing every year, for 10 years. I tried numerous ski resorts, lessons, rental equipment, and custom equipment - the works. And I never improved my skills. White knuckling it because I could not master stopping, even after 10 years. Next day, I'm to have a two-hour private lesson at the Snow Sports School. Am I stoked? My editor will read this anyway, so….no. I was not stoked in the least. No stoking was taking place in me. Is there a word for a mix of indifference, and dread, at the same time? That's what I had.   
I figured I gave it a good shot right? Just not my sport. Took my black, and neon pink ski stuff to the Sally Ann at the end of it all. "It's retro," I said, handing it over. And 15 years later, never gave skiing another thought.
So now, I'm slogging along through Sun Peaks Village in rented ski gear, that hurts as much as I remember, to meet with Joel Gourley, my instructor. He's friendly, and upbeat. I don't have the heart to tell him how uncomfortable my gear feels. I suck it up because my narrow feet have always been a huge challenge to fit in shoes, let alone in ski boots. 
Gourley is a ski and snowboard instructor with 20 years experience and only teaches private lessons. He "stopped teaching people to ski" a long time ago, he says. Instead, he "starting teaching them to have fun and feel comfortable on the slopes."
We're still at the ski-school sign, and already I'm feeling less guarded. The guy's got a good vibe.
As we make our way over to the Sundance Express chair lift, me with no ski poles of course, Gourley with a long bamboo stick that he pulls me along with, he explains, "the ski skills I help people acquire, like stopping and turning, represent only a small portion of what is needed from an instructor, and the staff at a resort."
"I especially enjoy a challenge, which your personal combination of factors presented," he smiles. Good luck with that, I'm thinking.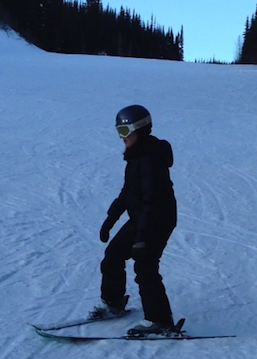 As she learns the proper form of skiing, Catherine thinks she looks like a kid as she skis loose and relaxed.
Photo courtesy Catherine Dunwoody 
After a painful first bunny hill run, Joel notices that it's not just fear of falling and hurting myself that is holding me back. He looks over my rental boots and skis, and promptly takes me over to Jardines instead, on a quest for better fitting boots, and skis that are shorter and less edgy.
Second run, we chairlift up through all that mountain gorgeousness, and take Homestead and 5-Mile green runs, perfect for beginners.  Wide, uncrowded areas that had me believing my private lesson was just that, private.
Joel tells me that every lift on Sun Peaks has green runs right from the top as well. Not every mountain in B.C. can boast that. 
Three mountains encircle the village, with most of the ski runs funneling down to the base, making it easy to navigate the ski terrain and pop into the village for a break or bite throughout the day. The chicken wings and Caesars at Bottoms get my vote.
Just feeling like my legs are no longer encased in concrete, thanks to this change in equipment, especially narrow fitting boots, has improved my movement.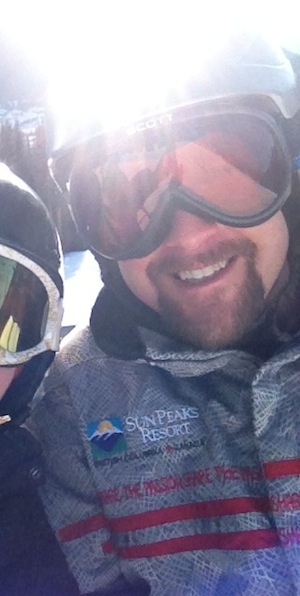 Joel Gourley knows how to bring out the skier within.
Photo by Catherine Dunwoody
Joel's tips?
Slouch, keep your arms loose, press down into that right leg, drop right shoulder and schwoop, I am heading left. Repeat with opposite. Next thing I know, I'm touching on parallel turns. Plus, I'm not gripping my toes, crushing my quads, and picking up speed with no ability to stop. I see the video Joel shot with his iPad and can't help but think I look like a little kid – loose and relaxed.
Wide, long turns, controlled speed, and mostly just having a blast. Mind blown!
"The benefit of hiring a private instructor for you, after a lengthy hiatus, means we can customize the pace of the lesson, and address the big picture," Joel says. 
"You say, mind blown. I say, natural athlete unleashed," he laughs. "I just helped remove those factors that were interfering with your potential and blocking your ability to have fun." 
Perhaps. But in my book, Gourley's the ski-whisperer. Best lesson I've ever had.
For more stories and detail on Sun Peaks check out our SnowSeekers' destination page.