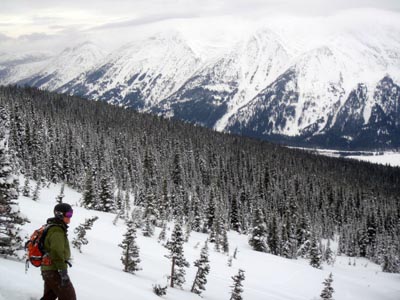 Powder King Mountain Resort's location and stellar terrain can have you feeling like a late day explorer discovering the ultimate ski destination.  
Photo by DOC POW
DOC POW
POWDER KING, B.C. - Tucked up in the northeast corner of British Columbia, not far from Prince George and close to the Alberta border, is a place known as Powder King Mountain Resort; a place where many a skier or rider's powder-filled dreams have come true.
Powder King is known for getting consistent and substantial seasonal snowfalls, more than many other lift serviced areas in North America, some might say, the planet. It all comes with caution, however, because with this much snow there's a higher potential for avalanche slides, and it's rugged up here. 
"Unlike other resorts, our patrol does not give anyone trouble for heading out of bounds," said Karen Jungnitsch, retail and rental manager. "The reason why, is that they don't need to."
And that's a good thing, because Powder King does not have avalanche control.
Inbound backcountry
"Within the bounds of our resort we have access to over 5,500 skiable acres," said resort owner and manager, Jim Salisbury. "With only 27 marked runs, this area is a backcountry enthusiast's amusement park. We describe it as being heli-skiing minus the chopper. I've been cat-skiing and I've been heli-skiing but honestly, for a $49 lift ticket, most days you're going to experience the exact same conditions here."
Powder King has a legendary status among the Western Canadian ski and snowboard community. In my seven years of covering the snow scene, I have heard many stories that I just couldn't believe were true. It's not until you get here that you begin to understand the glazed look that comes over the story teller's eyes when they talk about the King.
All natural
When it comes to glade runs, Powder King ranks right up there.  
Photo by Brandon Boucher
I was loving every minute, chompin' my way through a sea of whiteness - that light fluffy champagne "cold smoke" that has you slicing your board through a canvas of snow. Every turn translates into a face shot and a cold rush. The terrain here features everything anyone could want, from powder bowls and chutes to some amazing glade opportunities. 
"The glading here is all natural. We've done a little bit of work to thin it out but for the most part, it's all how it is," said Scott Courtemanche, manager of the onsite Powder Hounds Pub, and ski and snowboard guide by day.  
The King's status in the community is only furthered by the amounts of snow that it can get over night or from a stalled system. In fact, I'm surprised that snorkel gear isn't supplied with every lift ticket.
"You can go to sleep at 10 or 11 at night with clear skies full of stars and wake the next morning to feet of fresh snow," said Courtemanche. 
"When we get back-to-back storm systems coming through, we'll get in 48 hours the same amount of snow that some resorts will get in their entire season," said Salisbury. And it's true. 
Powder rules
Environment Canada has reported systems delivering as much as 2 to 3 metres (six to 10 feet) in one week. That's enough to leave a serious perma-grin on any snow seekers face. 
"We see people a lot here walking off the mountain saying, 'We'll be back tomorrow when the snow settles a bit,'" said Salisbury. "They simply cannot handle the powder."
This place has been dubbed by its owner as "the Whisper of the North." Not too many people have heard about it, and those who are in the know would like to keep it that way. "People keep telling me to put a sign out on the highway, and I say I have, but the locals keep stealing it," laughs Salisbury. 
Worth the effort
Powder King is three hours from Grande Prairie and two hours from Prince George, so expect minimal lift line ups. But don't make plans to stay for a week because the place is only open Thursday through Sunday.
Once you're there, all you're going to hear from the locals is, "Oh, you should have been here when…" stories. They're all full of them.
They are stories of powder days that are simply too amazing to believe unless you've experienced it for yourself. But those days do exist, trust me – and those days, and there are many, are what the Whisper of the North is known for. Check em' out at www.powderking.com, and book your flight to Planet Pow.
If you go
Get the details about that snow here www.PowderKingResort.com 
Prince George International Airport http://www.pgairport.ca/
For all your Travel Northern BC details, the folks from Northern BC Tourism can help make the planning process smooth. http://www.travelnbc.com
#SkiNorthBC and explore more. SnowSeekers has partnered with National Car rental to secure you a SnowSeekers preferred rate. Make a reservation online, or with an agent and in the Contract field enter XVC4SNO for a savings that could cover your ski pass cost every day.