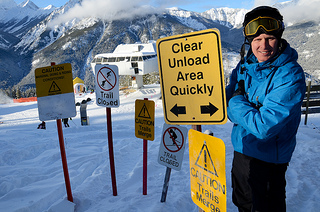 Panorama's risk manager puts up signs for the safety of the guests at the resort, which opens Dec. 14.
Photo courtesy of Bob Covey
BOB COVEY 
INVERMERE, B.C. - "Ahhhh. This is the life."
There are exactly eight people relaxing in the outdoor hot pools at Panorama Mountain Resort. 
Six of the bathers are Japanese ski racers, teenagers who can barely resist the temptation to start an epic hot tub snowball fight; one is myself, the ninny who has neglected to bring trunks and is making due with his plaid boxer shorts; and the eighth is Ben Yim, a 23-year-old whose black shock of hair is getting frosted by the cool air.
We all have one thing in common: we are here for the opening of the mountain.
The racers have been here all week, they are one of many lycra-clad groups who train at Panorama before the mountain opens to the public. I got here earlier today, not just for a peek through the hot pool steam at B.C.'s Purcell Mountains, but for a look at the resort's behind-the-scenes operations— a complex production of people and infrastructure, all working in tandem to ensure a smooth opening weekend. 
It takes a team to open a resort
A Torontonian-cum-Rockies resident, Yim will soon be churning out breakfast burritos, quesadillas and other menu favourites as a  a line cook for the resort's busy Picnic Café. 
Before he dons the apron, along with 250 other  greenhorns, Yim will  get a proper orientation to Panorama, including an introduction to the mountain and the resort's unique offerings. In due time, all staff will be able to help a guest find their way back to the groomers from the advanced terrain in Taynton Bowl, or from the hot pools to their hotel. They'll also be able to provide a sufficient summary of the extra-curricular activities available at Panorama — the list of which is long, varied and unique to the family-oriented resort.
"We want to empower our staff to take ownership over their work and of the mountain," explains Dylan Dainard, snow school manager. 
Together with snow school director Jason Simpson, Dainard is doing just that. In the Conrad Kain room of Panorama's administration building, Dainard and Simpson are amping up a group of new and returning ski and snowboard instructors for another season of teaching the finer points of sliding on snow. 
"It's not about making that perfect turn on the first day," Simpson tells the group. "It's about the smile that's on the guest's face."
After the presentation, it is evident that their fun-first philosophy has been affecting not only the guest retention rates, but Panorama's staff retention rates, too. Before the group meets up for a free-ride session to help warm up the legs, Dainard and Alex Stephenson, a 30-year-old level three snowboard instructor hailing from England, share a hug and a high-five, having reunited for another winter. 
"It's been loads of fun working here for the past two seasons," Stephenson says. "I just wanted to do it all again, really."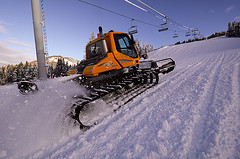 Panorama's grooming crew is busy - mainly overnight - making sure the runs are in tip-top condition for skiers and boarders.
Photo courtesy of Bob Covey
Work hard, play hard
Over in Lusti's Rental Shop, Chrissy Hunter pulls a perfect espresso at the shop's famous cappuccino bar while Milt Black pulls a pair of not-so-perfect bindings off a snowboard. Both have been with Peter "Lusti" Lustenberger for more than 17 years.
"When you work hard you have to play hard," says Lusti, a Swiss ex-pat who came to Canada in 1973. "I want my staff to go skiing everyday." 
He also wants them to be ready for opening day - getting the staff primed for a season of edge-sharpening, base-grinding and ding-fixing on the rental skis.  
"We tune half the rental skis in the spring and leave the other half for the new guys to train on now," Lustenberger says. "It's no big deal when you ruin a pair of rentals, but when you ruin a customer's $400 skis, that's a problem."
Ryan Stimming knows something about avoiding problems. As Panorama's Risk Manager, the 34-year-old is acutely aware of the hazards that exist on and off the mountain. With one eye on industry trends and another on Panorama's daily exposure to liability, his is a position which has to remain responsive. Today, however, Stimming is managing perennial risks. Accidents that occur with the influx of new workers include inexperienced lifties being struck by chairlifts and housekeepers slipping on ice. He's always mindful of guest exposure to hazards, too. Early season duties on his radar include wrapping lift towers with padding and prominently displaying safety signage. 
"We have a duty of care to make the premises safe," he says.
If anyone can understand that edict, it's Stimming's colleagues in the avalanche safety department. At 7:15 a.m., avalanche technicians are comparing their notes, discussing the ever-changing snowpack and compiling lots of information.
Scott McClain, a forecaster in his fourth season at the resort, is creating a breakdown of the overall avalanche hazard. The report will have bearing on what terrain gets opened in two days, when the paying public is transported to the top of the mountain with designs on Taynton Bowl. The forecasting science is two parts observable metrics, such as snowfall and wind loading, one part historical trends and avalanche history — with a generous mitt-full of intuition and experience mixed in. McClain's fellow forecasters, referring to their already well-used notebooks, are trying to agree on the language to use in the public bulletin. 
Joysticks by night, joy riding by day
While predicting, controlling and mitigating avalanche hazards is an ongoing assignment that your average Johnny Snowslider doesn't necessarily consider, there is another job at Panorama that is perhaps even more overlooked — and perhaps even more crucial to making sure the mountain opens as scheduled. Possibly because they're a bit of a motley crew, maybe because they work alone and perhaps because they work primarily at nighttime, grooming staff don't always get the recognition they deserve. Make no mistake, however, without the incredible amount of snow these men and their machines push around, skiers and snowboarders would be discovering all of the mountain's rocks, stumps and body-swallowing depressions than lie just underneath their silky smooth turns. Only the experienced groomers, with their intimate knowledge of the mountain's innumerable features and fall lines, know just how close you came from making an emergency visit to Lusti's repair shop — or worse. 
"We're a bit of a different breed," admits Jeff Peterson, Panorama's grooming manager who has been at the joystick of one of Panorama's 350 horse-powered diesel cats for the last seven days straight. "Most of us like to work at night so we can ride hard during the day." 
The full grooming crew has yet to start their regular season (snowmaking, the yin to groomers' yang, is still occurring on most of the lower slopes), but once the public gets on the mountain, cats will start running from 4 p.m. to 8 a.m., thereby avoiding groomer-skier conflicts. Peterson is putting the calls out to his staff now, to ready them for the upcoming push.
"I need someone to count on before we open the hill," Peterson says into his cellphone while adjusting the cat's L&R — left and right tracks—with his other hand. "Thanks for being flexible big guy."
Not just flexible, groomers need to be highly skilled and somewhat fearless. They are often working on steep slopes, taking what snow they need from 50-foot high whales which snowmakers have deposited. When the cats perch atop these whales to farm their first few layers of snow, even the strongest headlights can't illuminate what's below the ridge line.
"It can get a bit scary," Peterson said, noting that cost of a grooming cat is in the neighbourhood of $300,000. 
Scarier yet — for sales and marketing, at least — is the thought of the mountain not being in the best shape possible come opening day. Jamie Hurschler, Panorama's marketing coordinator, sums up the resort's mission for its guests.
"Before they arrive we want them to say 'we can't wait to get here;' when they're here we want them to say 'we don't want to leave;' and when they're departing we want them to say 'we can't wait to come back' " he said.
Check out more stories about Panorama Mountain Village here.