BOB COVEY  
Jan. 24, 2014
A long time ago, a Top 5 winter activity list in the Jasper area would have looked something like this:
5. Trapping small animals
4. Making a fire
3. Drying meat
2. Sleeping
1. Not dying 
Even shortly after the Canadian government rolled into the Athabasca valley via locomotive with development on the brain, I couldn't imagine a Top 5 contained much more than the following:
Growing a warm beard

Drinking hooch

Not losing one's horse

Sleeping

Not dying 
In these softer times, however, our winter activities have evolved. Thanks to modern developments such as electricity, gas-powered automobiles and carbon fibre ski poles, the list of things to do to keep warm in a Rockies winter is vast. Here are my top picks for 2014:
1. Get the skinny on fat biking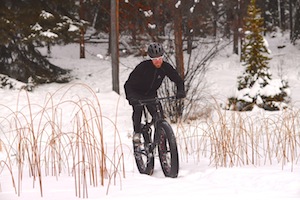 Those fat tires will take you through almost anything.
Photo by Bob Covey
It's true, biking in winter is no longer just for hipster messengers and those with DUIs. The recent spate in pedaling through powder has been ushered in by new technology, namely, wide-arse tires. Supported by custom frames and hubs, these fat tires are ridden at ultra low pressure—8 psi compared to summertime's 35—to effectively spread the rider's weight out on the snow, not unlike a polar bear's paw.
Trails around Jasper happen to be particularly suited to this new trend. Jasper's broad, U-shaped valleys have lots of options which aren't too steep and an avid walking community means trails get packed down after each snowfall, effectively grooming the snow biker's playground.
Hop on a fat bike and see what everyone's smiling about. Bikes available for rent at Freewheel Cycle or Jasper Source for Sports.
2. Take a walk through chandelier alley
Sure, you've seen Maligne Canyon in the summer, but have you checked it out during the winter? The canyon, a 10,000 year-old-limestone gorge, has been cut by the raging torrents of glacier melt, but in the winter the flow slows to a trickle. It's this trapping of time which makes the frozen formations so fascinating.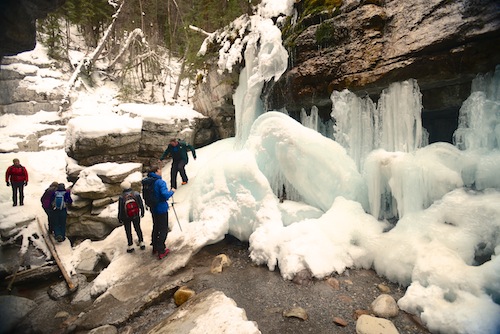 Photo by Nicole Gaboury
Sparkling waterfalls, echoing caverns, stoic stalactites and angelic ice formations are constantly re-created. In the case of the Queen of Maligne, the canyon's pièce de résistance, icicles can be formed at an incredible rate of three metres per day.
It's best to hire a guide for the frozen foray into Maligne Canyon. Not only will they hook you up with the proper gear—including the all-important ice cleats—but also their interpretation of the icy palace will leave you with chills. For a guided adventure, contact Maligne Adventures or SunDog Tours.
3. Magical vistas, mega fitness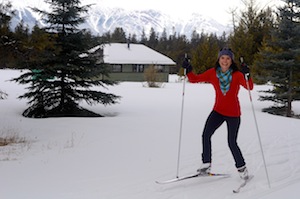 Just look at the smile on her face. Who would choose aerobics classes over this?
Photo by Bob Covey
Is there a more aerobic winter workout than Nordic skiing? Maybe dog sledding—if you're the one being mushed, that is.
The bonus with the full-body sweat you get with Nordic skiing — or cross-country skiing —is that unlike hitting the gym, it's actually fun. Even on relatively modest slopes, such as the slight undulations at Wabasso Campground or the swooping swerves near Moab Lake (on the Meeting of the Waters trail), you can get going pretty fast.
The scenery is always stellar, with options that take you alternatively along rivers (Athabasca Falls Loop), through open meadows (Whistler's Campground) or next to picturesque lakes (Pyramid Lake Fire Road).
If you're up for the ultimate uphill penance and pitchy payoff, test your threshold by ascending either the Pyramid or Geraldine Lakes fire roads. These adrenaline-pumping routes give new meaning to the term cross-country. Check the Parks Canada trail report for the freshest groomers. And go for a guided ski with Walks n Talks Jasper.
4. The best game you can play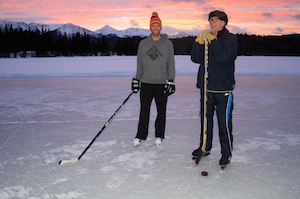 It's the good old hockey game. 
Photo by Bob Covey
If it's utter Canadiana you're after, why not put on your toque, your favourite bunny-hug, lace up a pair of blades and go for a skate on a frozen lake, eh?
Of all of Jasper's wonderous winter scenes, the sweetest—for this wistful writer, at least—might be that of a game of pick-up shinny at sunset. Both Pyramid Lake and Mildred Lake, near the Fairmont Jasper Park Lodge, have great skating facilities—including a rink for potential players and a plowed loop for those just wanting to do a lap.
It's a great place to hot-dog with your buddies or have a hot chocolate with your mom. Just remember the unwritten rule: no raising the puck while your girlfriend's in net! 
Skate rentals available at both lakes nearby Pyramid Lake Resort and The Fairmont Jasper Park Lodge.
Why do many people make their homes in Jasper during the winter? It's not solely for the nightlife (with apologies to the many purveyors of our awesome nightlife)! From November until April, much of the community is connected by one question: How's the hill? The hill, of course, is the ever historic and often unheralded Marmot Basin, celebrating 50 years of snow sliding this year.
The thing about Marmot isn't the fact that you can practically have the hill to yourself on a weekday (even the weekends are dead compared to most other resorts in Alberta or B.C.), nor is it that the hill boasts the highest base in Canada—surely an advantage during these climate-change-altered seasons.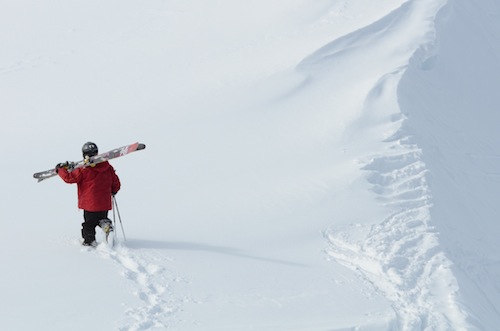 Photo by Bob Covey
What makes me proud to call Marmot Basin my home stomping grounds is the high preponderance of hike-accessed terrain. There is always a fresh line to be had, if you are willing to work for it. Be it the Peak, Cornice, Thunderbowl or Caribou Knoll, if ski patrol has removed their avalanche closures, these are the first places I'm checking out once the lift-accessed snow has been skied. The turns always feel better when they're earned and during winter in Jasper, there's no place more exhilarating than at the top of a boot pack, anticipating your line. 
For more stories and detail on Jasper check out our SnowSeekers' destination page.