Oh Canada, we're skiing July 1-3!
– June 22/11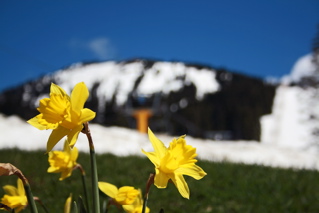 Even though flowers are in bloom around the lodge, the snow is still deep up on the mountain.
Photo credit: Mount Washington Alpine Resort
MOUNT WASHINGTON — Summer was supposed to be normal at Mount Washington this year. Open on July 1st just like normal. Mile High Chairlift Rides and Bike Park opening just like normal. But last winter was not normal, and this is definitely not a normal summer!
For the first time in resort history, Mount Washington will open for skiing and boarding in July. This is not a typo, there will be skiing and boarding in July!
"It's going to be a great winter this summer!" exclaimed Don Sharpe, director of business operations at the resort. "If we can't open the Bike Park due to the snow depths on the mountain, then we'll open up the mountain for skiing."
And in similar fashion to last weekend's skiing event, the mountain will operate the Eagle Express chairlift from 11 am to 4 pm on July 1st to 3rd for snow sliding. Tickets will be $25 per person. The mountain will determine total lifts and trail openings closer to the Canada Day weekend.
On top of the summer sliding, the Thrifty Foods Family Fun Day also takes place on Friday, July 1st. The event will feature fun activities and games for the kids, plus a delicious Canada Day cake so make sure you're decked out in your best red and white!
"Last winter was the deepest snow season in resort history and we realized early on that our summer operations will have to work off different parameters," explains resort spokesperson Brent Curtain. "So we're adjusting our summer schedule to suit the amount of snow that's still on the ground."
Summer operations coming soon
Mount Washington's summer operations still begin July 1st with the popular Mile High Chairlift Rides. Operating times are 11 am to 7 pm daily. The Bike Park, which is still covered in various depths of snow, is still on track for a recently adjusted July 15th opening date.
"Our crews are continuing to work on digging out the bike trails and we'll know how many trails will open closer to July 15th," says Sharpe.
With delays to the Bike Park opening date, Mount Washington has also made changes to some of their mountain bike event dates.
"The Rocky Mountain Learn to Ride Week is now July 25th to the 29th and will feature our new top to bottom Green Line trail for beginner riders," explains Curtain. "The best way to find out all of event changes is by visiting the calendar at mountwashington.ca."
Highlights of the summer include the new Scotch and Suds Festival on July 8, the return of the Bearclaw Invitational Slopestyle on August 6, and a Wine and Food Festival on August 26-27.
If you want to make a weekend out of the Canada Day skiing event at Mount Washington, then call Tourism Mount Washington at 1-877-754-4661 or Slopeside Accommodations at 1-888-231-1499. Both reservations lines are offering a 10% discount on rooms booked for the holiday weekend.
For all summer event details and mountain information, surf to www.mountwashington.ca.
About Mount Washington Alpine Resort
Mount Washington Alpine Resort is open for summer skiing on June 1-3 so celebrate Canada on the snow! The resort is located 30 minutes above The Comox Valley on Vancouver Island. WestJet, Central Mountain Air, Pacific Coastal Airlines, and Island Express service the Comox Valley Airport (YQQ). To find out about accommodation and package information, call Mount Washington Alpine Resort at 1-888-231-1499 toll free or locally at 250-338-1386. Surf to www.mountwashington.ca for additional information including our live snow cam.