Originally posted in 2011
Free skiing on your birthday courtesy of Marmot Basin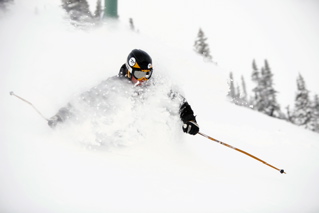 Most have never seen better conditions at Marmot than during the latter half of January, 2011.
Photo courtesy of Mike Gere
JASPER, ALTA. – Darn my November conception. Being a July baby, I never had the class sing me "Happy Birthday." My friends were always away on a summer vacations and could never come to my parties. And according to Malcom Gladwell in his book Blink, kids born in January, February, and March have an intellectual and physical advantage over kids between July and December. Now I can chalk up yet another reason why I should have been born in the first part of the year. Marmot is letting you ski for free on your birthday.
I'm lucky enough to have a friend, Brent, whose birthday is on January 17, so a large group of 16 friends and I left on Friday afternoon to enjoy a weekend during Jasper in January. After reading the snow reports, talking to friends who live in Jasper, and seeing the chatter on the SnowSeekers Facebook page, waiting for the weekend to come really was like being a kid again. 
"How many sleeps till we get to play in the snow?"
On our way to Jasper I got a hold of my friend Brian Sutherland, who works at Edge Control ski shop in Jasper, to see if they had any powder skis. Another friend of mine swears that Brian is the only person she will let tune her skis. Now I know why. Not only did he set me up with the most amazing pair of Volkl powder skis, but he also gave them a quick wax – I give him credit for the most enjoyable day of skiing that I've ever had at Marmot.
I've skied Jasper since I was a little kid, but I've never skied Jasper like I did over the weekend. Knee-deep powder (and at some points past knee-deep) normally makes me a little apprehensive, as it always seems like I am grunting through the snow, working 10 times harder than I should be. With the Volkls I felt like I could have been an athlete in a ski video. The snow at Marmot was so amazing it felt like I was bouncing from cloud to cloud.
The day started with our group splitting itself into beginner and advanced skiers. Mostly all the girlfriends of the group stayed on the lower mountain and enjoyed the fantastic conditions on the green runs.
One girlfriend actually opted to stay in Jasper for the day and do some shopping. There are a lot of stores in Jasper who have big sales to celebrate Jasper in January. I headed off with all the boys to play in the deep stuff.
Take advantage ... or else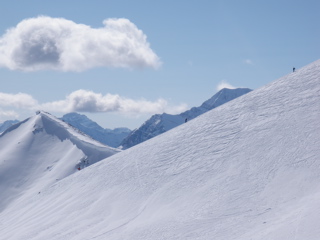 The hike up the Knob is one of the best you'll find in Western Canada.
Photo by Brandon Boucher
Getting on the hill rather early allowed us to find untouched powder in the treed runs just off The Ridge chair. When we stopped for lunch at the upper chalet, the two groups met each other with smiling faces, epic stories of great turns, funny wipe outs, and secret powder spots. 
After having a quick bite we were onto the Knob Chair. I've skied the Knob a million times, but never like this. The combination of amazing snow conditions and fat powder skis gave me the confidence to attack the Knob Bowl, Knob Hill, and Dupres Bowl head on. The some of the boys actually had a hard time keeping up with me!
If you have a birthday that falls from now until the end of the ski season, and you don't take Marmot up on their birthday offer, then shame on you. There are so many summer babies like me out there who would do anything to have a winter birthday. 
For more stories and detail on Jasper check out our SnowSeekers' destination page.