Originally posted in 2013
BOB COVEY
HINTON, AB - The Family Day weekend saw a flurry of winter fun in Hinton, but the Hinton Magic Festival is far from over.
Ice fishing was the catch of the day for festival-goers on Saturday, February 16. Jesse Lent, who came from Jasper with his family to try his luck on Gregg Lake, said while the fish weren't biting, his kids were lured in hook, line and sinker by the idea of hot dogs and hot chocolate on the ice.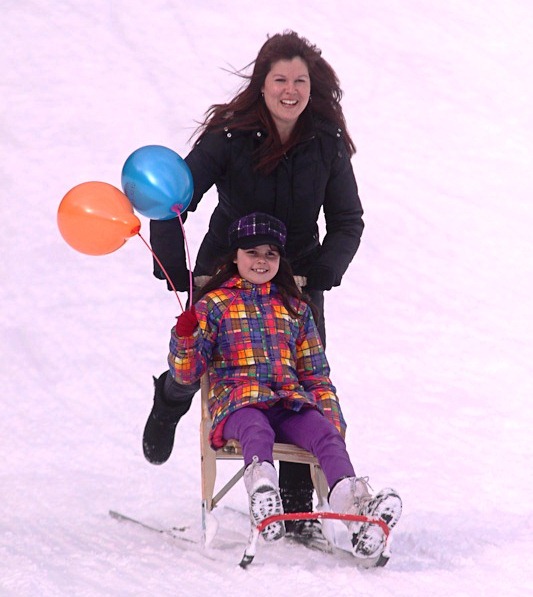 Lisa Brett pushes Kaitlin O'Keefe on a kick sled during the Bonhomme Carnival at the Hinton Winter Magic Festival .
Image courtesy of the Hinton Voice
"The fishing was slim pickings but it's a great atmosphere," he said, while somehow balancing three hotdogs in one hand.
The Ice Fishing Derby, organized by the Hinton Fish and Game Association, saw 238 people register and 36 fish pulled out of the ice. The biggest of the bunch was a six pound pike, although the majority of the catches were Lake Whitefish.
"Wow, what a great day," organizer David Robson said. "That's a new record for participation."
Not far from the lake, another on-snow activity had visitors and residents descending on the Hinton Luge Centre. Bryan and Cathy Jones' 950-metre luge track was the setting for the annual Learn to Luge day. Imagine a cross between an Olympic race course and your neighbourhood tobogganing hill and you start to get the picture. Clay Anderson, a veteran tobogganer but a rookie luger, took to it immediately.
"It's a kilometre of awesomeness," he said.
More to Come
While main winter attractions such as the Bonhomme Carnival and the Family Ski Day are already in the bag, magic continues in other fun forms until this weekend:
The annual Lantern Festival takes place at the Beaver Boardwalk on Maxwell Lake, where student-decorated lanterns light up the night.
Family sledding at the Parentlink Center
Eggheads will love Trivia Night with BRIDGES at the Firebay Gallery.
Finally, snowsuits get traded for evening wear at the Arts on Fire annual Mayor's Evening of the Arts Awards, featuring appies and wine pairings by The Wild Orchid.
For the latest deals, snow reports and contests, sign up today to our SnowSeekers e-newsletter.