DOC POW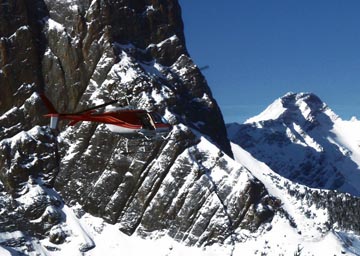 Kananaskis Heli Tours, located just outside of Canmore, Alberta provides an experience that many will never forget.
BRANDON BOUCHER/SnowSeekers
CANMORE, AB — Anytime you can add a helicopter tour to the bill, it sets a whole new benchmark for a holiday, even better if that chopper is going to provide a bird's eye view to one of the world's most impressive mountain ranges—the Canadian Rockies and one or two of the ski resorts located there.
Kananaskis Heli Tours, located just outside of Canmore, Alberta, may be less than a year old but has already welcomed 7,000 people to an experience most will never forget.  
Whole new experience
"When you see the Canadian Rockies for the first time, that is something, but to be able to jump it up with a helicopter flight, that is something that takes it to the next level," said Managing Director Andrew Nickerson. "Here you get an arm chair view of the Rockies. Many are close to tears from the view and the experience. It's funny how some people come in nervous about the experience, but come back so excited."  
The morning we went, I wasn't nervous at all—I was stoked to head out and see the sights from a few thousand feet up. I even had the opportunity to ride shot gun.  
"For many, this is the best thing they have ever done, they are just gushing from the adventure," said Nickerson.
Located only 15 minutes from Canmore, this heli-tour operation offers visitors a chance to get up and above it all. Choose from flights of anywhere from six to 55 minutes and even an option to have a wilderness escape mixed in.  
Picnic in the peaks
"You can go with a wilderness drop, where your pilot will become your waiter, rolling out a picnic lunch, turning off the chopper for an hour in the middle of nowhere. Bring your snowshoes and head out for a spin," said Nickerson. "Here we can leverage locations, such as the Bow River Canyon where we can literally land in the canyon."  
I can only imagine how sweet that would be.
As part of our tour we flew over the glacier fed Bow River and back into Kananaskis country that included a fly over of Nakiska Ski Resort. This ski resort played host to the 1988 Olympics in men's and women's downhill ski races.
Bird's eye view
For me this was a huge thrill. Having never before flown over a ski resort, coming in from over a mountain range and then on top of it, I felt like an eagle soaring through the sky. We were so close we could see skiers and snowboarders enjoying the powder-packed slopes. It was pretty sweet to pick your lines from such a unique vantage point.   
"Unbelievable scenery with epic access—it's such an eye-opening, awe-inspiring experience," said Nickerson.  
And the location only adds to the experience. Kananaskis Heli Tours is located at the Stoney Notka Resort & Casino, where you can spend a few nights and test your luck in the casino. Being right at the base to the start of the Rockies, the dramatic setting allows for more impressive Kodak moments, the flat country side and two minutes later, you are in the land of these stone giants. Book the flight today and get up and away. Visit www.kheli.com.