Aussies fill the roster and keep coming back every year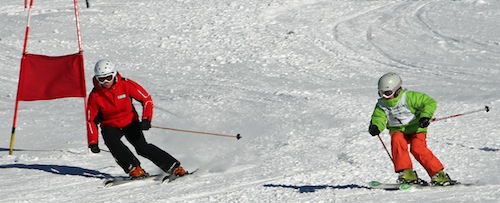 Nancy Greene, Olympic gold medallist, gives young Tom Millikan the race and bragging rights to share his win with his friends Down Under.
Photos by John Korobanik
JOHN KOROBANIK
SUN PEAKS, B.C. - The only part of Tom Millikan's face showing was his nose and a little of his cheeks, but none of the ski equipment could cover the twinkle in his young eyes and the monstrous smile on his face.
"It's awesome. I beat her," the 11-year-old Aussie said after crossing the finish line of the Sun Peaks Family Cup dual slalom run ahead of 1968 Olympic gold medallist Nancy Greene.
Canada's second largest resort is calling your name. Plan your winter vacation today!
Beaming almost from ear to ear, Millikan couldn't contain the joy he felt. He had beat Nancy Greene - a story to tell his friends when he gets back home.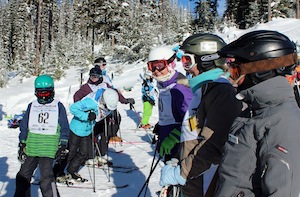 Racers have a good time hanging out in the sun as 
they wait for their turn to race.
The fact that it was just a fun race and that Greene, now director of skiing at Sun Peaks, had kept her eyes on Millikan to make sure he finished before her, would not matter. It's a memory to be cherished.
Heck, he may even forget to tell his buddies that he finished first in the nine- to 11-year-old category of the race and then teamed with brothers, Rohan, 14, and Alex, 19, to win the family category.
His is just one story from the event that each year brings a large group of Australians to the British Columbia resort for weeks of fun events, some semi-serious racing – alpine and cross-country – and plenty of socializing.
The Family Cup, held each January, has been running since 2007 and the Sun Peaks Kookaburra Cup Nordic Loppet, held in conjunction with the Alpine event, began in 2010. 
 "It developed through a partnership of Tourism Sun Peaks and Interschools Snowsports Australia," says ISA chair Steve Cooper. "We promote the resort back in Australia and encourage families to come. We promote Sun Peaks as a great family resort to come to, at least once in a lifetime, and then let the resort sell itself."

"We have at least a week of events," says Cooper, a school principal back home. He's been coming to Sun Peaks for the last six years. "The race is meant to be family friendly. You can have brother versus brothers, or brother versus sister, or wife versus husband."Judging by the number of entries in the two ski events and the number of families from Australia who come each January and stay for anywhere from one to six weeks – the full length of the Australian school break – the promotion is working. Many of the families return year after year, like the Millikans who were back for the third time in 2014. 
Racers have ranged in age from three to 82 and the entry list has ranged between 75 and 175 people, with participants coming from Australia, New Zealand, South Africa, Singapore, Austria and Canada. The 2014 Family Cup had 76 racers and the Loppet 130.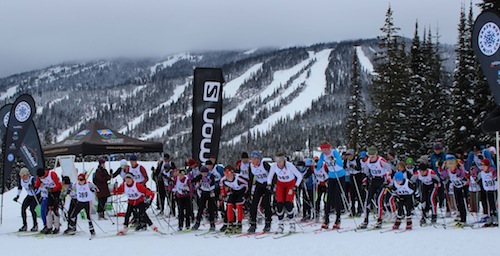 A mass start for the non-30 km racers in the Kookaburra Cup Cross Country Loppet.
Besides the two featured races, visitors are encouraged to participate in events like the skating party, children's obstacle course, high roller mountain marathon – it's more rolling of dice than a marathon – and the annual wine festival.
It was the promotion in Australia that caught the eye of Ian Miles, and 2014 was the second visit to Sun Peaks for him and his family.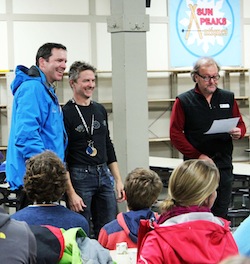 Ian Miles (in black shirt) recieves his gold medal in the Mens Open Telemark.
"We went to a ski expo in Sydney and the guy at Interschools told us about his place," he says. "My wife had some ankle surgery and wasn't sure she would be able to downhill ski. But she heard about Mt. Morrisey and Holy Cow, cross-country skiing with lift access and she was sold."
The Morrisey express takes skiers up Mt. Morrisey, one of three mountain faces that make up Sun Peaks' terrain surrounding the colourful, efficient European-style village. From the lift, cross-country skiers can take Holy Cow, a 7.7-kilometre intermediate trail to Little McGillivray Lake, a popular stopping point, and then back on down to the Nordic Centre on the edge of the village.
"We had a great time," says Miles. "We were here for three weeks, this year we're here for a month."
He, his wife Alison Chivers and sons Riley, 12, Rob, 14, and daughter Remy, 18, have skied, gone tubing, skated a couple of times and did the marathon while participating in numerous social activities.
Cooper is optimistic the event will continue to grow in the future as it has for the first eight years.
"It meanders along nicely … and could grow into something bigger," he says. "We know next year some of the big province schools are planning to do race camps … so we're trying to promote the (Sun Peaks) race camp and the elevation they have here, when the Austrian (national team) used to train."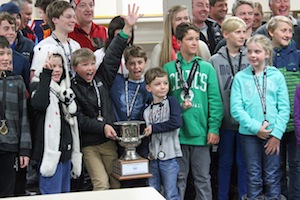 Aussies celebrate a team win.
He's hoping some of the bigger schools will come over with students and their parents, discover Sun Peaks and become regular visitors.
One other big selling point, he says, is the direct air flight from Sydney to Vancouver. Then it's a short, 45-minute flight into Kamloops and a 45-minute shuttle to Sun Peaks. 
For more stories and detail on Sun Peaks check out our SnowSeekers' destination page.