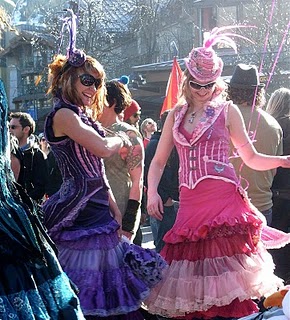 Several models of Kelsey Faery, a local entrepreneur who's creations turned heads all day.
RICK MACDONNELL/SnowSeekers
RICK MACDONNELL
- Feb. 23/10
Whistler Village was ever-so-slightly brighter today, blissfully alive with dancing faeries and pretty pixies. Adorned in ruffling tutus, hats shaped like flowers, and flowers shaped like hats, the revelers displayed a sense of wild, unadulterated glee unlike anything I've seen.
Their goal has always been to make that glee tangible. Thus, Kelsey's Creations was born. 
Tangible glee
A Whistler original, Kelsey Faery has been crafting outrageous outfits for as long as she can remember. When she realized that the world just didn't have enough hot pink polka dots – especially hot pink polka dotted clothing – Kelsey set out to create a company dedicated to bringing "tangible glee" to the masses.
"It's all about expressing what's inside of you," said Matt Burt, a close friend of Kelsey's and one of her models for the day. "It's what a lot of people are feeling, but don't let out."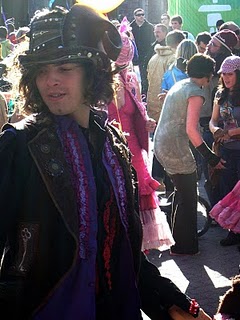 Matt Burt, a Kelsey Creations model, loves the freedom Kelsey's clothes provide.
RICK MACDONNELL/SnowSeekers
Kelsey, along with four other merrymakers, made Whistler Village their canvas. Dressed head to toe in Kelsey's own creations, they looked like a living, breathing extension of Alice's Wonderland.
Their "ruffled, sparkly confections of glee and mirth" spread through the crowd at Whistler Live!, brightening everyone's face. It's near impossible to feel apathetic in the face of such unrepentant gaiety.
"It's fun, dressing up and letting loose," Burt said.
"If more people were like Kelsey, this world would be a much happier place."
Free bird
If only everyone was willing to open themselves up to such a zany, madcap world. I, for one, was envious of their bravado, their ability to ignore social norms and just ... be.
It was one of the strangest sights I've seen in a while, and certainly the strangest I've seen in Whistler, but there's a part of me that wishes I had what they had.
It was just another example in an already long list of culture clashes in Whistler Village. But, like the others, it's been embraced and celebrated wholeheartedly.
It's unfortunate that the sense of community created by the Olympics doesn't always exist out in the real world. It shows that such community is possible, though, if people would just shrug off their own prejudices and intolerance.
"You should try it out sometime," Burt said. "You'll be surprised at how free you feel."
Baby steps, Matt. Baby steps. I am tempted to try out that hat, though.