Calgary?s COP hosts freestyle World Cup competition
SnowSeekers welcomes Jennifer Heil as a guest contributor. An Olympic athlete who has won Olympic gold and silver medals in Freestyle mogul skiing, Jenn is also a four-time World Champion and five time overall World Cup Champion. Jenn is a celebrated ambassador of community service, including the Because I am a Girl initiative. She also runs her own girls only mogul ski camp and is the co-founder of B2ten, a group that is reshaping how Canadian Olympic athletes can attain their full potential.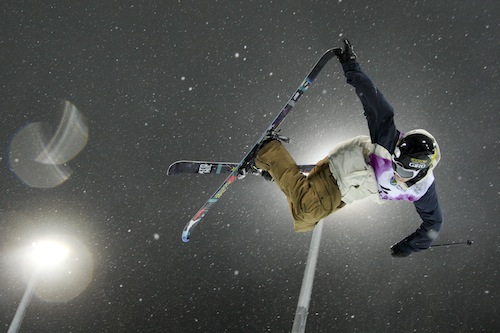 Mike Riddle, 2013 Crystal Globe winner, will competing in the halfpipe.
Photo courtesy Canadian Freestyle Ski Association
Editor's note: With Manuel Osborne-Paradis' podium finish at the November 2014 Lake Louise World Cup, SnowSeekers updates a story Jenn wrote for us last year, so you can learn more about watching our athletes make history. 
JENNIFER HEIL
CALGARY - The 2010 Vancouver Olympic Games inspired this nation and proved what is possible when you put your mind to it.
Now, you can see your Canadian Olympic heroes live and up close as they compete against the best in the world Jan. 3 , 2015 when the FIS freestyle mogul and halfpipe World Cup competition comes to Calgary's Winsport Canada Olympic Park.
The athletes? determination, focus, and intensity will be on full display as they seek to attain the ultimate performance. In search of the top spot on the podium, these athletes will push themselves to the edge of their abilities and take risks, making for a spectacular show.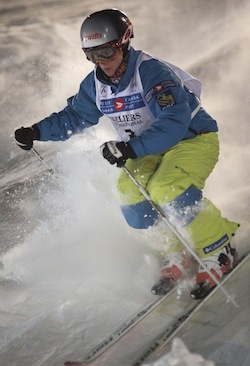 Heil in her ski-career days, skiing moguls at COP.
Photo courtesy Jennifer Heil
Unlike at a stadium event, you'll be right in the middle of the action. Who knows, you might get snow sprayed on you from Alex Bilodeau?s turns or a high five from Albertan and Olympic gold medal favourite Rosalind Groenewoud.
Inspiration comes in many forms, but what greater opportunity than for your child to witness their hero striving for excellence, which has the potential to motivate and encourage them with their own goals. Not to mention, what could be cooler for your child than a high-five or a photo-op with their favourite athlete?
Mogul athletes ski at four moguls per second and zoom up to 20 metres off two jumps, while halfpipe athletes soar up to six to seven metres out of the pipe. These are speeds and heights that cannot be fully detected on TV. I guarantee that if you and your family are at Canadian Olympic Park cheering on team Canada, you?ll understand how it?s possible to fly.
If you still need to be persuaded to attend the World Cup weekend at Canada Olympic Park, here are a few more reasons:
This World Cup Race is within the city limits and happens only once a year;

The atmosphere is electric;

There will be lots of delicious hot chocolate on site;

You are Canadian, which means, chances are, you love winter sports.
To know when to see the athletes at COP, go to FestivalSeekers for the event schedule