Locals and visitors alike keep coming back to this friendly resort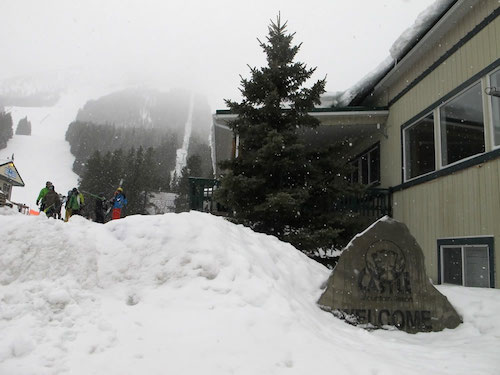 The locals like to keep snowy Castle to themselves.
Photo courtesy of Keya White
KEYA WHITE
PINCHER CREEK, AB - Recently my Dad and I had the chance to spend the day at southwestern Alberta's Castle Mountain. While I had been to the resort a couple of times in the past few years, it was my Dad's first return visit in 25 years.
Arriving in the packed parking lot, it didn't take long to remind me what a special ski hill Castle is. We headed to the base area, just a short walk away, and were greeted by a friendly CMR ski host who opened the door for everyone entering the day lodge. 
With a base of 4,630 feet (1,410 metres) and a summit of 7,463 feet (2,273 metres), the mountain has an elevation advantage over other resorts. On the easy and scenic drive to Castle, we had escaped the rains of Fernie, and were more than ready to revel in the falling snow and ski the snowy slopes enveloping the Rocky Mountain peaks.  
We spent our morning with Tricia Heidel, a local who's been skiing at Castle for 14 seasons and who met her husband there in 2001. In fact, Heidel lives on the mountain from January to March where the family can get in plenty of turns. Her two boys, 5 and 3, spend every weekend skiing because the oldest is in the Nancy Greene Ski League; the youngest can't wait to join. Heidel was the ultimate tour guide for my dad, Captain Rob Welsh and I, taking us up both mountains on Sundance, Tamarack and Huckleberry Chairs. 
Riding up the Huckleberry Chair, we passed over cabins and chalets tucked into the forest, a feature that makes Castle  a true ski-in/ski-out experience. Heidel tells us how she loves the family friendly nature of the resort and then calls out to her young boys from the lift as they ski down below us. She says she has aa great network of local friends with accommodations on the mountain. What she really enjoys most about Castle is the strong feeling of community – a place where friends pop in to visit one another anytime. 
 

Tricia Heidel, who's been skiing at Castle for 14 years and Rob Welsh, who hadn't been to Castle in 25 years, had a spectacular snow day at the family-friendly resort.
Photo courtesy of Keya White

 
Heidel also told us about one of the friendliest lifties she's every met. Her name is Marie Cameron, a Pincher Creek resident who's been skiing at Castle since the resort opened in 1965. For the past decade she's been working what she calls the "perfect job" as a liftie. Her favourite thing about working at the resort is meeting a variety of interesting people from around the world, both visiting skiers and fellow staff members. 
According to Cameron, one of the best things to happen at Castle recently was the addition of the Huckleberry Chair in 2006. It opened up extensive novice and intermediate family-friendly terrain. With no lift lines and private powder turns on Sidewinder and in the trees of Ghostrider and Ambush Glades, we quickly learned how the addition of Mount Haig to Castle's terrain added to the ski experience at Castle.
For my dad, the return to Castle after more than two decades was a pleasant surprise. Though the resort has changed he said, it still retains that intimate feel.
"It's the kind of place you might imagine, that still feels like a secret and that you would hope you would still be able to find somewhere." 
Thankfully that somewhere happens to be a short drive from Fernie for us and we're looking forward to the next time. 
"If you visit Castle midweek, you're basically buying your own private ski hill for the price of a lift ticket," Cameron says.
But time is running out to experience the Castle; the ski hill closes on April 6 when it will wrap up the season in style with its weekend-long Spring Festival featuring live music, face painting, slush pit, Cardboard Canoe float boat, Hawaiian dress-up and more.
 

Castle Resort still retains its small-town friendly vibe. That's what people love most about the resort which opened in 1965. 
Photo courtesy of Keya White

 
For more stories and detail on Castle check out our SnowSeekers' destination page.