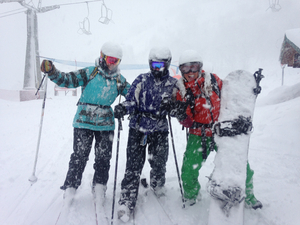 The ladies on the first Andes Explorer Tour at Nevados.
Photo: CASA Tours
HOLA SNOW COMPADRES!
CASA Tours just finished our first tour of the 2013 South American winter, the Andes Explorer.  Ullr blessed us with the storm of the season... so far.  The Andes were pounded with between 60 to 120 cm of snow this week.  We had epic, 5 star days at Nevados de Chillan and Ski Arpa.  It is always a pleasure to hear our guests say, "That was the best run of my life!!!" 
The Haskins' with their note - "Our Trip was...our dream honeymoon"
Photo: CASA Tours
A huge thank you to CASA guides Theresa "Tree" Clinton, Alex Taran, Brennan Severance, and Marcelo Martinez for making our
guests' trip a lifetime experience.  We had a blast celebrating Lauren & Patrick Haskins honeymoon, Carol Russell & Ted Malik's 20th wedding anniversary, and Debera Salo's 60th birthday.  
Seeing grins ear to ear from Ryan Horne, Zachary Malik, Peggy Frizzel, Diane Hodgins, Rose Vandersdoll and Brian Wilson as they played in the Andean powder makes me love what I do more than ever.  It was POW-TASTIC!!!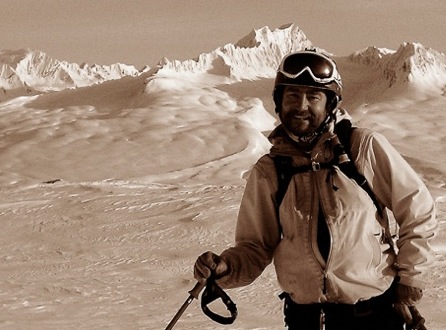 David "Gomez" Johnson lives the skier's dream
Photo: CASA Tours
Thank you all for following our snow adventures and helping to support "The Dream!"
Saludos from the Andes!
406-570-8292
2013 CASA TOURS' TRIP AVAILABILITY
Only 2 seats are available for the 2013 season on the 11 day Southern Cross Adventure.
Wednesday September 4 to Saturday September 14 (Please schedule arrival to Santiago for September 3rd)
Resorts Visited: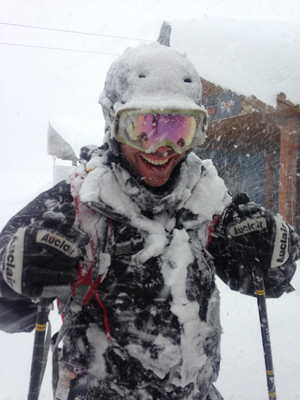 Ryan Horne obviously enjoying the pow
Photo: CASA Tours
Cost: $4295/guest
If interested please email casa@casatours.com
CASA TOURS featured in Powder Magazine
This July Powder Magazine did an article on CASA Tours. This piece Powder did on how David Gomez got involved with CASA Tours, how he got the name Gomez, and a little bit about the adventures he enjoys.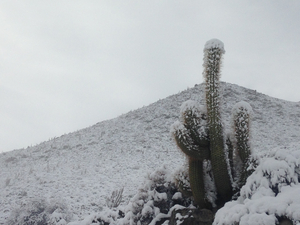 Photo: CASA Tours