DOC POW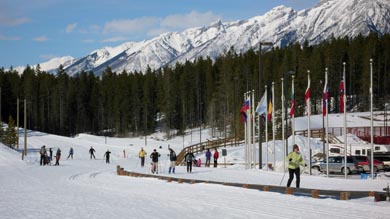 The Canmore Nordic Centre is home to the Bill Warren Training Centre, where Canada's national men's and women's Nordic teams train.
Courtesy TRAVEL ALBERTA
CANMORE, AB — Nearly 30 years ago, Calgary, Alberta and the surrounding area— including Canmore—welcomed the world during the 1988 Winter Olympics. Part of that Olympic legacy includes the Canmore Nordic Centre, and if you are a fan of the cross-country scene, then some spins around this facility are a must.
"It's just a beautiful place to ski and it never feels busy," said Tricia Wilson, long time resident and assistant manager for Trail Sports, the rental and instruction agency here at the facility. 
The Centre is smack in the middle of the mountains, 70 kilometers of groomed glory delivering am awe-inspiring 360 degree view. Many visitors have told Mike Roycroft, general manager of the facility, that he is very lucky to live and to be able to ski this every day.
"Many of our European teams who come here to train and race, label us as one of their favourite Nordic spots on the planet," said Roycroft.
New money, new experience
A few years ago the Alberta Government invested $25.6 million dollars to retrofit the facility and, as Roycroft describes, enhance the guest experience. 
"The centre offers some of the very best cross country skiing in Canada at the best value for a family.  With this investment, it ensures that this centre will be at the forefront of Nordic skiing for years to come."  
It also ensures that the facility will continue to attract the world's best thanks to the various national and international Nordic races that the Centre is home to.  
Perfect place to learn
The centre here is also home to the Bill Warren Training Centre where most of Canada's men's and women's Nordic national team trains.
"The Centre is a humbling place to ski as well. You'll think you are motoring up a hill and someone from the national team comes and wizz's by," said Wilson, " but if you have never been on Nordic skis before, this the place is to try, a really solid ski school. We really work to ensure their day is a quality one."
The Centre is open for operations early, and regardless of what the weather is doing, 25 kms can be covered by manmade snow-making for opportunities that ensures an early and long season. The access to this beauty is instant; the Nordic Centre is within five minutes from the heart of town.
For a day well spent on the skinny skies, learn more at www.trailsports.ab.ca.