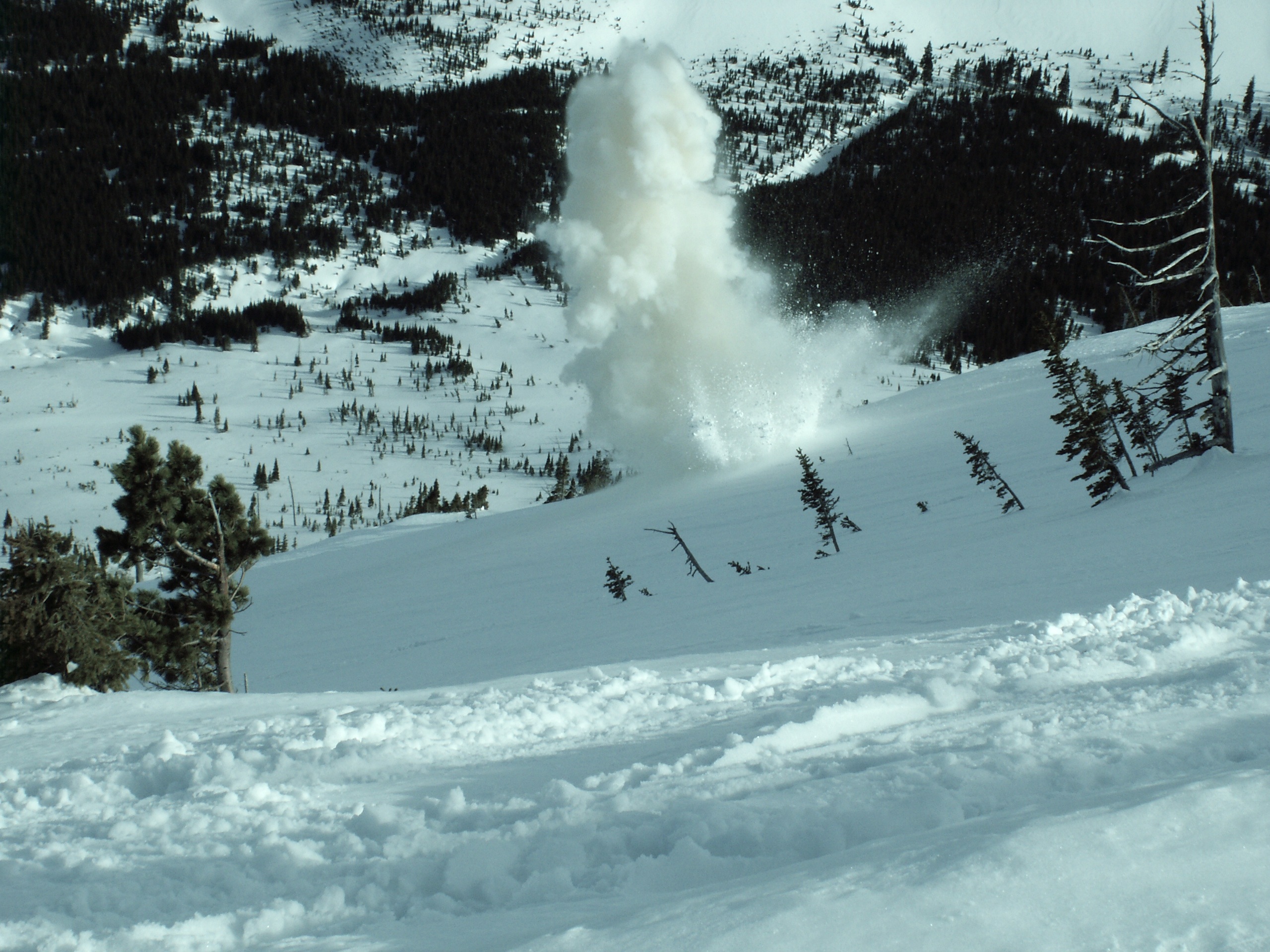 Avalanche bombing on display at Castle Mountain.
Photo courtesy of Castle Mountain Resort
Be smart. Get some training.
If you're heading into the backcountry, don't do it without some good training under your belt. Every year, fatalities and expensive rescues could be avoided if extreme skiers and sliders had just taken some time to get smart and well-equipped before they strapped on their skins and went adrenalin hunting.
If you crave the backcountry, be smart about it. Get some training. If you've had some training, get refreshed. It's your life—and the life of your backcountry buddies—at stake. Castle Mountain's Avalanche Awareness Days are a great way to check out what training options are available to you.  Spend some time with a professional and find out what they do on a day by day basis.
CAA and CMR Avalanche Awareness Days
January 21 & 22, 2012
GRAND PRIZE draw at 4 pm Saturday in the Daylodge. Don't miss you chance to win FREE CAT SKIING!!!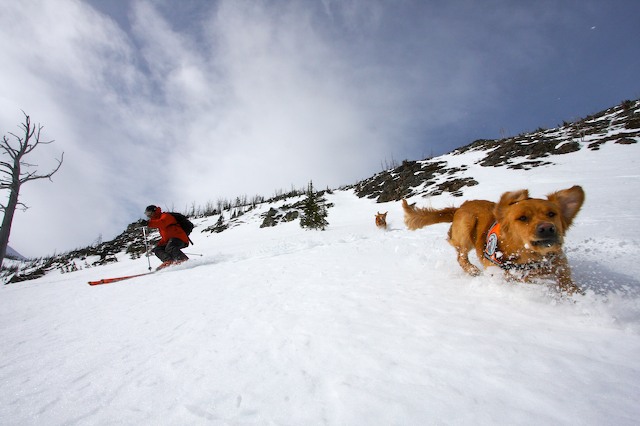 Castle's resident avi dogs, Cali and Huck, will be showing off their skills.
Photo courtesy of Castle Mountain Resort
The Fine Line Film Screening
12:00 pm in the Day Lodge. Hosted by Andrew Rusynyk and Pincher Creek RCMP.
Avalanche Education and Ski DVDs
All Day in the Day lodge and T-Bar. A virtual film fest !
Avalanche Information Booth
All day in the Day Lodge. Talk to a pro about an AST course or access to avalanche resources.
FREE Avalanche Beacon Training
10 am to 2 pm at The Beacon Basin. Join us under Huckleberry Chair for personalized training on using your beacon (or borrow ours!). Earn tickets to win cat skiing !!!
Avalanche Beacon Challenge
Saturday at The Beacon Basin. Take a shot at one, two or three beacons to win free cat skiing!
Freestyle vs. Race Team vs. Ski School Trophy Challange !!!
Prizes for anyone who beats Kyle's time for two beacons !!!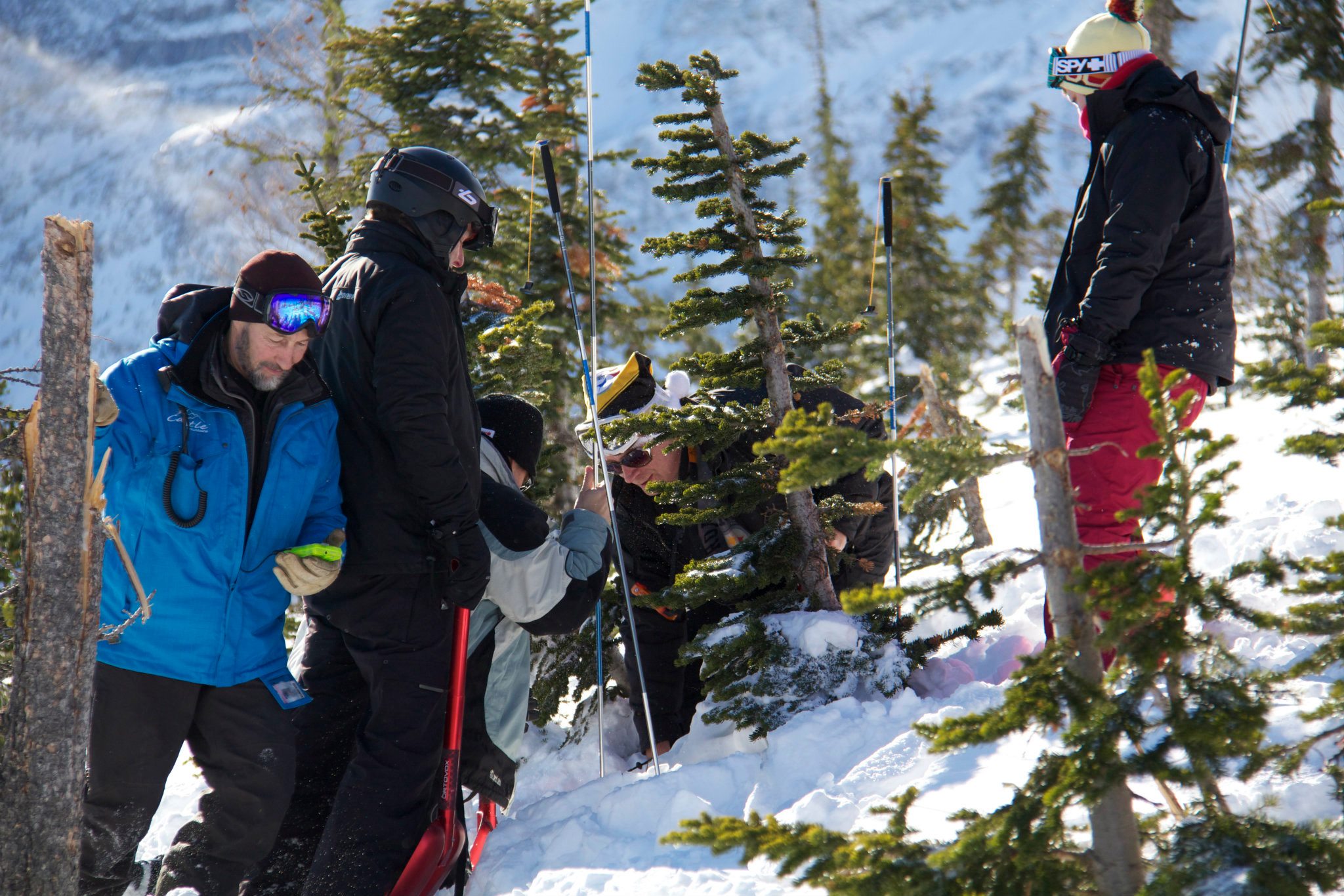 Castle Mountain is offering useful, hand-on experience during Avalanche Awareness Days.
Photo courtesy of Castle Mountain Resort
CARDA Avalanche Dog Demonstration
Sunday AM in the Base Area. Come see the stars of the show, Cali and Huck, rescue a LIVE BURIAL in a simulated rescue.
EXPLOSIVES demo!
Location TBA (watch notice boards). Saturday, 2 pm. Conditions permitting. Sunday 12 pm, if necessary
GRAND PRIZE DRAW
4 pm sharp in the day Lodge!!! Bring the tickets you earned and watch MC NICHOLAS give away great prizes in including FREE CAT SKIING!
Participate in activities around the resort on Saturday to earn raffle tickets. Each activity you participate in earns you tickets. There are no limit to the tickets you can collect.
Also, talk to a pro-patrol about avalanches and you might just earn a bonus ticket or two!
Prizes include CMR food and beverage vouchers,tickets, cat skiing and other swag from the CAA and our sponsors.