DOC POW
REVELSTOKE, BC — Any area called the Snorkel Glades has got to be good. Found within Revelstoke Mountain Resort's impressive tenure, this place offers up some stellar opportunities to get into the pow. 
My partner in crime, Brandon Boucher, and I launched in there and discovered a religious experience: the euphoric feeling of floating through powder in the middle of an old growth snow-caked forest. 
Location means plenty of snow
Revelstoke Mountain Resort receives almost 14 metres (45 feet) in a season and it's not uncommon that this winter wonderland will see 40, 60, or even 80 centimetres in a multi-day storm system. As the clouds move east from the Pacific, their first area of contact is this mountain range known as the Columbias. 
As the clouds collide with peaks reaching high into the sky, the result is a pure white heaven. Revelstoke's newest addition to its ever-increasing menu of terrain options is North Bowl, which is where those gorgeous Snorkel Glades can be found.
Once you get into these trees, located skier's left off the new Ripper quad chair, you might just find yourself looking to pitch a tent and spend the night to get the jump start on the morning.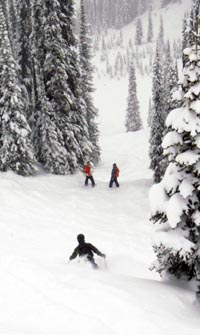 If you love skiing in the trees in dry powder over your knees, you will love Revelstoke Mountain Resort. 
BRANDON BOUCHER/SnowSeekers
Big mountain, big smiles
"Those were seriously the best turns of my life," said buddy Boucher over dinner later that evening at the delicious 112 Restaurant. "I've never seen powder pillows like that before. It's so quiet and peaceful, there was no one around and it was like we had the place to ourselves."
Boucher and I were shredding the gnar amongst old growth trees with branches dressed in white fluffy pillows, and the greenest of moss. You know the air has got to be good because this moss can only be found in the purest environments.
In addition to some serious vertical, in my books Revelstoke (referred to as Revy by many) offers some of this continent's top tree skiing. For anybody who's looking to increase their fiber intake, Revelstoke is a stellar bet. 
With four specific gladed areas in this new North Bowl zone alone, it will leave you with all the tree skiing you can handle.
Runs for everyone
But don't get me wrong Revy is not all trees and huge gnarly vertical runs—blue runs like Snow Rodeo, Devils Club, and Hollywood are big cruisers, perfect for all levels. You'll want to keep your eyes open to the limitless opportunities to get back in the trees on either side of these wide open vertical spaces.
The mountain is getting ready for yet another round of terrain installation this summer which will add a wealth of blue and green runs to the trail map. 
Located approximately 350 kilometres west of Calgary, and a healthy five-hour drive from Vancouver puts Revelstoke in a geographical location that's interesting to get to but well worth the effort.
Translation: Powder for the people.
For the latest deals, snow reports and contests, sign up today to our SnowSeekers e-newsletter.