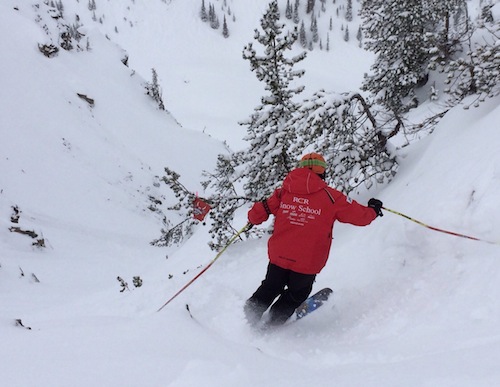 Chris Smardenka dropping into Truth - just one crazy adventure to capture one of 20 flags in the Helly Hansen Big Mountain Battle at the Horse.
Photo by Doc Pow
DOC POW
GOLDEN, B.C. — You could spend an entire season exploring  Kicking Horse and still find new lines to rip with its 2,800 skiable acres, four bowls and more "nooks and crannies" then the Playboy Mansion.
Not only that, it also plays host to the annual Helly Hansen Big Mountain Battle at the Horse – an event that lets you discover even more of that spectacular terrain on a snowboarding or skiing scavenger hunt. It's just one of a series of events happening around North America every season.
Armed with a Flaik GPS unit, my buddy Chris Smardenka and I entered the race expecting some big adventure. We both got a nice surprise.
"This event is about mandatory exploration," says John Walters, Helly Hansen's Banff store manager.
"It's a challenging event," he says, adding that the scavenger hunt gets people "to ski more of the mountain then they normally would."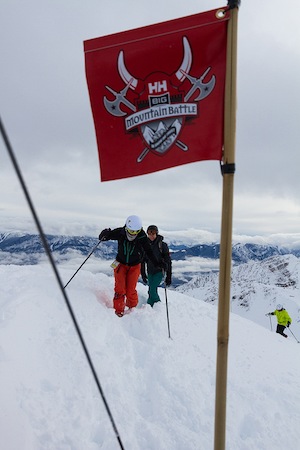 At the top of Blue Heaven.
Photo courtesy Mark Bridgwater from All Us In Winterland
The day before the race, the folks from Helly Hansen and Kicking Horse went around the mountain positioning flags in locations marked out on a map. Contestants take that map and then through the day, look for the flags. When they find one, the GPS unit registers that you've "checked in" and you're off to the next marked locale. The team that locates all 20 flags the quickest wins.
That win this season included $2,000 in Helly Hansen gear and an entry into the Helly Hansen Big Mountain Battle finals happening in Aspen. 
Walters helped set up the flags with the ski patrol and noted, "(I) found a bunch of runs that I didn't even know existed." 
Even Smardenka, who's been living and working at Kicking Horse for four years, says the exploration is nice, but finishing the course comes with some killer bragging rights.  
"The event is an awesome way to prove that as a local we know the mountain better than anyone else."
And that couldn't have been more the truth as Smardenka and I hauled our way quickly and efficiently from one side of the mountain to the other. To start, contestants had to run to their boards or skis, strap them on, zip up the chair and then hike or run to the summit of Blue Heaven, which is 8,000 ft. above sea level. Believe me it's much easier said than done.  
The next part of the battle pit us against the hike to the summit of Terminator Peak and down one of my favourite runs in North America called Truth. Extremely steep and deep is the only way to describe this powder paradise. With only a handful of skiers or boarders making their way to the top of Terminator, Truth almost always delivers a powder-packed adventure.
"For us at Helly Hansen, to be sponsoring a race series like this around North America, is a direct fit with our demographic, we want to encourage people to enjoy winter sports and to get people skiing in epic places like Kicking Horse Mountain Resort," says Walters.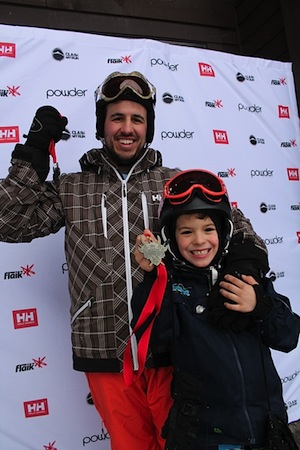 Mark and Quinton Olivito celebrating their Helly Hansen Battle win.
Photo by Doc Pow
But Helly Hansen's Big Mountain Battle is not just for those looking for the steeps and deeps. There are several categories for all levels of riders and skiers - from mild to our wild.  The family edition of the battle allows for fathers and sons, mothers and daughters to participate as well. 
"From a father son bonding perspective, it doesn't get much better then this and really allows us to spend some quality time together," said dad Mark Olivito. "We had a super fun day, and the race put me in spots on the mountain I've never been before," said eight-year-old Quinton Olivito.
It was all smiles for the Olivitos at the finish line when they took first place in the family edition of the race. 
As for me and Smardenka's finish, I figured first place was about the best we could do.
Next stop, Aspen!
For more on the battle, check out http://www.bigmountainbattle.com/na
Mark it on your calendar for next year. You don't want to miss this event. It's #kickass, which is also the Twitter hashtag for Kicking Horse Mountain Resort. 
If you don't have time for the battle, you can still experience all the powdery glory that awaits on the slopes of Kicking Horse through the Telus Big Mountain Centre's private guide program.  
For the latest deals, snow reports and contests, sign up today to our SnowSeekers e-newsletter.