An exhilerating experience in the Lizard Mountain Range
DOC POW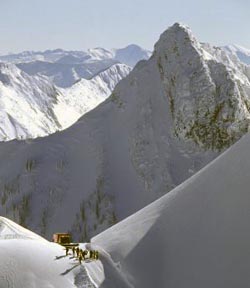 Island Lake Catskiing takes you deep into the heart of British Columbia's Lizard Mountain Range.
MIKE MCPHEE/Special to SnowSeekers
FERNIE, B.C. — You know you are somewhere incredible when every time you turn around you have to remember to pick your jaw up off the ground. Island Lake Catskiing, located on the outskirts of Fernie, British Columbia, is just such a place.
It was the setting for my recent powder-fuelled binge, which turned out to be some of the best turns of my life. And the Kodak moments in this area are some of the best you'll ever find.
It was 21 years ago that the foundation for this premier cat-ski operation was laid down by some of the biggest names in snow sports. Legendary athletes Craig Kelly and Scott Schmidt were so impressed with the terrain and the opportunities in the Lizard Mountain Range (home to Island Lake Catskiing) that they were constantly up there, not only shredding, but filming and taking lots of photos. 
Best of all worlds
That coverage quickly travelled the globe, and for marketing manager Mike McPhee, it was all he needed to see to get him into the business. 
"It was twenty-odd years ago while I was living in Winnipeg when I first saw those photos. They really helped lead me into this business," said McPhee, who is now truly 'living the dream'. In addition to his duties of promoting Island Lake Catskiing to the world, he also operates under the moniker of 'McPhoto', creating images that may help inspire aspiring photographers.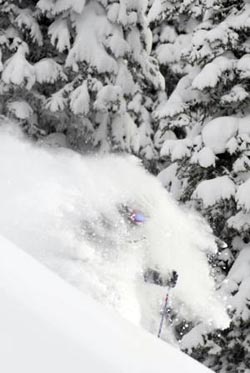 Expect face-washin' powder when you go skiing or snowboarding with Island Lake Catskiing.
MIKE MCPHEE/Special to SnowSeekers
"It's really about the terrain here," explains McPhee. "Island Lake offers 10 stunning powder bowls."
On my trip we hit into bowls named FaceShots and Geisha, which offered up incredible fall lines and transported us into the next hemisphere of euphoria. 
Great ride, great staff 
"This place is the best, I wouldn't come anywhere else," said Matt Singer, owner of Edmonton's Mission Snowboards.
"In addition to some epic terrain, you have a staff who are so incredible; I am not sure if you noticed, but within 10 minutes of arriving everyone knows and remembers your name. That's impressive," said Singer, who was making his fourth visit to Island Lake. 
We didn't get to hit it together on this adventure, but Singer was reflecting on a run he took at Island Lake called Woody off Mount Baldy. 
"That was the best run of my life, in through these perfectly spaced trees, where you would think that you were at the bottom and done, but then there were another 10 turns, and then another 10 turns – it never ends!"  
Cat chatter
Back in the cat, the chatter was all about the who and what of this area, and of course, the huge lines that were everywhere. That's one of the greatest things for me about cat-skiing, the drive back up gives you time to reflect and savour the moments. Next to savouring those moments, the other half of the fun is looking out of the cat on the way back up and staring at your lines - it's a very eye-opening sight. 
For your own look at what Island Lake Catskiing has in store for you, click here to be taken to the Google Earth section of their website, which shows you just what you are in for.
For more information on Island Lake, a place which National Geographic Traveler named as one of the top places to stay on the globe, visit www.islandlakecatskiing.com.
For more stories and detail on Fernie check out our SnowSeekers' destination page.