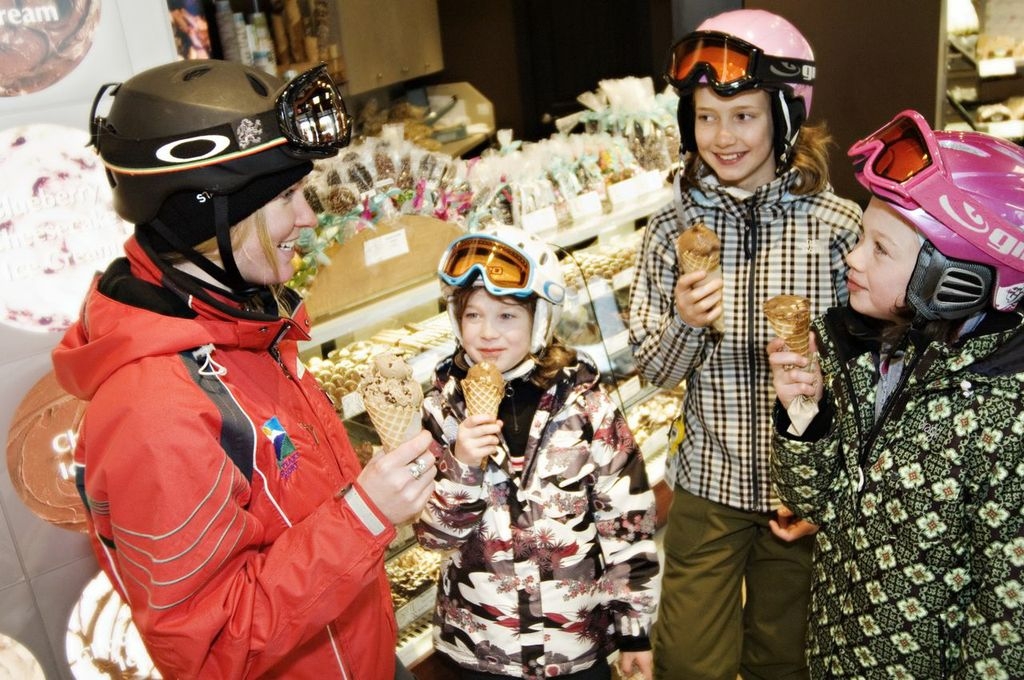 Who says you can't have ice cream in the winter? 
Photo by Adam Stein 
STEVE MacNAULL
KAMLOOPS, B.C. – As British Columbia's second biggest ski resort (next to Whistler Blackcomb), Sun Peaks Resort knows a thing or two about skier behaviour.
First and foremost skiers want - duh - mind-blowing snow and lots of vertical and terrain.
Check, check, check on all accounts at Sun Peaks.
Canada's second largest resort is calling your name. Plan your winter vacation today!
But skiers also want ski-in, ski-out accommodation, great eats and drinks and an array of things to do when they are out of their ski or snowboard boots.
That's where Sun Peaks' skating, tubing, dog sledding, snowshoeing, snowmobiling and swimming pools come in.

Families won't just be showing up from the local region, but from throughout B.C., Alberta, and even Ontario, thanks to good air connections via the Kamloops and Kelowna airports.So it comes as no surprise that Sun Peaks is the place to be when the kids get shoved out of school for Spring Break.
"Having three spring breaks (B.C.'s Alberta's and Ontario's) spreads it all out nicely," says Tourism Sun Peaks president Christopher Nicolson.
"It benefits the resort by giving us three extremely strong weeks to make March an awesome month, but it also benefits our guests because the crowds are spread out too."
Bookings at hotels throughout Sun Peaks are solid throughout March, an indication that first-timers and repeat guests are into the type of diversified winter holiday the resort excels at.
Here are some upcoming spring events:
March Music Madness
This new festival sees live music and DJs spinning virtually every day of the month and at every Sun Peaks hotel, restaurant, and venue.
Ski with Nancy Greene
Still famous after winning her Olympic gold medal in giant slalom over 40 years ago at the Grenoble Games, Greene is a fixture at Sun Peaks. You can meet her at the top of the Sunburst chairlift for a casual guided tour around her home mountain throughout the month. Everyone is welcome!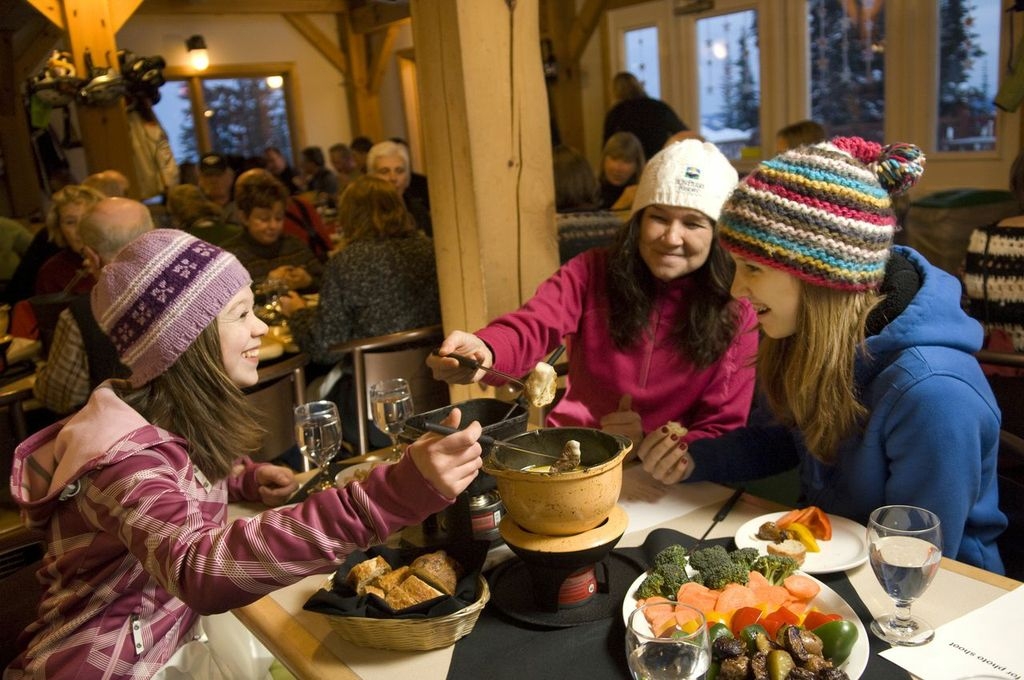 Fondue seems to be the unofficial mountain meal at Sun Peaks.
Photo by Adam Stein
Fondue
It seems to be the signature meal on the mountain. Eat it mid-mountain and ski down in the moonlight, consume it at the end of a cross-country ski outing or sit down in a restaurant and enjoy.
Snowshoeing
It can be done so many ways – as a fun run, through the Valley of the Lynx, up steep slopes or topped off with a stop for S'mores.
Everything else
Sun Peaks encompasses three mountains –  Tod, Sundance and Morrisey, and offers 3,678 acres of terrain serviced by 11 lifts to 124 runs.
The village elevation is 4,000 feet, but the summit is 7,000.
For more stories and detail on Sun Peaks check out our SnowSeekers' destination page.