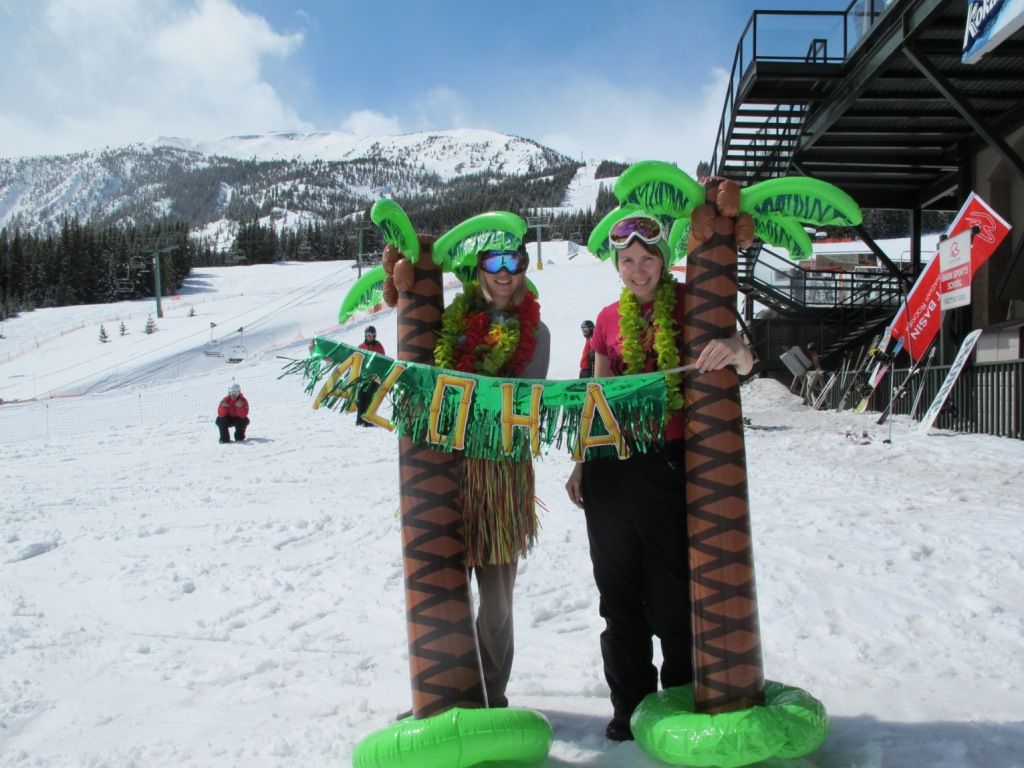 Marmot Basin brings back its Aloha Cup in April.
There are plenty of reasons to head for the ski hills come April. It's been a long, cold winter, and now is the time to get in some of that fair-weather skiing. It's also the time of year when ski resorts in the west feel like putting their party pants on. Live entertainment. Crazy antics on the slopes. It invariably all ends up with a few cold ones on the sunny patio while you work on your goggle tan. 
Snow Seekers compiled a list of some the top spring events at western ski resorts. In no particular order, here are some of our favourites: 
Lake Louise
Lake Louise has a load of spring happening, too many to list here. But we'll give you the skinny on its big, fat events list.
Big Mountain Ruckus: It's back and it's as big as ever. The 11th annual Big Mountain Challenge, March 14-15, is for those who have got strong legs on the board or skis, and who aren't afraid to challenge themselves on extreme terrain.
March 29 - Second Annual Ski Louise Stampede - Dudes and dudettes don their cowboy gear of their choice for a chance to compete against the mountain and other skiers. Competitions include downhill and a cross-style course race. The Kokanee Kabin is where everyone goes to chill at the end of the day before heading to a colossal after-party, with a silent auction, buffet dinner, awards for the racers and dancing til way after dark.
April 2, Cardboard Box Downhill Derby – This old-fashioned street race moves to a snowy mountain for some speed-demon fun. Craft your own "car," out of string, cardboard and glue, grab a few friends and let gravity – and  a little skill – get you to the bottom first.
April 18-20, Easter Bunny Visits – The big-eared rabbit hits the hills to pass around chocolate eggs, the best kind of fuel for a day on the slopes.
May 2-3, Monster Energy Ruckus, Bikinis for Breast Cancer, Appleton Rum Activation: The final ski weekend at Louise offers a trifecta of fun events beginning with the Ruckus – essentially a big old party on the Friday and Saturday in the Kokanee Kabin. Dig out your best bikini top and compete for a great cause on Saturday, May 3. Prizes awarded for those who raise the most money for breast cancer. And finally, be sure to drop by the Kokanee Kabin where the folks from Appleton Rum will be handing out samples of their tasty libation. Now, that's a way to wrap up the ski season.
Mt. Washington
The season may have got off to a late start, but Mt. Washington will more than make up for with its spring skiing roster. From mid-March until the resort closes on April 21.
March 23, Spring Rail Jam – Anyone age 13 and older and can get their rail jam on for this fun event. Grab a few friends and make a day of it.
April 20 – Crush Slush Cup – Dig out your favourite dress up outfit and head to the resort for a day of slushy silliness. Compete to win a pair of Electric goggles for the best jump across the slush pit – without getting wet - and best costume. 
Fernie
It's been an awesome winter, but spring is the time for a little throwback at Fernie when it hosts its Kokanee '80s Retro Weekend & Last Chance Rail Jam on March 31 and April 1. This is your chance to relive the decade of excess and bad fashion. Dig out your old one-piece ski outfit or your neon Spandex leggings and coast the Curry Bowl or any other of your fave runs. Then head to the Griz Bar for an all-night long Hot Tub Time Machine Party. If you've still got legs for spring skiing, be sure to check out Fernival & Spring Splash on April 14 and 15. Beside the usual slushy shenanigans at the resort, Fernival is the main attraction in town. It's a mashup of classic music (Chilliwack is the headliner) and events for the whole family. Read more about Fernival on Festivalseekers.com
Sun Peaks
Tod Mountain Days celebrates the end of the ski season, April 5 to 6. It's de rigueur to don your wackiest outfit for this family-friendly event. Then participate in the Dummy Downhill on Saturday at 12:30 p.m. That's where participants launch a homemade dummy on skis down the hill and watch it crash in spectacular fashion. Prizes are given out for creativity, design and the best show of destruction. Be sure to stick around for Sunday's Slush Cup, where daring souls – and hams - entertain the crowds while competing to see who can stay dry while crossing the half-frozen pond. It helps if your antic and your costume are equally outrageous.
Marmot Basin
The resort, which just celebrated its 50th birthday, continues to party it up like a teenager as we cruise into spring. And to sendoff the season, there are plenty of ways to celebrate. First is the annual SnowJam/SunRype Tour, March 22 to 23. That will be followed by the best party on the hill all year – the Aloha Cup shindig on April 12. Don your coconut bra and hula skirt and take part in a race that's the most fun you can have on skis or a snowboard. The $15 admission includes a barbecue lunch and the chance to win prizes.
Whistler
The skiing continues, but there are plenty of sideshows at the resort all spring long. Several special events that have happened all season, continue including the wildly popular Fire & Ice Show, every Sunday at 7:30 p.m. until March 30. All the action takes place in the Skiers Plaza. You'll see the resorts finest skiers from the ski school dazzle the crowds with their fiery hoop jumping. Then don't miss the Afterburn Party at the Garibaldi Lift Co., starting at 8p.m. (Adults only).
Here's what else is on tap:
The Winemaker Apres Series continues on April 3. Sample some of B.C.'s best wines and local foods. It all happens at Steeps Bar & Grill on Whistler Mountain. Tickets include a five-course meal with wine tastings.
One of the west's biggest events is the Whistler's World Ski & Snowboard Festival, April 11 to 20. It's an amazing melding of music, sport, art and culture. There are more than 50 live concerts, professional snowboard and ski competitions, nightlife, not to mention the spectacular spring skiing. 
For more details on the individual resorts and what they have to offer, check out their destination pages: