Nelson's Coldsmoke festival celebrates powder as well as any other
JOHN DEVITT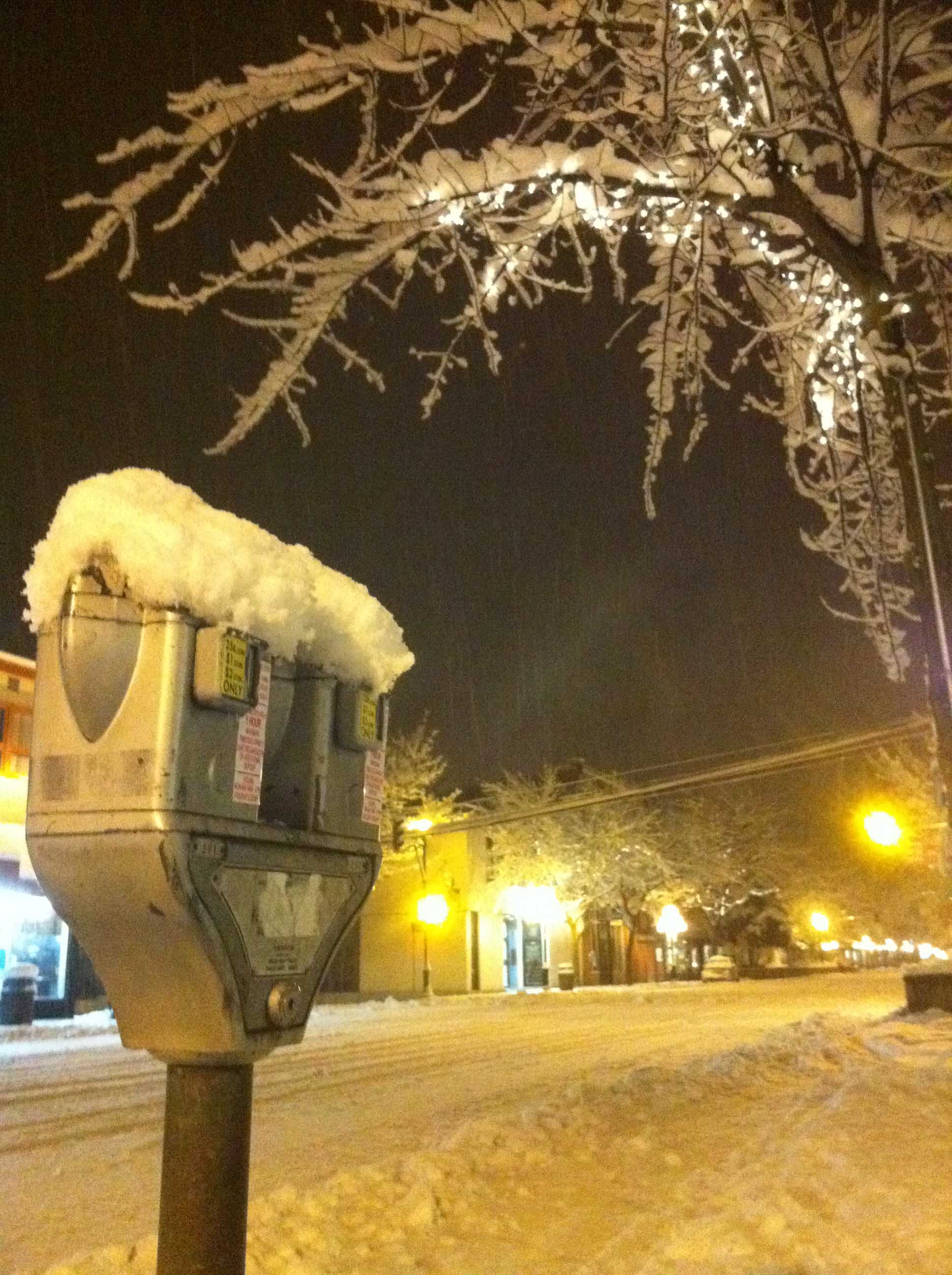 The streets are quiet as snow piles up for a 32cm day at the Coldsmoke Festival.
Photo courtesy of John Devitt/SnowSeekers
NELSON, BC — For the past few years, the community of Nelson, British Columbia and Whitewater Resort have banded together to organize the annual Kootenay Coldsmoke Powder Fest. Typically held over a weekend in February, the Coldsmoke brings together backcountry enthusiasts and hungry powder hounds from all over Western Canada.
Kicking off with the Friday evening opener, "Toast to the Kootenays", got everyone stoked for a weekend of powder, clinics, and competitions. As the snow fell heavily outside the Capitol Theatre in Nelson, attendees were treated to films and photo slideshows showcasing the mountain lifestyle. Peter Moynes, Publisher and Photo Editor at Kootenay Mountain Culture magazine, was the emcee for the event. He kept energy levels high during a hilarious Kootenay trivia competition, which led to huge prize giveaways courtesy of some of Coldsmoke's many sponsors.
Revy legend, Greg Hill
Ultimately, the highlight of the night had to be Greg Hill's account of his year chasing 2 million vertical feet of skiing. His achievement is nothing short of monumental and during his presentation, he took the crowd from conception through mid-goal challenges to ultimate accomplishment. All this was accompanied by Greg's friendly, neighbour-like banter and breathtaking imagery of his journey.
Waking up Saturday morning confirmed what everyone already knew. The weekend was a powder hunter's dream. In the previous 24 hours Whitewater Ski Resort had been pounded by 32 centimetres of soft, white, fluffy stuff. Festival attendees participated in backcountry clinics ranging from introductions to ski touring for beginners to freeski adventures with legendary alpine skier Eric Pehota. Many more opted to participate in, or at least watch, the Slopestyle competition that took place in the Powder Keg area of Whitewater. Standing in the snow, spectators gazed up the mountain into the driving snow that did not let up as bodies on skis and snowboards hucked themselves off massive rocks into the deep pow, all in hope of scoring high points with the judges.
This powder festival lives up to the hype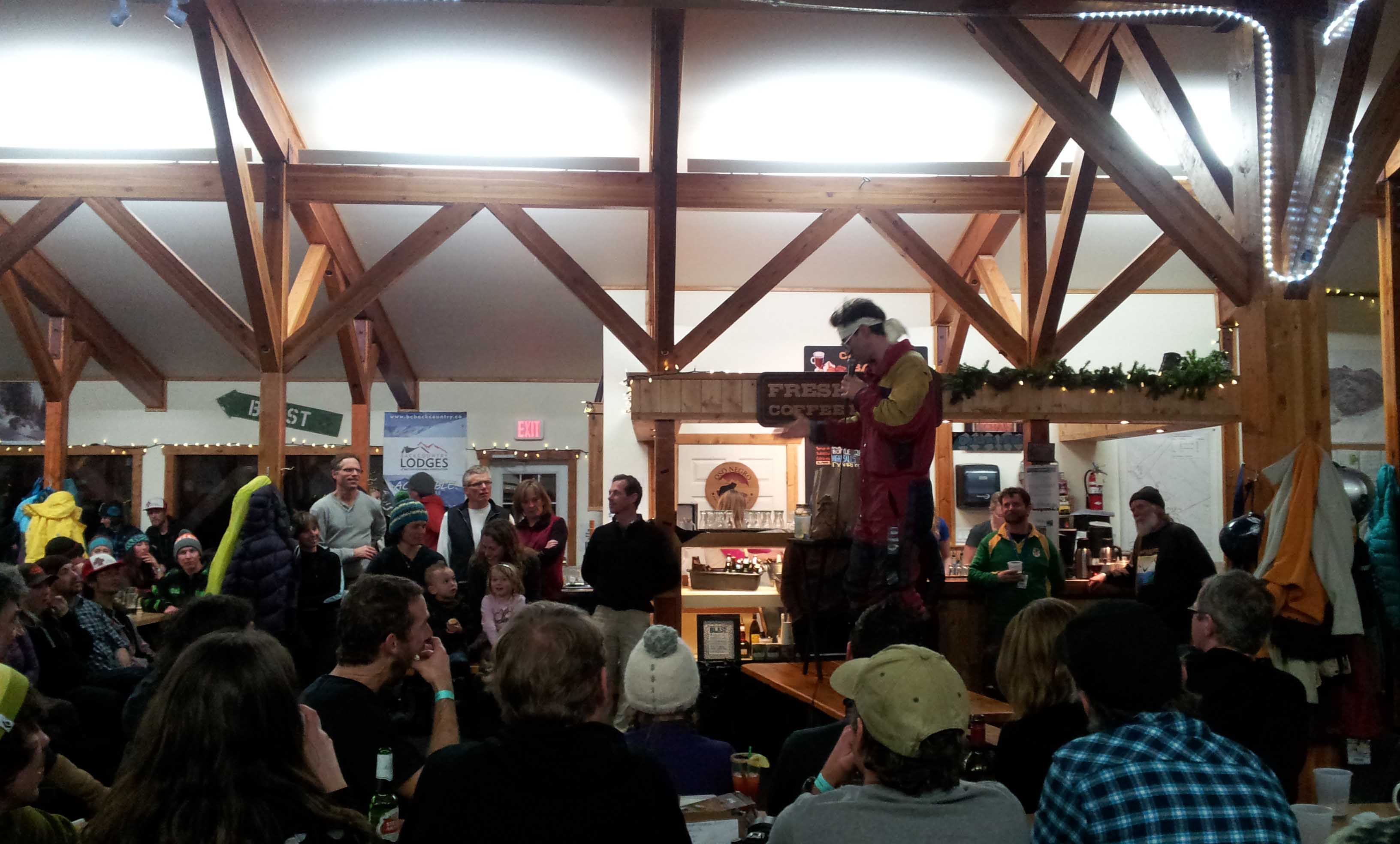 A stand up comedian teases back country skiers during the Hootenanny After Party.
Photo courtesy of Jean-Marc Laflamme/SnowSeekers
After some delicious après ski appetizers, we were treated to the famous "Buff-EH and Hootenanny After Party". Delicious food and dark beer were paired with incredible company in the Whitewater daylodge. Speaking to new friends from throughout the Kootenays and even as far as Idaho made one thing abundantly clear - 32 centimetres of powder speaks a universal language that we all share.
Sunday brought with it another 29 centimetres of fresh stuff and more clinics and competitions to take in. There was more to do than any one person could take in entirely. Between the terrain at Whitewater, the après scene in Nelson and the fusion of new and experienced backcountry-ites, this grass roots gathering comes highly recommended.
For the latest deals, snow reports and contests, sign up today to our SnowSeekers e-newsletter.