Alison, Aodhan and Malcolm Bower stand on "Top of the World."
Photo by Crai Bower
CRAI S. BOWER
My 74-year old mother in-law, Deede, hasn't skied since 1995, when she blew out her knee while skiing in Whistler with her husband Oliver, an expert skier to this day. Five-year old Malcolm hasn't skied much at all and Alison, his mother, once a blue run specialist, is admittedly tentative since having children. On the other end of the ski confidence spectrum, eight-year old Aodhan wishes to keep pace with his teenage brother Taliesin, a 19-year old snowboarder who favours slaloming down black diamond runs. 
I'm thrilled to gather three generations at Sun Peaks Ski Resort, one of the finest family ski resorts in North America. Though a non-skier, Deede enjoys plenty of winter fun, embarking upon a half-day snowmobile tour through the ponderosa pine forest and an evening sleigh ride behind a team of Belgian draft horses. After an hour snowshoe lesson, she joins Alison for treatments at the Sun Peaks Spa in Kookaburra Lodge, the 90-minute "Relaxation Massage" clearly her favourite.
Canada's second largest resort is calling your name. Plan your winter vacation today!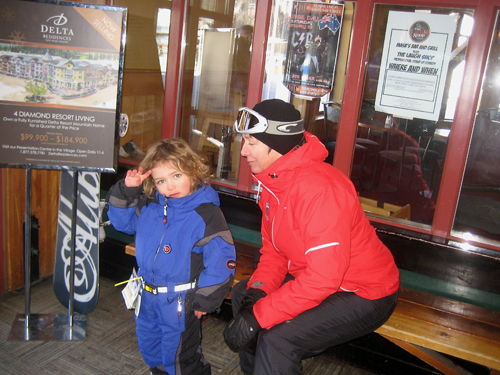 Senator Nancy Greene with five year old Malcolm Bower
Photo by Crai Bower
Malcolm receives his first impromptu lesson from Senator Nancy Greene, also director of skiing at the resort, who bumps into us in the lodge, detects mother Alison's reserve and also beckons her onto the hill for a refresher. Aodhan, Taliesin, Oliver and I tear all over Mounts Tod, Morrisey and Sundance peaks, hitting many of the 126-named trails and most of the 14 glades within the resort's 4,270 skiable acres, the second largest terrain in Canada. 
It's rare to find a ski area that satisfies every member of a family. Either the ski hill is so gentle or worse, unimaginative, it puts the more aggressive skier to sleep, or the cliffs portend disaster from every lift, forcing the parent to keep children securely tethered to the bunny hill. And though hardcore skiers may be satisfied with falling down after a 'fresh tracks' to last run marathon, most families look for more than just a week's worth of ski run satisfaction.
A family ski trip is as much about village downtime as the bumping through the moguls. Sun Peaks also provides a safe environment for 'tweens and teens to wander, pubs for adults and plenty of non-ski activities to delight the grandparents and entertain the youngest set.
In the afternoons Taliesin takes his brothers to the Café Soleil for après chocolate treats, then joins his grandfather and me for a pint at the Bottoms Bar and Grill. At night we gather in the outdoor pool, play some shinny hockey on the outdoor rink and slide pieces around board games fireside in our condo. 
Like most "tri-gen" families staying at a ski-in condo, we make a few meals at home and also dine out, restoring carbs at Bella Italia and, my new favourite, The Voyageur Bistro where I work through the Voyageur Stew with bison. 
Spaghetti and stew is all very good, but I've come here to ski. Mt. Tod, a 2,152-metre peak that offers 882-metres of sun-kissed vertical, forms the original 1961 ski area. We hit Mt. Morrisey: the long, blue runs are perfect on a cloudy day though our skies were mostly brilliant. 
We also play follow the sun everyday, starting across Mt. Tod at "Top of the World," skipping down the groomed black and blue Crystal Bowl, then tracking the radiance into the steep and rugged "Headwalls" and "Sacred Line," before finishing with "OSV," the former training terrain of the Austrian Ski Team.
And how many mountains invite a wide-eyed five-year-old and his cautious mother to travel to the "Top of the World," and then ease them down a green run, in this case the long cruiser, "5 Mile?" Ascending the summit married preschooler Malcolm to his skiing future more than a countless solo trips up the bunny hill platter.
Though I've brought my family here for the skiing, Sun Peaks offers much more than dry snow sloping downward. Even after all these sun-drenched days on the slopes, it may be the clip-clop of the Belgians that took my family deep into the woods for a hot chocolate repast that will dominate my crystal clear memories after the snow melts this spring. Nah, probably not.
For more information about Sun Peaks and to start planning your trip, head to their official website.
Like this story? Share it with your crew on Facebook!