The conditions are incredible across the board! Keep your eye on our snow conditions page and stay updated with snowfall from your favourite resorts.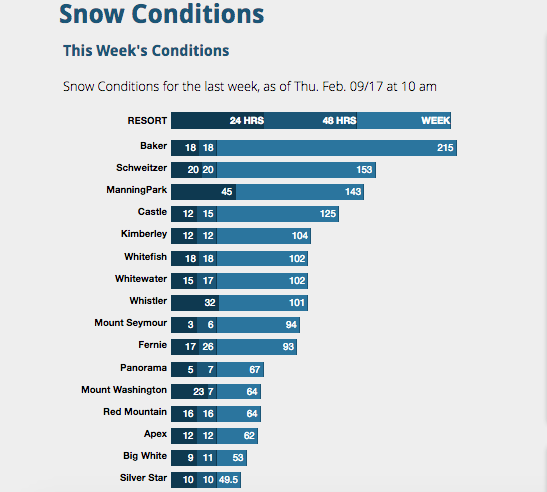 Manning Park has received over 50cm of the white stuff this past weekend alone! Did you know SnowSeekers' writer Rebecca Bollwitt recently visited the resort. Learn more about her adventures here.
#BCSkiChat Q1: Easy answer when we had 50cm+ of accumulated snow this past weekend! Check it out here: https://t.co/pW3dz5jFbQ

— Manning Park Resort (@Manningpark) February 8, 2017
The good times keep rolling at Castle Mountain Resort. With over 110cm of snow, the resort is in incredible shape! Seekers writer Andrew Penner recently learned how to keep it real at the resort. Read more here.
@SkiCastle 110cms fresh in the chutes was a dream come true! Can't wait to come back. ❤❄️ pic.twitter.com/5R5h8C0vIM

— Kimberly Shulha (@KimberlyJoan77) February 8, 2017
5 words. TWO. FEET. IN. TWO. DAYS. Grab stats about Kimberley Alpine Resort here.
Yesterday has been the best day so far! 2 feet in 2 days - #apicturesays1000words #mykimberley #BCSkiChat pic.twitter.com/fmC6FVHogx

— Kimberley Alpine (@SkiKimberley) February 8, 2017
Grab your snorkels, you're going to need them at Fernie Alpine Resort. Get all you need to know about the mountain here.
#roadtrip on the @PowderHighway annnd this is why it's called that! @KickingHorseMtn @SkiFernie @SkiKimberley #BCSkiChat #powhwy #explorebc pic.twitter.com/uB1ed7r3JW

— Powder Matt (@PowderMatt) February 8, 2017
After playing in all this snow, sooth the sore muscles with a stop in at Radium Hot Springs. Enter our contest and win your way there.
The magic of the Hot Springs at night. Is there a better way to find your peace in #Radium? #ExploreBC #KootRocks #travelcv pic.twitter.com/hMRIy2vfrq

— Tourism Radium (@Tourism_Radium) February 7, 2017
Stay in the snow with SnowSeekers at www.SnowSeeekrs.ca/SnowConditions
For more on the "Storm of the Season" check out this story from Doc Pow.
Like this story? Share it with your friends!