Get fashionable this spring!
All photos by Joanne Elves
Just say ?Spring skiing? and all the snow hounds around you giggle with delight. The thoughts of longer days, sunnier skies and wild après ski festivities come to mind. But spring also brings the need for lighter clothes, different eye protection and maybe some sun block to protect you from the brilliant rays bouncing off the snow. Here are some top-to-bottom products to consider to get you ready for the season.
Head
Helmets are a no-brainer, or should we say helmets are a brainer? But you already know that, so we?ll move on.
Face and lips
Spring brings the perfect storm of conditions that cause a sunburn. High altitudes, UV radiation up to 35 per cent higher than sea-level, and reflection off the snow of up to 80 per cent of the UV light from the sun. According to skincancer.org, putting those variables together makes for a goggle tan that will leave life-long reminders in wrinkles, scars and worst-case scenario - skin cancer. Toss in a wind burn and you will look like crap at 50. So, starting now, use sunscreen on your face and lips.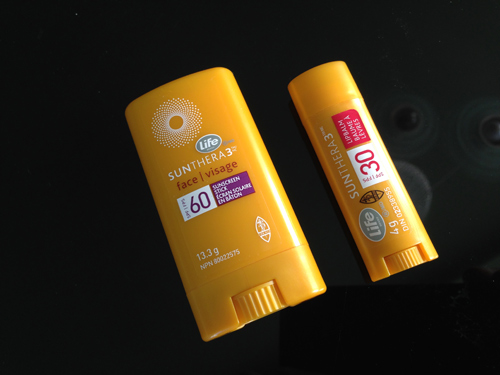 When you?re on the slopes, wear a lip balm with an SPF 15 or higher. For your face, look for a broad-spectrum sunscreen with an SPF of 30 or higher. Shoppers Drug Mart offers a nifty sunscreen stick that won?t make a mess in your pocket if you tumble in the wet snow. And if you do a face plant - the SunThera3 protection is waterproof. (Don?t forget your earlobes!)
Cost: lip balm $7.99, sunscreen stick $12.99 (sale)
Eyes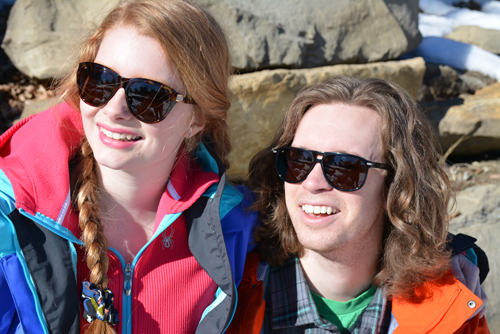 Goggles or sunglasses should always be in your kit. They protect you from the wind and help you see bumps on overcast days. There are hundreds of goggle makes such as Oakley, Bolle, Vuarnet, Smith and Scott (to name a few). Look for a comfortable fit, and lenses that work best with the conditions from fog to sun.
Invest in a pair of sunglasses that protect your eyes from the intense spring sunshine. At the very least, look for the ?CE? stamp on the arm signifying the lens meets a safe minimum level of sun protection. But cheap sunglasses don?t stay on your nose. Step up your budget and purchase glasses that fit your face and stay glued when you sail over the bumps. Look for Serengeti, Bolle, Vuarnet, Oakley.
Our ?her and his? models tested the latest Serengeti styles offering photochromic technology that adapts to the light and will work on the slopes, on the highway and après ski. ?Her? wears the Elba and ?His? wears the Giacomo. Check them out at www.serengeti-eyewear.com. List price is roughly $330 at select optical stores.
Jackets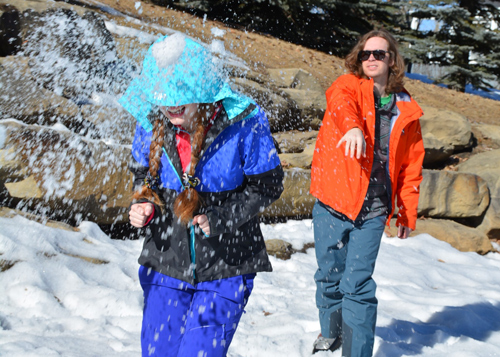 In the spring, when the temperatures are sub-zero in the morning and your brother is hitting you with sloppy wet snowballs in the afternoon - a good layering system is important. Warmth, wind and waterproof is the top of the list.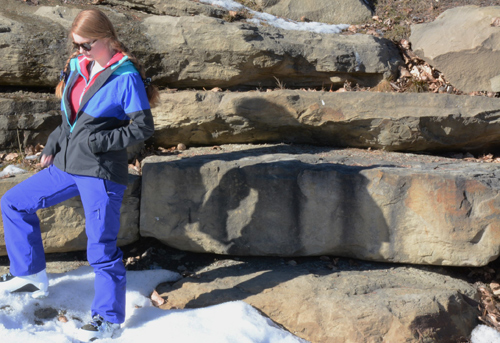 ?Her? outer layer is a lightweight Helly Hansen Performance Series ?Vancouver Tricolour? jacket. Not only is it light but it?s a waterproof and breathable - a tough fabric ready for that snowball or coastal rain shower. The hood fits over a helmet and the wrists are Velcro-adjustable to keep the wet out. When the day warms up, it easily crunches into a backpack. This jacket fits on the small size. Available at Sport Chek $149.99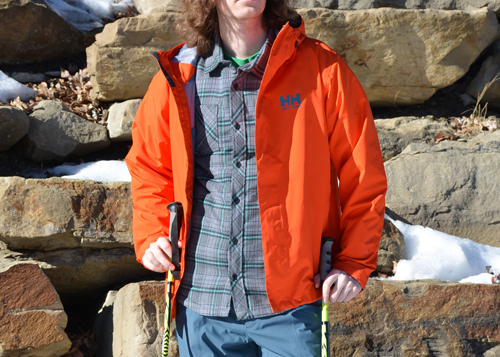 ?His? outer shell is another Helly Hansen product. The ?Cloudberry? is a bright colour, perfect for finding someone on the slopes in the fog or just showing off. The ?Cloudberry? is in the Helly Tech Protection series, good for moderate weather conditions. It promises to let the condensation and perspiration escape while protecting you from the snow and rain. The hood covers a helmet. The drawstring at the waist and the Velcro at the wrists adjust to keep the wet out. Available at Sport Chek $109.99
Pants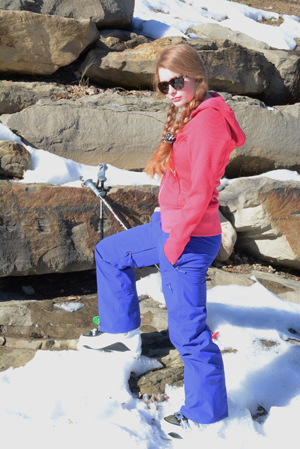 ?Her? shows off the North Face Jeppeson pants. A thicker inner layer in the winter will make these her all-season go-to pants, but for spring a light layer is all that?s needed to stay comfortable. These waterproof pants are straight cut making for a slimmer look though the leg. The fabric has a four-way stretch so movement is carefree and comfortable. The inner-thigh vents are great for cooling off between runs. Available at Sport Chek and Atmosphere. $249.99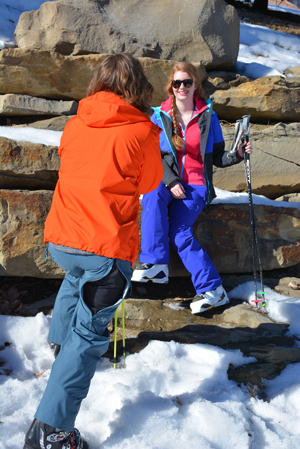 Like any Arc?Teryx apparel, you better love what you buy because it will outlast you. These ?Sabre? pants on ?Him? are a lightly insulated, waterproof Gore-Tex pant with a great vent system (as shown) for cooling off between runs. Skiing through the trees and bouncing off a few rocks didn?t leave any scars or abrasions. These are the type of pants you can treat with no respect and it doesn?t show. They look and feel as good as the day he first put them on. Available at Sport Chek and Arcteryx.com $479.99
Base Layer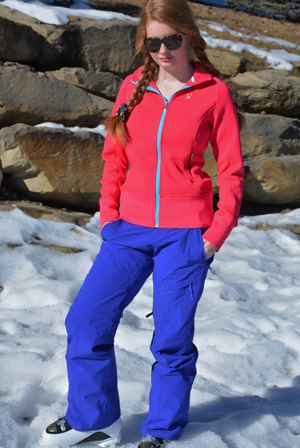 Oh baby, it?s warm outside. By noon you?ll want to toss the outer shell and ski in something that can still handle the weather. ?Her? tested the Spyder Core Sweater and loved the feel and the warm bonded fleece. It did let the wind through when skiing without a jacket but to that we say, ?Ski slower!? Hanging around the deck sipping a cool one in this contoured sweater does the job just fine. Available at Sport Chek $164.99.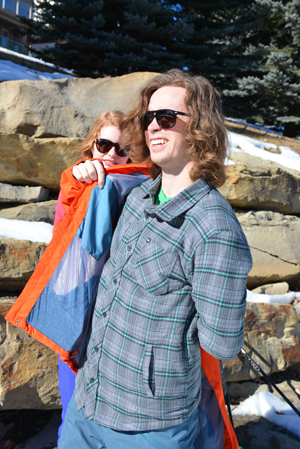 Plaid. Of course the guy that looks like a lumberjack should show up in plaid. But anyone who feels the inside of this this shirt/jacket will melt. The Quicksilver Tippers Button Up Long Sleeve cotton flannel is lined with puffy Sherpa fleece. You?ll feel like you?re wearing your pajamas all day long. The sleeves are quilted polyester, making it easy to pull on. Anyway, you won?t want to take it off. Oddly, it is listed as ?dry-clean only? but what lumberjack is going to do that? Available at Sport Chek $79.99.
Did you know we are currently running "The SnowSeekers Challenge" show us your epic skiing bucket list and win incredible prizes.
Ready to be fashionable on the slopes? Share these ideas with your friends so they can be sporting sweet threads too!