Tod Mountain Days an awesome annual spring skiing celebration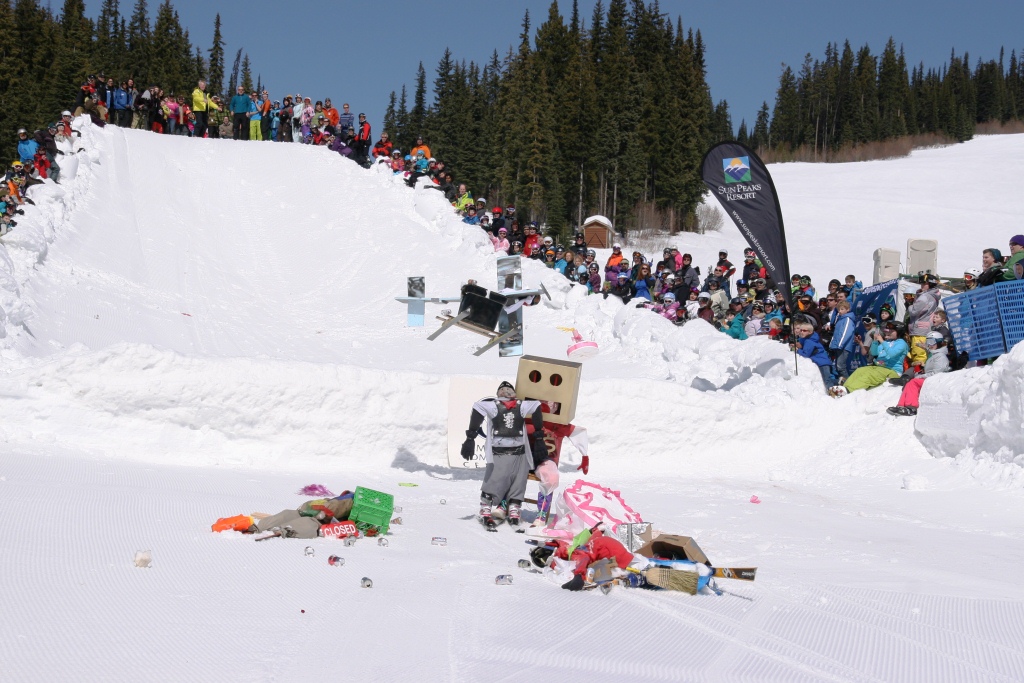 Folks in retro outfits look on as dummies are launched off a jump in the annual Dummy Downhill competition during Tod Mountain Days.
Photo courtesy of Hayden King/Sun Peaks
LAURA ENGLAND
SUN PEAKS, BC - It may seem a bit early and a bit sad to be discussing the end of the ski season, but at least it'll be done in spectacular fashion this year, as Sun Peaks end its season with the annual Tod Mountain Days.
If you?re wondering what Tod Mountain has to do with Sun Peaks, it?s the name of the first mountain that the resort village is built beside. Its namesake, John Tod, was a prominent fur trader in the early 1800s and the resort was known as Tod Mountain from 1961 to 1993.
Canada's second largest resort is calling your name. Plan your winter vacation today!
Since then, the resort has expanded and is now the second largest resort in B.C. with three mountains to choose from.
Tod Mountain Days is something patrons and staff look forward to every year, despite it marking the last weekend of the season.
On the Saturday, crowds gather in front of the day lodge to witness the wildly entertaining Dummy Downhill race. After hours of hard work and preparation, entrants lovingly place their creations at the top of the hill and gently nudge them downwards towards their ultimate destruction.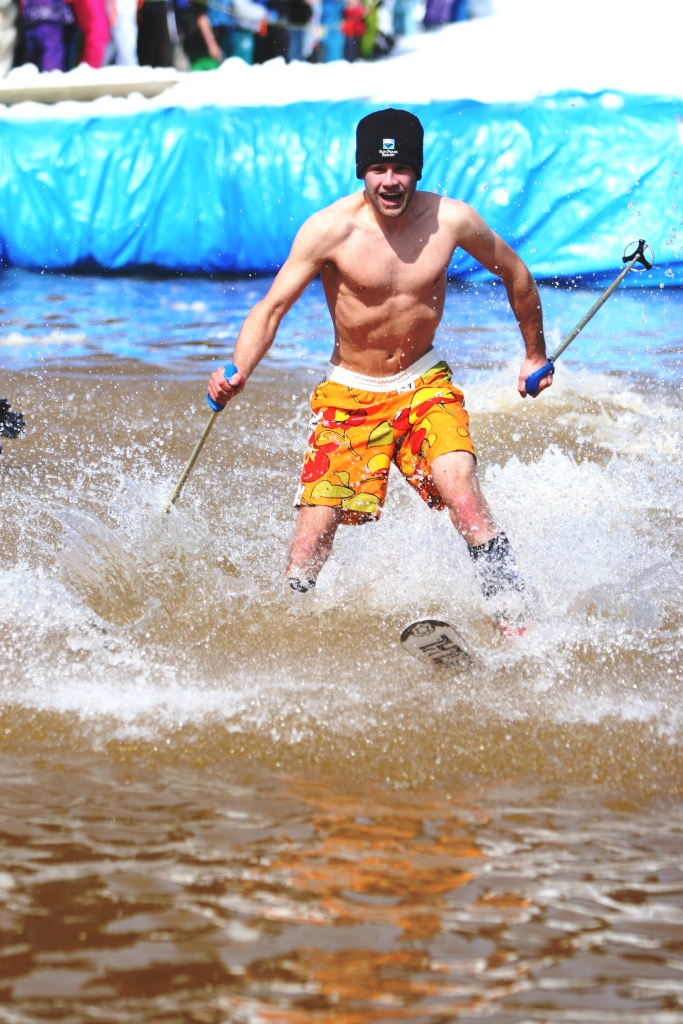 A participant in the Slush Cup makes his way across the icy pool.

Photo courtesy of Hayden King/Sun Peaks
All the dummies are dressed up and some even make it to the bottom unscathed. The entrants that get the biggest applause from the audience are usually always the ones that explode on impact. Oh, and keep an eye out for Nancy Greene; she?s usually a judge for this event.
The fun doesn?t end there as the real folks get to compete in the Tod Mountain Days annual Slush Cup. The goal in this event is to gain enough momentum to skim completely across a giant pond of slushy water. It seems garish costumes help. Some people actually  make it all the way across, but most fall short and after a very short dip in the icy water, scramble into an awaiting hot tub.
On Sunday guests are invited to join in the Top to Bottom?s Race. Beginning at the top of the Crystal chairlift, competitors race to Bottom?s Bar and Grill where they are required to consume a beverage, then ring a triangle.
There?s an age restriction on this race, but it benefits everyone. This event has gone from an informal tradition to a recognized event and fundraiser. The Sun Peaks Discovery Centre reaps the benefits of this race, so raise a glass in good health.

Even though a typical Canadian winter can stretch out over six months, as skiers and boarders, we still have a hard time saying goodbye to the snow, but it sounds like Tod Mountain Days is the perfect way to ease into spring.?Tod Mountain Days is a celebration of a great season where people can get together and get goofy. This is a weekend for kids and adults to enjoy, and sometimes the adults can act like kids,? says Brandi Schier of Tourism Sun Peaks says. 
For more stories and detail on Sun Peaks check out our SnowSeekers' destination page.