Our Group of 7 practise the art of having fun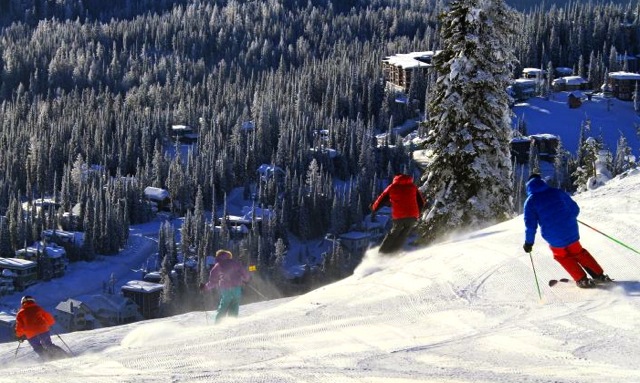 At the end of the day when the legs are getting tired, it's a welcome sight to see your ski-in, ski-out accommodations at the bottom of the hill.
Photo courtesy of Silver Star
LISA MONFORTON
VERNON, B.C. - The girls' legs were done for the day and we were all more than ready for a glass of wine and soak in the hot tub back at the condo. But Ted, Doug and Bob had enough energy for one more go at some of Silver Star's more gnarly runs – like the double black diamond "Where's Bob" – if only to indulge our ski-deprived Ontario friend of the same name.
That was the beauty of our group's long weekend at Silver Star Mountain Resort. Plus the fluffy snow ghosts, blue skies and heaps of powder.
US friends: With the exchange rate in your favour, why not come and visit your neighbours in the great white north this winter? Explore winter deals and getaway packages at SilverStar Mountain resort.
Mere steps from the lift
We'd rented a four-bedroom house, complete with a hot tub at the foot of the Alpine Meadows chair for our annual ski trip together.
Travelling in a pack of seven with varied ski skills isn't always easy, especially when we only do this once a year. Everyone has a different idea of a ski holiday, but it was more than easy to accommodate everyone here.
Some of our diverse group wanted to cruise the groomed greens and blues in the morning, have a leisurely lunch, go read a book back at the condo or shop in the village. Others wanted to rip up the double blacks off the Powder Gulch Express all day on Silver's Star's "dark side," and party till the wee hours at the Bull Dog Grand Cafe or the Saloon.  
One of our favourite haunts was the Bulldog, where we either had lunch or enjoyed a cold one at the end of fine day on the slopes.
Photo courtesy of Silver Star
We were spoiled for choice, something Silver Star does well. With a variety of condos and vacation homes in vibrant M & M candy colours sprinkled around the village, our unit had more than room enough for seven with the pull-out couches.  With the Alpine Meadows and Summit chairlifts mere steps away, it doesn't get more ski-in, ski-out than that.
Essentials: Hot tub, food and drink
At the end of a satisfying day, it was a must-have luxury to flop down on the couch – rather than have to hop in the car and drive somewhere. With the couch perfectly situated beneath the floor-to-ceiling windows, we'd swap tales from the slopes and watch the sun fade behind the Monashee Mountains. When we had the energy, we'd ease our tired gams into a bubbling hot tub on our deck with a cold beverage in hand and enjoy the stars while snowflakes drifted down.
We'd packed a few groceries, but when the bacon and eggs ran out – our preferred breakfast of ski champions - or inevitably the wine and beer, we'd head over to the Lord Aberdeen Market to replenish the supplies. (We later learned the market delivers to your condo. 
Each day, we could go off in several different directions and each find something different to do, with time for catching up at lunch or over dinner at one of the 14 restaurants, bars and bistros in the village.   
Our days were filled with playing in the glades all morning, taking leisurely lunches at the Bull Dog or the Den, getting in a few more turns and then head back to our favourite resting spots. Hmmm, the comfy couch or the steamy hot tub? These were our most important decisions. 
Next time, we vowed to save time to glide through or snow-shoe some of Silver Star's 105-kilometres of Nordic trails, skate on the Brewer's pond or even go snowmobiling.
Another thing we all agreed on when the holiday was over? Life's too short. And so are ski holidays.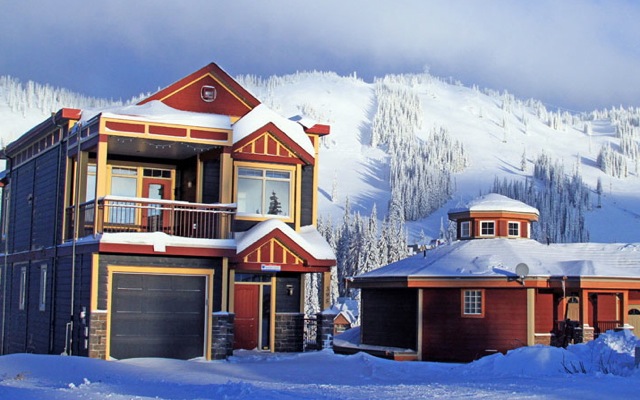 There are many types of accommodation to choose from at Silver Star. You can rent a slope-side vacation home or condo, or stay at one of the many lodges.
Photo courtesy of Silver Star
Need to Know
Getting there: Silver Star is about a six-hour drive from Vancouver and Calgary. WestJet and Air Canada fly daily to Kelowna. A shuttle service also operates from Kelowna Airport, about a one-hour drive away.
Accommodation: 10 hotels and dozens of ski-in/ski-out vacation homes and condos are available for vacation rental on or around the mountain as well as many lodges. Click here for details
Dining: There are 14 bistros, restaurants and cafes to choose from. Click here for details
New this season: All Silver Star alpine season passes include unlimited access to all Nordic and snowshoe trails, Tube Town Adventure Park and ice skating on Brewer's Pond.
For the latest deals, snow reports and contests, sign up today to our SnowSeekers e-newsletter.