– May 24/11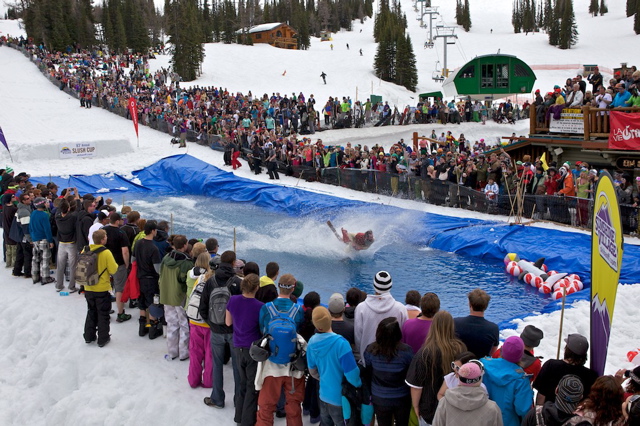 The 2011 Slush Cup at Sunshine Village was one of the resort's most successful to date.
Photo courtesy of Sean Hannah
To view a photo gallery of the event, click our Sunshine Village Slush Cup photo gallery.
BANFF, AB — Nearly 4,300 skiers, snowboarders and spectators came out Monday to Sunshine Village to witness the 83rd annual Slush Cup under sunny skies. Nearly 75 competitors participated, included a host from Country Music Television. The winners were:
Mr. Slush Cup: Andrew Trow (the farmer)
Mrs. Slush Cup: Tatum Monod (Miss Splashtastic)
Best Faceplant: Keesha Jeffries (The Cougar)
Supreme Splash: Dwane Devanny (The Okka) 
Tip Top Bellyflop: Josh Podaima (The Wolf Pack 2)
Big Air: Matt Brittain (The Official Dancing Sasquatch)
Killer Costume: Brenton Smith (Jesus)
Spring brought with it some incredible skiing at Sunshine Village, thanks to the greatest snowfalls in 41 years. March and April both experienced the largest snowfalls in Sunshine's 41 years of keeping records. In fact, both Goat's Eye Mountain and the five-km ski-out remained opened right up until the last day.
April saw a total of 150 cm of snowfall, smashing the previous number of 138 cm recorded in 2008 and double the April average.  Since Jan. 1, more than 21 feet of fresh snow has covered Sunshine Village's slopes. In eight of the 10 La Niña seasons recorded since 1970, Sunshine has enjoyed snowfalls above its annual average, according to Sunshine's records. 
With massive snow accumulations on the mountain, there is some public interest in a July 1st opening. It would be the first in 20 years for Sunshine Village, and involves operational challenges and requires ideal weather conditions. A final decision will be made in mid-June.
In addition to the Slush Cup, the season ended on another high note: Sunday's Bikinis for Breast Cancer event raised more than $25,000 for breast cancer research, beating last year's $10,000. To read more about it, check out this link. And for another recent story about Sunshine giving a record-setting donation to Selkirk College's Ski Resort Operations and Management program, click here.