But you don't need to be a pro to ski Vermilion's 20 kms of trails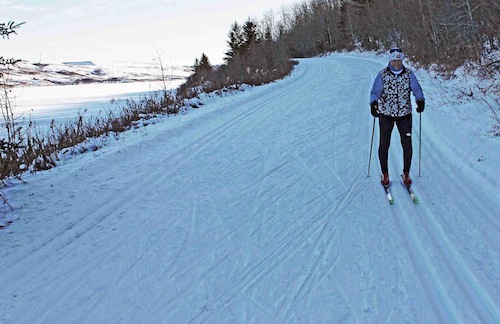 The trails run along the river, across fields and through forests, with various loops that range from difficult to beginner to, well, whatever challenge you want.
Photo by John Korobanik 
JOHN KOROBANIK
We had just finished about a 30-minute ski on the trails of the Vermilion Nordic Ski Club. I was sweating and my legs were exhausted when Jan Scott casually told me I was a nice warm-up for her real ski day. 
"Right now I'll go home and take my dog out for at least a four-kilometre ski," she said as we chatted inside the clubhouse. "Normally I do between five and ten kilometres a day." 
Turns out Beckie Scott's mother wasn't even breathing hard. But, in my defence, it was only the third time I had cross-country skied in about 30 years. The second time had been the day before when I figured I better rent equipment and see if I could remember how to do it.
Turns out I could - barely. So I wasn't totally embarrassed, especially after finding out that Jan hits these superb trails, all groomed and well maintained, virtually every day of the winter.
In 1973 the Scotts – Jan and husband Walter – moved to Vermilion from the Northwest Territories where they had become avid cross-country skiers, influenced by the success of the Firth sisters who had become elite, international calibre skiers.
They discovered there were no Nordic trails in Vermilion. There was a road alongside the Vermilion River, running through Vermilion Provincial Park, but people drove on it or kids were ripping up and down it.
"We looked at this park and thought this would be a great place for trails."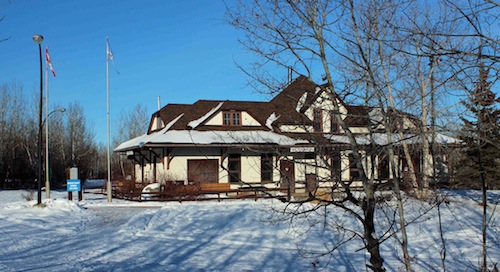 The Beckie Scott Nordic Centre Clubhouse
Photo by John Korobanik
They met another couple at Lakeland College who were also skiers. So in the spring of 1974 they lobbied parks and recreation to develop ski trails in the park. The department agreed, they mapped out a system and workers and volunteers cut out the path. By that winter they were skiing, just months after Jan had given birth to Beckie in August.
Today there's about 20 kilometres of trails track set for classic with some sections wide enough to accommodate skate skiing. 
The club's website, although outdated, says there are "normal five- and 10-kilometre classic ski loops starting at the CN Station," with easy-to-read maps at all the trail intersections.
For skate skiing, the Walter Scott trail is the widest and is eight kilometres out and back.
The trails all incorporate flat areas, rolling sections and hills of varying degrees of difficulty. 
The trails run along the river, across fields and through forests, with various loops that range from difficult to beginner to, well, whatever challenge you want.
Young Beckie's backyard
This is, after all, where Beckie Scott learned to ski, where she learned how to train and where she began developing the muscles and the mental toughness that ultimately led her to 17 World Cup victories and a gold medal in the 2002 Olympic Games.
"We put her on skis when she was about three," said Jan. "She skied with us and gradually got into skiing, especially when the Jackrabbit program began." 
Beckie was a typical kid – some days she just wanted to sit in the snow and complain about why she didn't like skiing and other days she was out there racing Mom and Dad. 
"She liked racing, not so much training, but she loved racing," said Jan. "She got a real spark when I took her to 100 Mile House for the junior nationals (in 1988). She did really well there, came in seventh. From then on she really wanted to ski, wanted the jacket and the suit." 
With the guidance of Mom and Dad, who gave her a solid grounding on life, and powered by her inner spirit and determination, Beckie got that suit and many more. 
"It's amazing," said Jan, "because cross-country skiing is hard work and when the kids had to train they were doing it in the dark and the cold because the coach wasn't able to get out until four or five in the evening. But they're out there, howling like the coyotes, just having a lot of good fun. But there's very few who want to do that, it's a hard sport."
Beckie tried other activities like dancing and skating but nothing appealed to her except skiing, out on the Vermilion trails with Mom or Dad or friends. 
Just as the Firth sisters created a culture of cross-country skiing in the north, so, too did Beckie leave behind her legacy at Vermilion. The area is now named the Beckie Scott Nordic Centre and the club has about 70 members this year. There are about 25 to 30 kids in the Jackrabbit program. 
In the early '80s, the old CN train station, built in 1905, was moved from town to the ski site where it has become the clubhouse. The building houses a kitchen, a lounging room, washrooms and a wax room.
There's no charge to use the trails.
For the latest deals, snow reports and contests, sign up today to our SnowSeekers e-newsletter.