STERLING TODD KEYS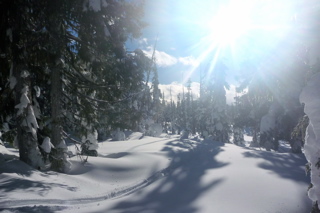 There are powder stashes galore amongst Mount Washington's glades.
STERLING TODD KEYS/SnowSeekers
MOUNT WASHINGTON, BC – I have a quick question: what feelings are stirred up when you hear the word "glades"?
If you're anything like me, an image of generously spaced trees with windfalls of fresh snow conjures in your mind almost instantly. If you're nothing like me, you think about The Glades of Canal Point or Okeelanta, Florida. If so, prepare yourself for disappointment in regards to what you're about to read.
For intermediate and advanced skiers and boarders, glades are sought after for the natural windbreak they provide. It's not uncommon to find snow stashes almost four times as large as the nightly snowfall. After all, there's a reason the locals forsake the main runs and quickly disappear through the trees. The glades of Mount Washington offer you an obstacle course, a pow paradise, a shredders heaven, and even a lunch break destination. 
Nothing beats sitting amongst the trees, enjoying a quick lunch, and taking in the sights and sounds around you.
A contagious battle cry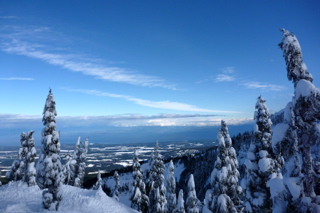 Untouched powder, a natural obstacle course, and the best view you'll get all day.
STERLING TODD KEYS/SnowSeekers
I've slowly fallen in love with trees and the resulting snow stashes as my skills have progressed, but it's been the enthusiasm of my fellow friends and skiers that's convinced me of their worth. Nothing piques my curiosity more than someone yelling "Trees! Trees! Trees!" as they break trail and head into the good stuff. A contagious war cry, my friends and I have adopted this as our own universal sign that amazing tree runs are ahead.
Herein lies one of the main reasons I love Mount Washington so much. Out of its 65 named runs, 10 of them include the word "glades". 
The Outback, Mount Washington's signature expert area that overlooks McKay Lake, plays host to some of the most amazing glades I've ever experienced. On any given day you can spend hours there without the faintest inkling to go explore somewhere else (but your thighs will scream bloody murder by days end).
Well worth the hike
Mount Washington's other gold star goes to the newly created Gold Rush Glades, which is nothing but a tree lover's paradise. All that's required to get to there is a short hike off the peak at the top of the Boomerang chair. And don't worry – the hike is short enough that you don't experience the bone-tiredness of say, hiking up the Knob at Marmot Basin or North Bowl at Revelstoke. But one way or another, one man's laziness is another man's opportunity, and in cases like this, it usually means untouched powder runs at mid-day. 
So, the next time you're up at Mount Washington Alpine Resort, or any mountain for that matter, remember to keep that magical word in mind and make sure to spend some time in the trees. You might even see an orange blur following suit, yelling "Trees! Trees! Trees!" as he goes by.
Check out this video to get a preview of what it's like to ski on Mount Washington.
Check out the resort's destination page for the full lowdown of what it has to offer.