CHRIS TOBIAS
Rossland, BC
The trip from Whitewater to Red Mountain was the shortest leg of our journey, just a 88 km jaunt Southwest towards the town of Rossland, BC. We're actually so far South at this point that the Canada/US border is only 10 km away. After a quick and easy drive through some small BC towns, we arrived at our lodge located at the base of Red Mountain. I wouldn't exactly consider it "on-hill" accommodations, but with just a short walk to the nearest lift we could skip the usual early morning drive to the hill.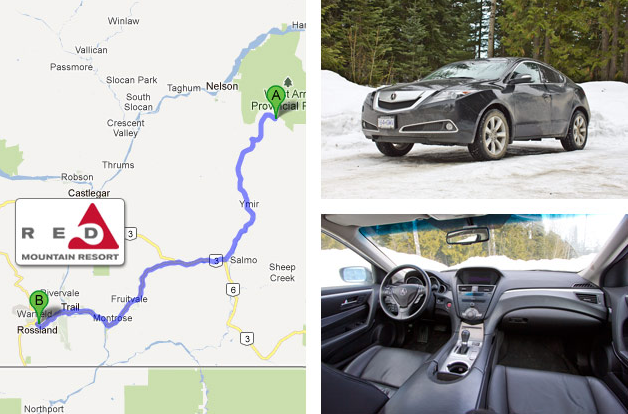 Images courtesy of Chris Tobias
We've spent many hours in the Acura ZDX's spacious front cabin, and I still can't get enough of its fluid design and many luxuries. The panoramic glass roof has been perfect for our mountain trip, refreshing us with natural light and an open view to the sky. The leather dash, surrounding leather trim and contrasting silver accents add to its richness and showcase the level of detail Acura has put into the ZDX. Continuing with the overall theme and feel, the steering wheel and instrument panel are stylish, but still remain intuitive and functional. I've loved the symmetry of the centre stack and button layout, as well as the dark brushed texture used throughout.
Behind us the rear heated leather seats can be a bit tricky to get into, but both Kevin and I agree there is adequate leg room. Even with the sloping roof line, I just manage to sit comfortably without my head touching the top.

Images courtesy of Chris Tobias
Day 07: Red Mountain Resort
Trip Odometer Total: 1232 km (765.5 miles)
I spent yesterday night studying the trail map of Red Mountain and was anxious to explore its unique "3-D" layout. There hasn't been much snowfall in the past few days, but right off the bottom Silverlode chair I was presented with a few wide open groomed blues to start off. The ride to the top via the Motherlode Chair was long and steep, and it gave us the opportunity to scope out some of the interesting terrain beneath us. With numerous drops and chutes, it's a paradise for expert skiers and riders.
From the top we made our way around to the backside of Granite Mountain, an area with a good mix of green, blue, and black runs. Another clear day and warm temperatures lead to spring-like conditions, and by midday we were able to grip the softened snow and take in a healthy dose of vitamin D. What's nice about Granite Mountain is that you can go choose to ride around either side and still get back to the base. The other peak, "Red Mountain" was considerably smaller but had some of the steepest and fastest cruiser runs I've ever seen.
A brochure I picked up claimed Red Mountain is the "last great undiscovered resort", a statement I do find some truth in. Bring me in on a good powder day and I might just have to bump it up on my personal resort rankings.
For more on Red Mountain, check out SnowSeekers' Red Mountain section.