Red Mountain Ski Resort in BC has Amazing History
DOC POW
RED MOUNTAIN, BC — Rossland, British Columbia, home to Red Mountain Resort, is a town that is rooted in ski history. It was there in the late 40s that the first chair lift in Western Canada was built, with remnants that are still there today.  
"When they first started running the lift in 1947, all the lights in town would dim and the town folk would know that the lift had been started," explains local historian and ski guide, Andy Cant. 
The lift was installed with wooden towers and a single chair that was hand-built in the smelting shops in Teck Cominco's Trail, B.C. location, just down the road from Rossland.
The Toronto Stock Exchange was started in direct response to the millions that were being made in Trail and at the Cominco mine. Most of what they were processing was gold from the area, much of which was found right under Red Mountain.
Tagged with historical names
You'll find many of the ski runs share the names of old strike zones and mines. There are approximately 129 kilometres (80 miles) of mines that tunnel under Red Mountain, with tours offered that let you go into the mines and explore.
And this tradition of making history still lives on today through many of the internationally recognized events Red holds annually. It's a destination known for its extreme scene; after all, Red Bull doesn't just pick any mountain on which to host its annual ski event, The Red Line.
This event is a judged Slopestyle big mountain competition for snowboarders that happens at the end of February, and neighbouring Mount Roberts is home to the Canadian Open Freeskiing championships.
Big names on this trophy
Spend some time at Rafter's – Red's après spot & consistently ranked as one of Canada's best – and you'll find the women's trophy which includes some of the biggest names in skiing including Sarah Burke and Kit DesLaurier, the first person to have skied down all of the world's Seven Summits. 
History and big mountain riding are two huge components that make up this die-hard community and when it comes time to shred, don't expect a long wait to get in on the action.
"As you can see, it's really busy here today," Cant said with a smirk, as two people stand in front of us. The lack of crowds is another awesome thing about this destination; even when it busy, there isn't much wait time.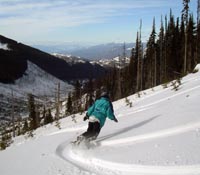 Red Mountain Resort is famous for its steeps and deeps, but you can find great powder on the intermediate runs as well. 
DOC POW/SnowSeekers
"This mountain is good at dispersing people ... Whistler talks of skiers per acre, we talk of acres per skier," says Cant.
Come prepared to swim
Part of what makes the mountain so efficient is Red's design. When you arrive at the top of the main chair, you can ski from the summit in 360 degrees. But its the incredible snow conditions which really put Red on the map.
"It's like living in a snow globe," said Chris Bowman of the Flying Steamshovel Pub, a stellar place for a pint in town.
I am sure you have seen some of the marketing for Red Mountain, featuring a logo accompanied by snorkel gear. They aren't kidding, the snow here is the light champagne powder stuff, with every turn filling your lungs with a white rush.
For the latest deals, snow reports and contests, sign up today to our SnowSeekers e-newsletter.