A refuelling station for skiers and boarders by day, rustic Paradise Camp transforms into a fine dining restaurant on Friday and Saturday evenings until the end of the season.
Photo courtesy of Mark Sissons
Taking a gourmet dinner tour to the top of Silver Star's Darkside


MARK SISSONS
VERNON, BC - As the falling snow swirls outside the snowcat window, ghostly shapes emerge from the pitch darkness of the steep mountainside – trees with their branches sagging under heavy loads of fresh fluffy powder. Riding in this converted 12-passenger snowcat groomer to the so-called Darkside of Silver Star Mountain Resort, I feel like an astronaut just descended from the mother ship to reconnoiter a frozen alien planet. 
US friends: With the exchange rate in your favour, why not come and visit your neighbours in the great white north this winter? Explore winter deals and getaway packages at SilverStar Mountain resort.
Tonight, I'm among the first visitors of the season to enjoy Silver Star's most intimate and out there experience – the Snow Cat Dinner Tour to Paradise Camp. Located at Putnam Creek on the back side of the mountain, this popular breakfast/lunch cabin at the top of the Powder Gulch lift thaws chilly skiers with hot refreshments by day. Then every Friday and Saturday night from mid-December until the end of ski season it morphs into an intimate, candlelit fine dining room offering gourmet four-course meals prepared by a Red Seal chef. All you have to do is catch the snow cat to get there. 
Into the void
At 5:30 PM we set off for the half hour trek along Main Street Skyway to the camp. I get to sit up in the cab alongside our driver, Andrew, as he expertly plots our route across the pitch-black mountain amid near zero visibility. The heated enclosed cabin behind us contains three rows of comfortable padded seats, occupied on this inaugural voyage by a cheerful group of 'locals' up from nearby Armstrong to celebrate a birthday in high alpine style.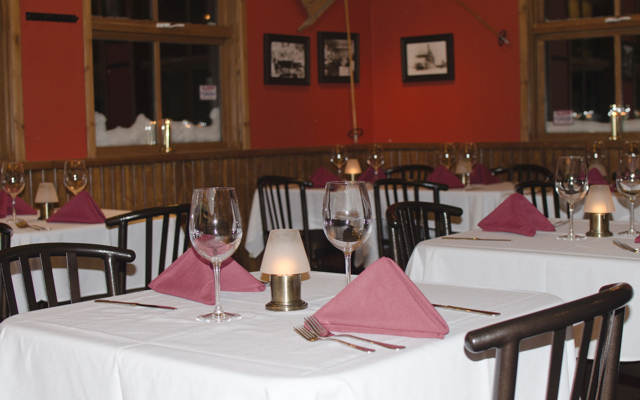 Paradise Camp's rustically cozy dining room is the venue for
four-course gourmet meals on weekends throughout the ski season.
Photo courtesy of Mark Sissons 
"It's a pretty spectacular experience under moonlit skies," says Andrew as he expertly steers us through the forest, scanning the trail for lynx and coyotes that occasionally make a nocturnal appearance. "But when it's stormy like tonight, it really feels like an out-of-this-world adventure," he adds. 
Tonight's odyssey has a decidedly delicious destination. As the lights of Paradise Camp first pierce the darkness, glowing like hurricane lamps to guide us home through this wintery white gale, my thoughts turn to dinner and I'm suddenly very hungry. I half expect Santa's sleigh to be double parked outside the rustic wooden hut. Instead, the welcoming smiles of camp staff usher us into one of the most unique dining experiences I've ever had.
"There's a real sense of camaraderie as you head up the dark mountain through a swirling snowstorm," says Silver Star's Director of Sales and Marketing, Marke Dickson, my host and dinner companion. "You embark as a bunch of strangers and by halfway up the mountain everyone's sitting and chatting together, listening to Fleetwood Mac, while a snowstorm rages outside your window."
The full meal deal
Hot cocoa shack by day, Paradise Camp undergoes a complete after-dark transformation into cozy fine dining room with candles and tablecloths. But theambience is just as welcoming and unpretentious. A good thing, because we've all arrived clad in snowboots, jeans, parkas and toques.  
Need to know
Price: Paradise Express return trip $20 per person. The price does not include dinner. 
Days: Friday and Saturday nights. Tours begin December 14th for the duration of the season.
Departure: Departs the village at 5:30 pm, 6:30 pm and 7:30 pm. and requires 10 passengers to operate. 
Reservations: Phone: (250) 558-6087 
Our lantern lit dinner features an impressive menu and extensive selection of wine pairings featuring top Okanagan wines. Cocktails and specialty martinis are also available. I choose the signature Paradise Camp cocktail, a homespun variation on Irish coffee and a perfect warm up for what's to come.  The starter menu features savoury temptations like roasted butternut bisque, rosemary ricotta crostini, creole crab cakes and Mexican cream, tequila and chipotle drunken shrimp. Lured by the promise of instant warmth, Marke and I both opt for the roasted butternut bisque.  
How this talented crew manages to extract haute cuisine from this archaic, bare bones open kitchen is beyond me. But I'm immensely happy that they can. For the main course, I'm spoiled for choice with dishes like pecan crusted bourbon glazed chicken supreme, pan seared Pacific salmon, spinach and gruyere gnocchi and warm roasted butternut squash salad. I opt for the herb encrusted beef tenderloin served with creamy potato mash, jewelled veggies and red onion marmalade. And it doesn't disappoint.  Marke tells me that the chef imported many of his culinary secrets from his native New Zealand. Pure Kiwi genius.
On a clear moonlit mountain evening I'm told there are superb views of the Monashees from this high-altitude bistro. Tonight, the champagne fluffy stuff is still falling hard enough outside to make any powder hound salivate with first tracks anticipation. That's just fine with me. By the time my decadently large slice of chocolate cheesecake arrives I'm already wondering how I'm going to fit myself into my ski pants. Good thing I didn't succumb to plan B, the turtle pie cheesecake topped with pecans and caramel.
On the way back to Snowbird Lodge aboard the Paradise Express through Silver Star's woods, lovely, dark and deep, I think of the old adage that it's the journey, not the destination that really matters. When it comes to the Snow Cat Dinner Tour to Paradise Camp, I'd say it's just about even. 
For more stories on Silver Star, click here.