LISA MONFORTON
VERNON, BC - There's no need to be offended by the name of this annual event at Silver Star. The tongue-in-cheek title conceals a highly competitive event.
US friends: With the exchange rate in your favour, why not come and visit your neighbours in the great white north this winter? Explore winter deals and getaway packages at SilverStar Mountain resort.
The annual Over the Hill event no longer stipulates that you have to be 35 years or older - "over the hill" back in the day - to participate. But you will need a wee bit of a competitive streak, or at least a strong sense of adventure. Some of you may just want to rekindle your inner speed demon.
That is, in fact, how the event got its name, says Robin Baycroft, Silver Star's resort services manager.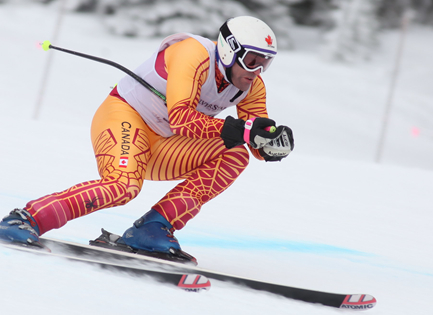 The Over the Hill Downhill at Silver Star resort, in its 32nd year, attracts seasoned ski racers and new ones, too.
Photo courtesy of Silver Star
When the event began around 1980, it was aimed at over-the-hill skiers. "That's who it was targeted it at - old washed up racers who sat around the bar and reminisced about the good old days," says Baycroft.
The event was established in the latter years of the original Crazy Canucks - Dave Irwin, Ken Read, Jungle Jim Hunter and Steve Podborski - who were ripping up the World Cup circuit. "Everybody wanted to be like those guys," says Baycroft.
These days, the event has expanded to include anyone from age 11 who wants to experience what it's like to zip down a mountain feeling like a pro.
"There's nowhere else in the world that Joe Average can show up and say 'I want to race downhill'. You don't have to have any experience in order participate," Baycroft says.
Everyone is invited to the post-party awards ceremony, too.
The 1.5-kilometre race, this year sponsored by Dundee Wealth Management, also attracts racers from the big leagues, from as far away as Japan, Australia, Toronto and the Pacific Northwest.
"They are master racers reliving their youth," says Baycroft of the regulars who show up year after year.
Regulars from Kamloops, Vancouver, and across Alberta also come for race day and the pre-event speed camps. The 100-120 participants have forged a camaraderie that endures year-to-year.
Though the main event is on Feb. 10, speed camps are held Feb. 4 to 7, led by former national team coaches.
Participants can enter as a single entry or a team of four in a variety of categories. Silver Star will also help you put together a team if you don't have one.
"It's a lot of fun. It brings the old school racers out of the closet and gives people a chance to go fast," Baycroft says.
Story links:  SilverStar.com
Click here for more stories on Silver Star.