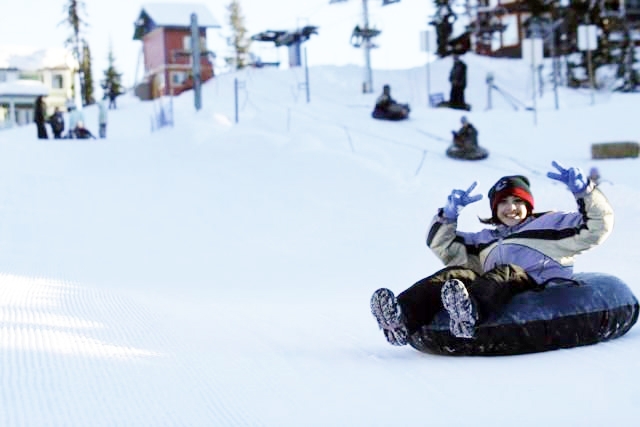 With the Silver Star all-inclusive My1Pass, one ticket allows visitors to go tubing, cross-country skiing, skiing, boarding, skating, or snow shoeing.
Photo courtesy of Silver Star Mountain Resort
Silver Star launches unique all-inclusive My1Pass
STEVE MACNAULL
VERNON, BC - Downhill ski, snowboard, cross-country ski, skate, tube and snowshoe all on the same ticket.
It's called My1Pass and Silver Star Mountain Resort near Vernon, B.C. is the first in North America to be bold enough to institute such an all-inclusive concept.
US friends: With the exchange rate in your favour, why not come and visit your neighbours in the great white north this winter? Explore winter deals and getaway packages at SilverStar Mountain resort.
The My1Pass allows any skier or boarder with a day, multi-day or season pass to cross- country ski, tube, skate and-or snowshoe for free.
"It's simple," says Robin Baycroft, manager of resort services, "people want more for less and Silver Star is giving it to them."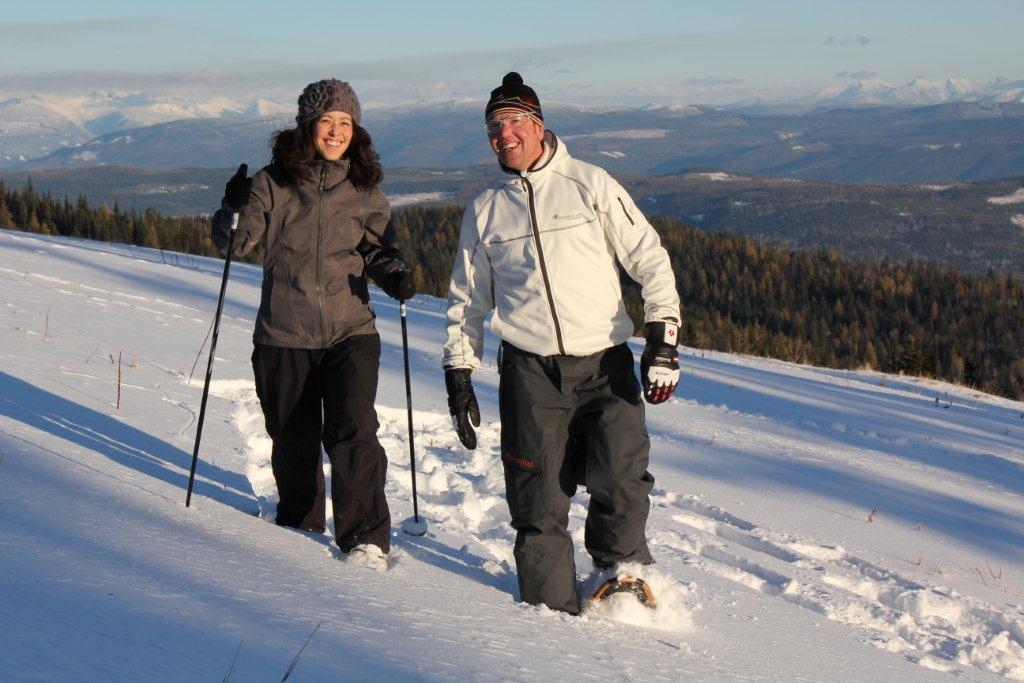 A couple enjoys snow-shoeing at Silver Star, one of six activiies guests can do with the My1Pass.
Photo courtesy of Silver Star
Did you know?
Since starting in the early 1960s as a small local ski hill, Silver Star has grown into an international calibre family-friendly resort with 3,065 acres of terrain, 12 lifts servicing 115 runs, a vertical drop of 2,500 feet and average of seven metres of powery snow per season surrounding a village that has accommodations for 5,600 and 13 restaurants. Check out SkiSilverStar.com.
While Baycroft's explanation my seem flippant, it's actually based in economics, consumer demand and common sense. So he's more candid when he discusses My1Pass further.
"The reality is there's been a decrease in skier visits over the past four years with the recession," says Baycroft. "And the strong Canadian dollar means we're not seeing as many American visitors either."
In addition, the advent of the two-week spring break for many schools in Western Canada means some families are actually skiing less instead of more.
As an alternative they're using the extra time to frolic on all-inclusive vacations in Mexico and the Caribbean, which have also been discounted because of the recession.
It all cuts into skier visits and Silver Star decided to do something about it.
The pay off 
"We may not sell as many day tickets for cross-country skiing ($21), tubing ($20), skating ($4) and snowshoeing ($7)," says Baycroft. "But hopefully we'll sell more day, muti-day and season passes, maybe sell some more food, get people to spend more time up here and have happier visitors all round."
The cost
The real winners with My1Pass are those that bought early bird season passes for $675 and effectively get multi-sport admission all winter long.
The season pass rate is now set to regular pricing at $1,100 for adults, $850 for ages 13-18 and $530 for kids. However, the regular $77 day pass for skiing and boarding is also an exceptional deal because it also means you can cross country ski, tube, skate and-or snowshoe if you want.
Multi-sport is the way to go
"With high-speed lifts and great grooming, skiers and boarders can fit in a lot of runs on the slopes in a part-day and have the rest of the day to try out everything else at the resort," says Baycroft. "It's perfect for families and multi-sport enthusiasts."
Unique 
"My1Pass is unique to the North American ski industry," says Baycroft. "It allows us to do something different and really give customers what they want. Plus is really speaks to Silver Star's multi-sport culture and our desire to give everyone freedom and flexibility."
My1Pass can also be used for other on-mountain discounts and accommodation deals. 
'My' everything
The My1Pass name and concept ties into Silver Star's 'My' brand, marketing and website theme.
You'll find My Mountain as the main motto, but also My Holiday, My Mountain Info, My Village, My Things To Do and My Ski School.
50 years, 10 million skiers
The launch of everything 'My' also fits nicely with Silver Star celebrating its 50th anniversary this season and the expectation that the 10 millionth skier will also show up this season.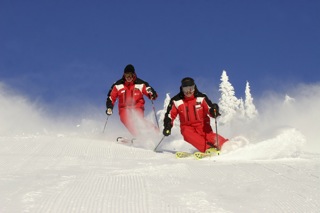 A pair of skiers hit a groomed run at Silver Star with the resort's snow ghosts serving as picture-perfect backdrop. With Silver Star's new My1Pass, visitors can choose from six winter sports on one ticket.
Photo courtesy of Silver Star
For the latest deals, snow reports and contests, sign up today to our SnowSeekers e-newsletter.