Rich in History and German Cuisine 
This season we welcome Susanne Dobler and Resorts Canadian Rockies to deliver our audience a new blog post twice a month through the season. Stay tuned for the next release!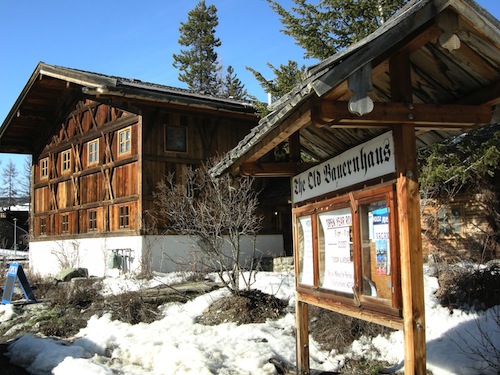 It's hardly believable when you find out this large structure was transported from Germany in 1987.
SUSANNE DOBLER
The menu is on the weathered board out front and entrees like "The Feast" and "Hot Love," tweaked our curiosity and our taste buds just enough to pull us towards the large rustic wooden building. It's home to The Old Bauernhaus Restaurant. And if the walls could talk they would tell plenty of tales. From humble beginnings 350 years ago, the building has travelled halfway around the world from Germany landing in Kimberley to become a highly recognized and desired restaurant.
Walking in felt like walking into a big cozy hug. The interior is rich in wood finishing, wood flooring and well — wood everything! It's cozy and made us feel welcome. The scent from the kitchen instantly got our bellies rumbling. We had spent a great day on the slopes of Kimberley Alpine Resort and the burning in our tired legs from a healthy amount of turns at the hill, told us we earned a feast. Besides, it was time to treat ourselves to a memorable meal from my motherland.
The Story
This building was originally a shelter for servants of a nearby castle that farmed apples. When the castle burned down, the ownership and purpose of the building changed many times. Over time three different families used it, finding use as a cinder pub and even withstanding the Black Plague.
In 1956, the log building was restored and expanded to include a stable. The current kitchen, washrooms and the smaller side of the restaurant used to be home for pigs, several cows and the working horse. Chickens were caged beneath the benches in the same large room we enjoyed our meal.
Renovations in 1905 included enlarging the windows, but that ruined the "Heritage Building" status in Germany. So when it was decided to bring it to Canada, no rules were broken. So in 1987, the house was dismantled to be eventually packed into two containers and sent to Canada by ship. The owners at the time reassembled it in Kimberley.
Current owners Michelle and Nils have the perfect dynamic to create a Kootenay/Bavarian dining experience. Nils hails from Germany and Michelle is a local from Creston, B.C. They met while working in a restaurant in Switzerland but now call Kimberley home.
The Food
If there is one warning to heed, it is to come hungry and perhaps wear pants with some give. You will find it hard to push away from the table once you get a taste of the slow cooked food, prepared from local and fresh ingredients by chefs with years of experience.
Come with an empty stomach and tuck in to 'The Feast'
We committed to "The Feast". This one is a must and best enjoyed with a few people. Over several courses you get to try everything from garlic prawns, baked brie, bauernplatte and Bauernhaus specialties like weinerschnitzel, jagerschnitzel and spaetzle.
Next time you're in Kimberley, venture to The Old Baurenhaus. Reservations are strongly recommended. Open Thursday through Monday. 250-427-5133 
Prost und Guten Appetit!
For the latest deals, snow reports and contests, sign up today to our SnowSeekers e-newsletter.