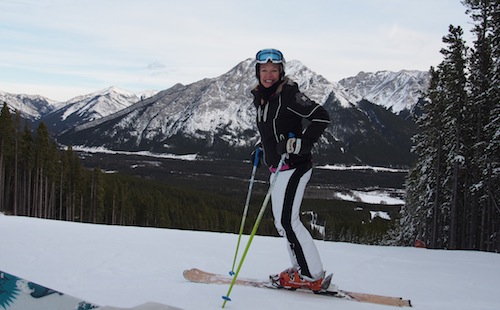 Maureen Mosteller started the Ladies Who Ski clinic to help women gain the confidence to ski down just about any run.
Photo by Lisa Monforton
SNOWSEEKERS
Have you ever thought about trying to ski for the first time? Fear not, there are plenty of people to help get you started. In fact, there are many Canadians this year who will be in the same boat.
Over the past few years, SnowSeekers has produced several videos about people who have tried on the sport for the first time. And, we've had the pleasure of watching folks become skiers before our very eyes.
If you're looking for a boost in confidence, a new outlook on life and a fantastic winter hobby , then you've arrived at the right spot. We've compiled a series of videos and stories about first time skiers and older skiers returning to the slopes, who have faced their fears and begun their new favourite pasttime.
A few years ago SnowSeekers produced its first ever documentary. Our friend Sunny and her family who moved to Edmonton from the East Asian country of Mongolia was ready to embrace the Canadian winter by learning to ski. The one thing we didn't anticipate was how it would end.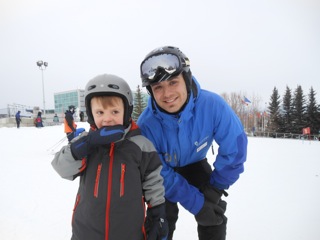 Getting an instructor is a perfect way to start skiing
Photo by Lisa Kadane
Then there's the story of Bennett Ford. He's proof getting an instructor is a perfect way to begin your life-long love of the slopes. Recently, Bennett, then 5, took the chairlift by storm at Calgary's Canada Olympic Park.
Read his story for some inspiration.
Are you a bit older than our friends Bennett and Sunny? Maybe you've tried skiing before but would like to gain some confidence? Or maybe you've just been away from the ski hill for a while. Maureen Mosteller started the Ladies Who Ski clinic to help women gain the confidence to ski down any run. Her clinics are often geared towards people who love getting out on the slopes, but would like to up their game - perhaps to keep up with speed-demon husbands or kids who relish the gnarly side. Her clinics are a great way to meet new friends and keep the passion for skiing alive.
So what's stopping  you from getting out there this winter and enjoying Alberta and B.C.'s dozens of ski resorts. Before you know it, you'll be looking for any chance to strap on the skis. 
For more on learning to ski, go to http://www.skicanada.org/set/take-a-lesson/
Need to know the best beginner slopes for families? Check out our top picks!