Originally posted in 2015
By Doc Pow and Sterling Keys
For skiers and snowboarders out there, all we really want for Christmas is snow and a lot more of it.
Seems Santa has been playing nice with Ullr these past few weeks bringing joy to all SnowSeekers. Take a look at our recent coverage that proves how epic this snowy collaboration has been.
Meanwhile, we were out at Mount Washington on Dec. 20 where the snowy goodness was piled high. Senior patroller Sterling Keys and Doc Pow went on a mission to show you what this winter wonderland is looking like right now. With a few local's tips sprinkled in, you'll be asking yourself, 'what am I waiting for?'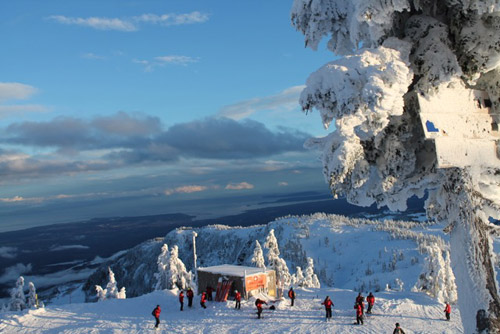 The views of the Georgia Straight are pretty stellar on days like this, especially amid a backdrop of snow-draped trees and powder-filled slopes.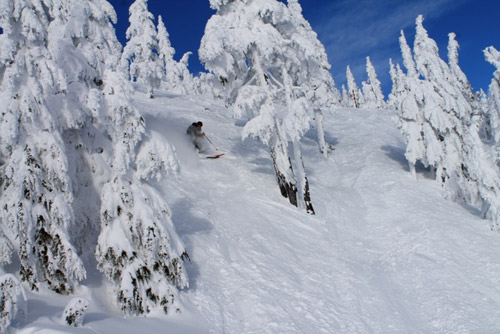 Just a hop behind the First Aid Shack off the Eagle Chair, Harry's Glades offer a quick and powdery ski down to Linton's Loop. Thanks to the aspect of this particular part of the mountain, the standard southeast winds refresh these glades with snow anytime there's more than a calm breeze.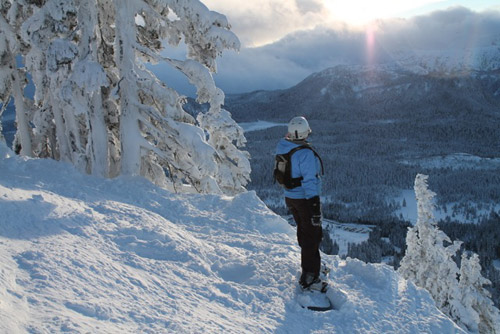 Part of Mount Washington's cachet is its spectacular views that can be seen from all parts of the mountain: a 360-panorama of the Pacific Ocean, Strathcona Provincial Park, northern Vancouver Island, and mainland British Columbia. It's a sight you won't see from any other ski hill.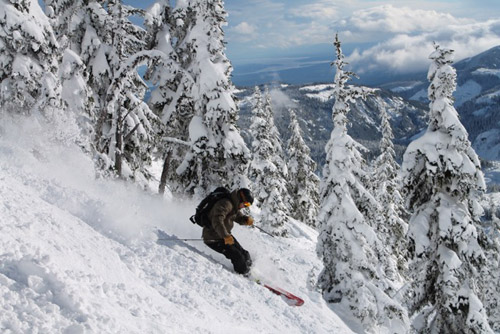 Schum's, just off of the Sunrise Chair, makes for some spectacular fall lines, not to mention the fantastic views. With its proximity to the Sunrise Chair, be prepared to hear the hoops and hollers of people riding the chair as you ski past.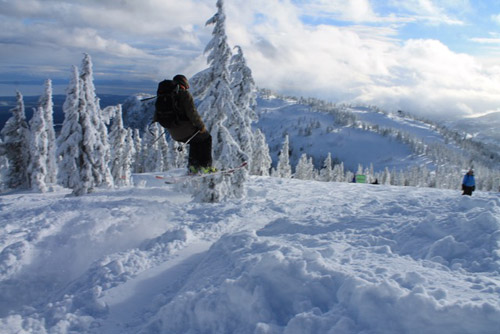 When there's a bunch of snow, the distinction between groomed run and off-piste are somewhat muddled. Linton's Loop, particularly the top portion near the Eagle chair, can get inundated with snow despite the groomers' best efforts and makes for amazing skiing. You'll have the pleasure of fresh firm tracks with fresh snow just sitting on top.
You won't go hungry or be short on apres opportunities at Fat Teddy's, which offers a full lineup of entertainment and good times right through the season.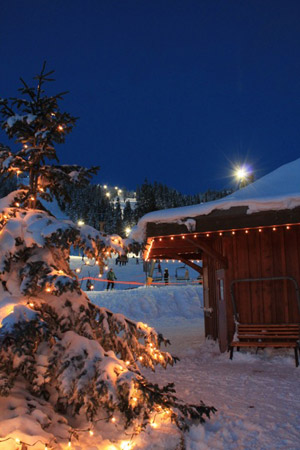 Mount Washington puts a unique spin on Christmas festivities. Sure, there other ski locations across Canada which offer "dress up and ski as Santa - get a free lift ticket day." But you likely won't find one that offers a "dress up and ski as an elf - ski for free day." Here is the full lineup of events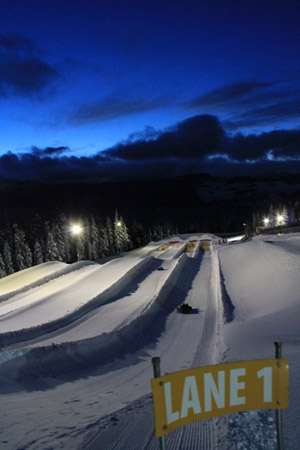 As darkness fall on Mount Washington, the winter resort comes alive with snow tubing, night skiing, snowshoe and Nordic ski opportunities. Inside tip: for a unique Vancouver Island experience head out for a night snowshoe fondue adventure offered out of Mount Washington's Nordic base, The Raven Lodge. Book your experience here.
Hop to it and join the SnowSeekers Challenge, were giving away two pairs of two flights to anywhere Pacific Coastal Airlines flies, join in today by clicking here
Ready to hit the powder with your crew? Share this story and get them pumped about the powder at Mount Washington.
For the latest deals, snow reports and contests, sign up today to our SnowSeekers e-newsletter.