Seekers' correspondent John Devitt puts Revy's vertical, and his own stamina, to the test
JOHN DEVITT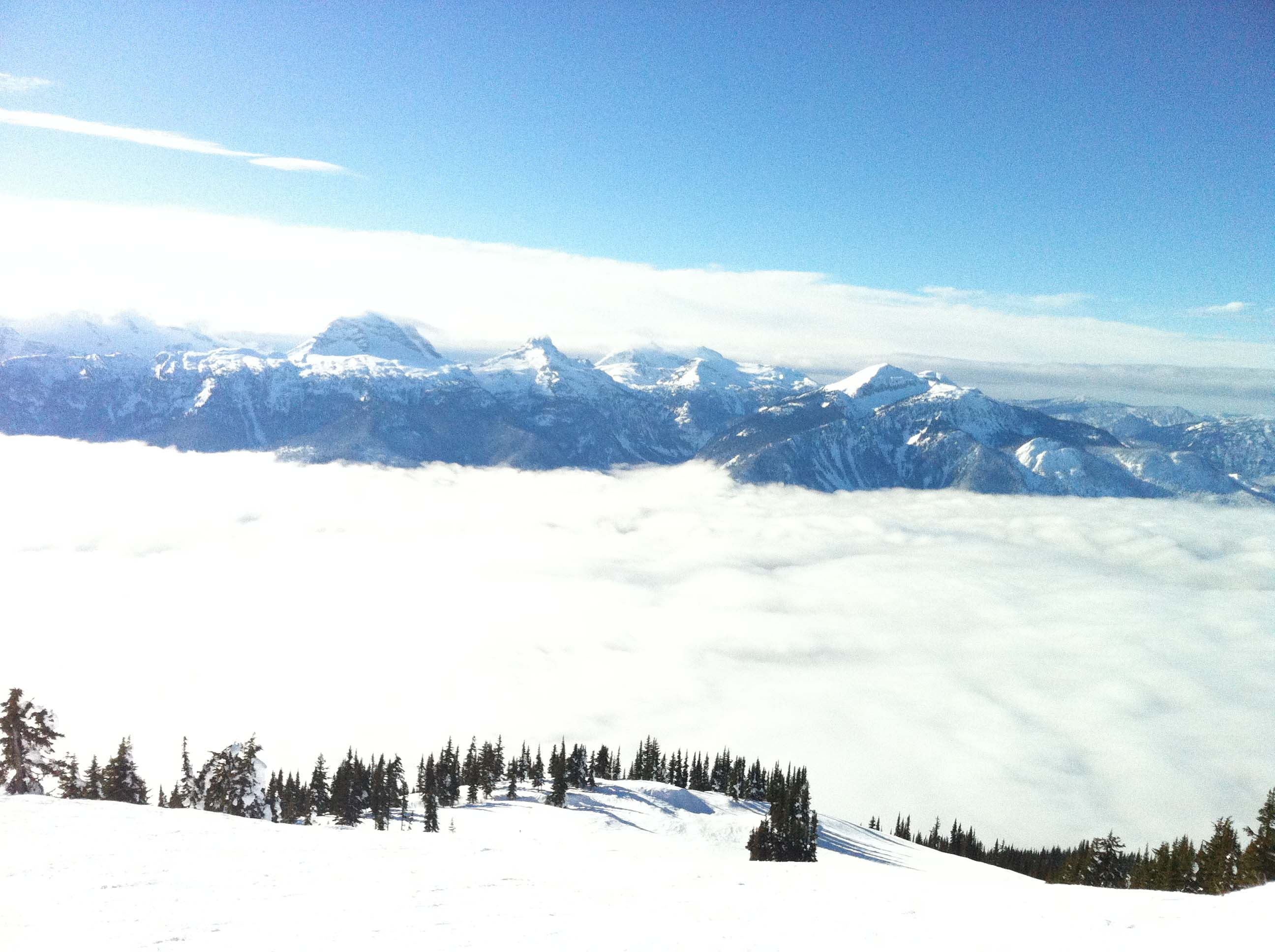 It?s a beautiful day in the Revelstoke neighbourhood.
Photo courtesy of JOHN DEVITT/SnowSeekers
REVELSTOKE, BC ? Revelstoke Mountain Resort holds the record for the longest lift-accessed vertical ski descent in North America. Once you ride the Revelation gondola and the Stoke chair to the top, a downward spiral of 5620 feet (1713 metres) awaits you. 
Unlike other well-known resorts, these numbers are not self-inflated for marketing purposes. They are legit, and they just won?t quit. Armed with two granola bars and a banana, I am confident this will be adequate nutrition for what I have planned.
So what do these numbers actually mean in reality? I decided to put that to the test. After running some errands, I headed up to the mountain for a mid -morning start. I tell myself that I will see how many complete top-to-bottom runs I can do before I either run out of steam or time.
A great day for ripping fresh corduroy
As I think about the vertical numbers I might rack up my mind wanders to local Revy legend Greg Hill. Hill set a world record in 2010 by skiing over 2 million vertical feet (www.greghill.ca). And to make matters more impressive, he did it entirely on his own power without the assistance of ski lifts. Knowing I won?t even come close to 2 million in one day, I?m satisfied with whatever number I can reach before my knees crumble into dust.
This chart shows the descent and speed of all 8 runs described in the story.
Photo courtesy of JOHN DEVITT/SnowSeekers
I couldn?t have chosen a better day for this personal test. With no fresh snow there was no desire to search for whatever small pockets of powder remained. The valley floor was covered in clouds, but the upper mountain was in full sunshine. This was a day for ripping high-speed, freshly groomed corduroy. So with my lap tracker running in my pocket and my iPod in my ears, I stepped off the chair to begin my adventure.
I decided to start my first top-to-bottom run on the Last Spike. It?s a green run that snakes back and forth across the entire mountain on it?s way to the bottom, leading a rider for an astounding 15.2 kilometres. The run is pretty straightforward and took me about 25 minutes to cruise the entire length. When I reached the bottom I checked my pace and realized I wouldn?t get many top-to-bottom runs in if I stuck to this route all day; from here on out I had to take the most direct route.
Recharging the batteries
I alternated the next few runs between Snow Rodeo and Pitch Black, with slight variations each time. These are steep, mogul-free diamond runs that allowed for hard shredding. I was feeling strong and confident by that point, that my legs would hold up longer than first thought. 
Ten top-to-bottom runs were well within reach, and so to ensure a tight pace, I blasted down each run without stopping, averaging 9 minutes per descent. My brain was in shutoff mode during those early runs, anxious to get closer to that 10 mark.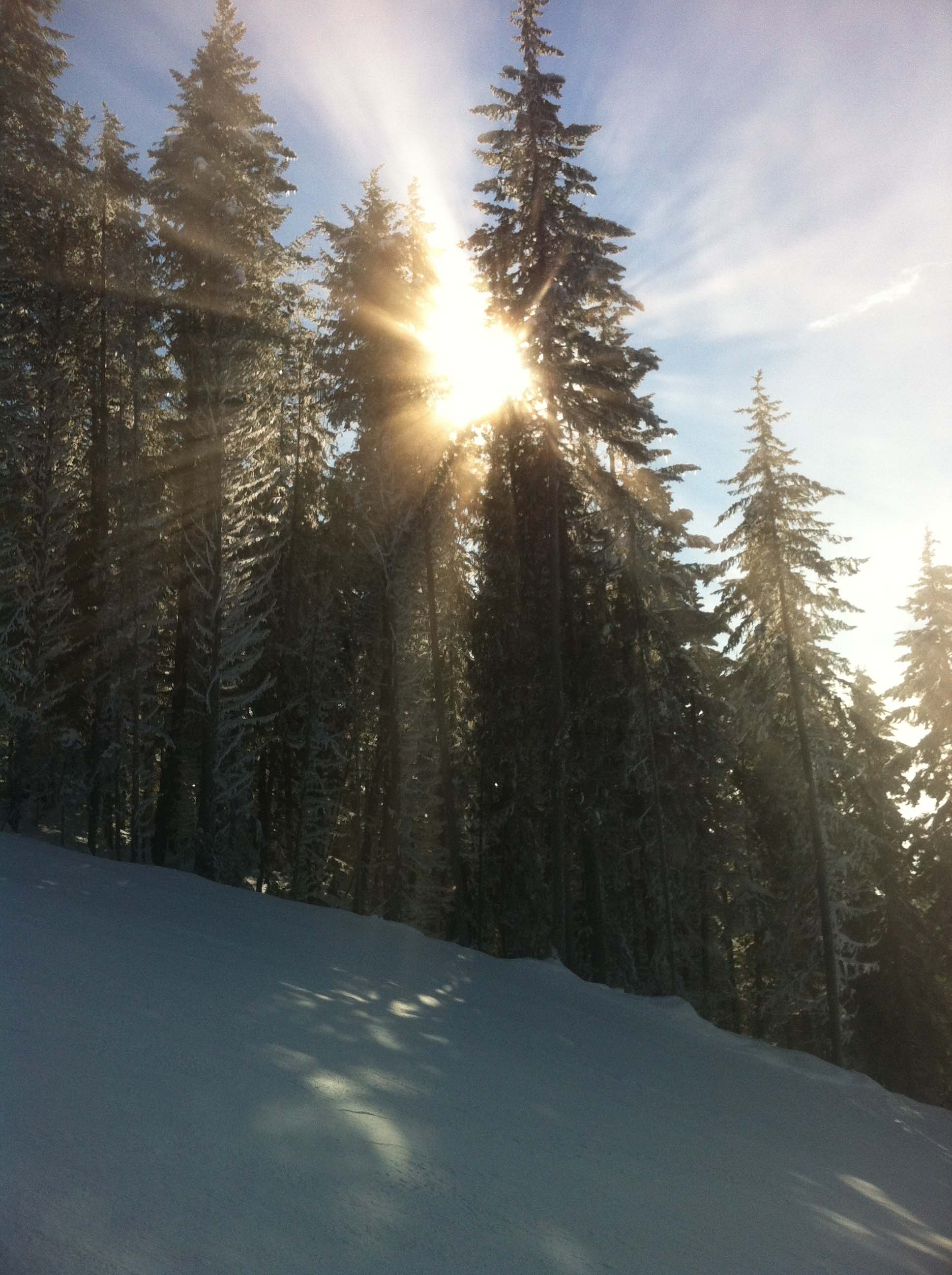 There are no bad days on the mountain with views like this.
Photo courtesy of JOHN DEVITT/SnowSeekers
My lap tracker told me that on run #5 I had reached a top speed of 76.7km/h. I?m convinced the only thing preventing me from hitting 88mph and travelling into the future was the chattery snow and lack of a nuclear device providing 1.21 jigawatts of power. With no flex capacitor on hand, I recharged with a granola bar.
Until next time
During run #6 the clouds started to roll in over the mountains. Whether it was the change in light, the granola bar in my gut, or just the first signs of fatigue, my speed dropped significantly, averaging only 50km/h. I was still pushing hard to hit #10, and I?m certain I could have, but the clock was against me. I only had time for 2 more runs before the lifts shut down.
In the end, eight top-to-bottom runs at Revelstoke was my personal best for one day.
After skiing 4.5 hours, 14092 metres of vertical, and 63.5 kilometres of distance, I now have a benchmark to push past for next time, but next time will have to wait. I?ve learned that all these numbers and the longest vertical in North America means sore legs that will need a soak and some rest.
At least until the next snowfall, which can happen anytime in Revelstoke.
For the latest deals, snow reports and contests, sign up today to our SnowSeekers e-newsletter.