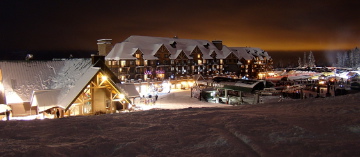 Kicking Horse Resort by night. Over the holidays, the resort has a lineup of special events.
Photo courtesy of Kicking Horse

Golden resort takes holiday fun to new heights
STEPHANIE LAKE
GOLDEN, BC - With the holidays in full swing, there isn't anything better than banking some turns and having a ton of fun with friends and family in the mountains. And what better place than to venture off the Trans Canada and head to Kicking Horse Resort in Golden, BC.
If it's a family trip you're planning, Kicking Horse has an event schedule jam-packed with good times. Debuting the "Kicking Horse Kids Trail," kids will be stoked to find adventure in the woods with a bunch of twists and turns and mom and dad not too far behind.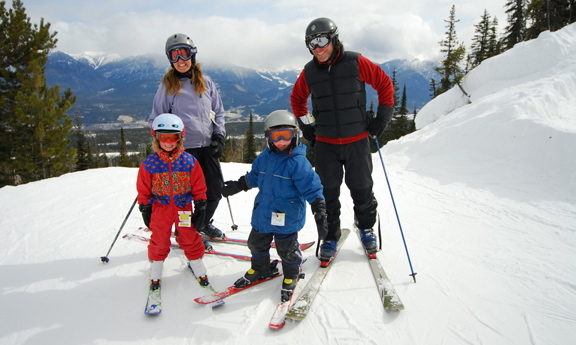 Skiing may be at the top of everyone's wishlist for the Christmas holidays, but there's plenty of other activities happening over the holidays at the resort, too.
Photo courtesy of Kicking Horse 
"Santa will also be making a special appearance on Dec. 24th and 27th, skiing on the mountain during the day," says Matt Mosteller, vice-president of marketing and sales at Resorts of the Canadian Rockies. "There will also be family afternoons of marshmallow roasting, skating and tubing in the Kicking Horse family magic activities area."
That's just the beginning of the Christmas fun happening at the resort. The whole holiday week KHR has family activities planned: movies, kid-friendly activities at the base area, and skating. What better way to tire out your kids and enjoy some time by a fire taking in your own après fun?
To top off the Christmas activities, KHR also has a family-friendly night planned for New Year's Eve. "There will be loads of fun with a glow stick parade, torchlight parade and fireworks display to bring in the New Year," says Mosteller.
If you're planning a trip with friends, sans kids, KHR has dialed in some awesome events sure to please your powder and après palate. Not only does the resort boast some of the best terrain around with snow conditions being all-time high so far this season, they also know how to throw a party.
For New Year's Eve, KHR has lined up a fun night at Eagle's Eye Restaurant on top of the mountain — literally, the highest dining experience around. Mosteller advises to plan ahead as "there are a limited number of tickets available with the cost TBD, so contact guest services to book [1-866-ski-kick]."
While Kicking Horse is sure to leave you wanting more, the resort has a locked and loaded events schedule to entice you to return.
For more stories on Kicking Horse, click here.
Three events not to miss in the new year:
1. The Helly Hansen Big Mountain Battle is going down. "This is an RCR signature event," says Mosteller "It's a great way to challenge the incredible terrain at KHR and it's open to everyone looking to have fun skiing with friends."
2. The Dogtooth Dash, the North American Ski Mountaineering Championships, is happening Jan 24. "It features the best mountaineers in Canada, the U.S. and some from Europe," says Mosteller. "This events involves hike, ski and skin components, on a course that involves all four alpine bowls." 
3. Wrangle the Chute, March 27-28 is "the ultimate freeski and ride showdown - an industry favourite," says Mosteller. "This event hosts top skiers and riders challenging KHR terrain, and happens in an area where it's a perfect viewing zone, with a beer garden and barbecue on site." Sounds like there will be some sweet goggle tans after that weekend.