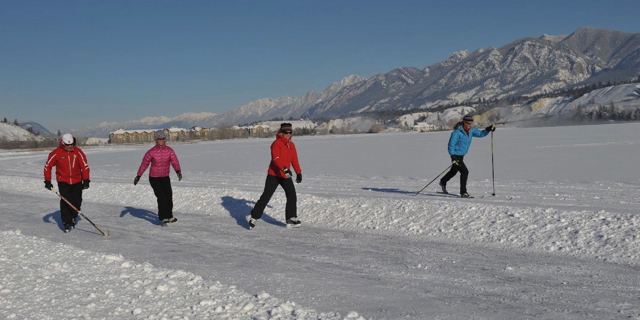 There are more than 20 kilometres of continuous ice trails on Lake Windermere.
Photo courtesy of www.invermerepanorama.com
KIM GRAY
INVERMERE, B.C. – This is a town that has it all going on. An energetic, small-town vibe. A growing community of unique proprietor-run restaurants, art galleries and trendy clothing shops. It all adds up to vibrant hub from which to experience one of B.C.'s most awesome outdoor winter playgrounds.
There are lots of reasons why Western Canadians flock to Invermere every winter.
"We used to be seen as a service centre for the local school, fire department and hospital," says town spokesperson Ken Wilder.
"But today, Invermere is a budding destination. Overnight lodging in town has more than tripled over the last five years. We offer a free shuttle service to Panorama Mountain Village and back daily if you're a visiting skier," saysw Wilder. "And, we've got 'Skate the Lake' where people come and skate over 20 kilometres of continuous ice trails on Lake Windermere."
A number of attractions stand out, but here are my top five Invermere picks. I've also embellished them with a few other options if have some extra time to explore this charming little town in the Purcell Mountains.

Accommodations - The Best Western Invermere Inn. Located on main street of Invermere, this recently renovated hotel is not only one of the most comfortable places to hang your hat, but it's also walking distance from pretty well everything (including the yummy Quality Bakery which is just across the street). Other nearby condo rentals/hotels worth considering include Lake Windermere Point and the luxurious Copper Point Resort.

Cafes/Restaurants - The Blue Dog Cafe  has always been my favourite for breakfast and lunch. Not only is the atmosphere cozy but the food is also delicious and nutritious. Bonus? The cafe is situated right next to the coolest shoe store around - Summit Shoes. Gerry's Gelati – owned by the mayor of the District of Invermere, Gerry Taft – is touted as the hottest cafe/gelati bar in town.
Heading out at night? Check out Strands Old House Restaurant, Birchwood Restaurant, or if you're in the mood for family friendly pub fare, Angus McToogles Restaurant and Bar.

Art Galleries - If you find yourself wandering along main street of Invermere and bump into a larger-than-life metal moose sculpture, then you've found The Artym Gallery. Aside from its enthusiastic and knowledgeable staff, the gallery features top quality Canadian art, including irresistible Brazilian soap stone bear carvings by Vance Theoret .  Other equally worthy galleries? Effusion Art Gallery , Pynelogs Gallery and one of the latest kids on the block, Black Star Studios .

Book Store/Curiosity Shop: Searching for a morning newspaper or something interesting to read? Check out Dave's Book Bar - a staple on main street Invermere for what feels like forever and popular with locals and visitors alike. The store – the kind of space you can get lost in for hours – features a terrific book section, quirky gifts and a great selection of art supplies.

Lake Windermere Whiteway or "Skate the Lake" - Deck yourself and your family out in cross-country ski gear, ice skates or skate skis and hit one of Canada's longest continuous ice tracks for some serious winter fun. Accessed via Invermere's Kinsmen Beach entrance, the track runs all the way around Windermere Lake. Great for the exercise, but also for the uber-Canadian photo ops, given the surrounding, snow-capped Purcell Mountains.

Kim Gray is the editor-in-chief and co-founder of the nationally award winning travel site www.toqueandcanoe.com .