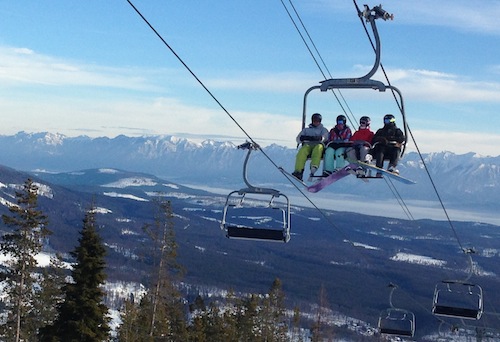 Kimberley's locals hold the secrets for if you're looking for a different day on the slopes.
Photos by Sue Dobler
SUSANNE DOBLER
Skiing and snowboarding a fresh track in deep powder is the most exhilarating feeling us snow seekers get. Here in Kimberley, we receive no shortage of that Purcell champagne powder to play in. At first glance Kimberley Alpine Resort's quaint stature can be a bit deceiving, however, good things do in fact come in small packages and our ski hill has a near perfect mix of terrain for any level of snow slayer.
So where does one head for the best shred after a healthy dump of snow? A Kimberley local's general rule of thumb - keep it on the front side for a wide variety of green and blue groomers or head to the back side for some steep and deep black diamond turf cut and shaped by hard-core skiers. Allow me to elaborate further?
Every day at KAR is like a ?Choose Your Own Adventure?.  Here are a few spots to check out without giving up all the local secrets (wink, wink):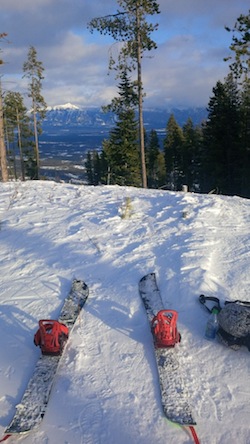 Even splitboards are needed to access some
of Kimberley's slopes.
Adrenaline Junkies
Far left of the Tamarack chair, you?ll find tight tree skiing and snowboarding, arguably some of the best in the region. The Tamarack chair is also your ticket to Rush and Bunker Hill.
If steep moguls get your blood pumping, rip over to the Easter Bowl area for tight and narrow steep chutes and even more tree skiing.
Glade Runners
Getting off the groomed runs and heading into the gladed trees is a tremendous feeling and KAR is the perfect venue to dip into the trees regardless of your experience in them.  On the backside, Geneva and Notre Dame runs are musts.
The forests in Kimberley are littered with old growth moss, a sign of the cleanest air possible. Our tree skiing is good for the body and the mind!
Cruisers
Almost half of our runs accommodate the intermediate skier. If you?re an early bird, the tree-lined Easter Bowl runs are long and fast in the morning. Catch the Tamarack Chair and head over to Black Forest for even more powder and tree runs.
Family Guy
Up with the kiddlets for the day? KAR focuses on being kid friendly and there is more than enough to do both on and off the slopes to keep the little guys busy for hours?days even! The Owl Learning Centre to the right of the quad chair is the best venue for building confidence before heading up the longer green runs.
The great thing about KAR is that there are rarely line ups and often you?ll have free run of the place. Our locals are just as charming as our ski hill. Don?t be hesitant to chat one up and go for a few runs. They?d be happy to show you the secret powder pockets.
Check out the 2014 video for Kimberley Alpine Resort to get pumped! Local favourites, the Good Old Goats provide the soundtrack to this awesome video.
Click here for more about Kimberley's slopes
For the latest deals, snow reports and contests, sign up today to our SnowSeekers e-newsletter.