Silver Star?s spectacular backside offers downhill thrills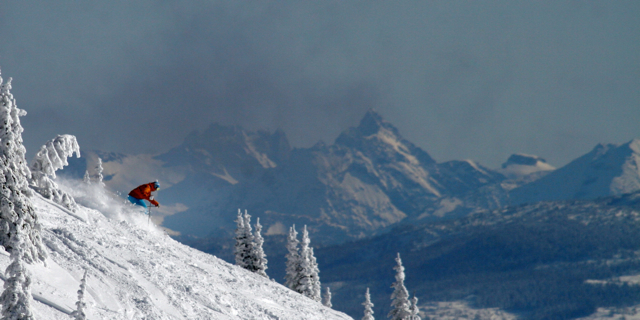 Silver Star's infamous Darkside has 37 steep groomed and mogul black and double black diamond runs.
Photo courtesy of Silver Star
MARK SISSONS
VERNON, BC - ?Gowabunga!? With a rebel yell, the ?Lemmings? point their fat skis downhill and plunge one by one like their namesake suicidal rodents over the edge and into the void. A vertiginous playground of super steep fall lines, monster moguls, abrupt troughs and thigh high, untracked pillowy white stuff, Gowabunga is Silver Star?s most infamous double black ski run. Along with other serious steeps like Headwall, Gong Show, Three Wise Men, Chute 5 and the ominously named Free Fall, it comprises the legendary ?Dark Side? of this otherwise harmless hill in British Columbia.
US friends: With the exchange rate in your favour, why not come and visit your neighbours in the great white north this winter? Explore winter deals and getaway packages at SilverStar Mountain resort.

?This is heli-skiing for the price of a lift ticket,? said Shane Gorrill, a paper mill construction contractor from Chemainus and charter member of this pack of middle-aged powder hounds, who have been skiing some of Western Canada?s gnarliest bumps together for nearly 30 winters.

Fellow Lemming Mike Sullivan, a dentist from Manitoba, who counts Silver Star?s wild backside among his favourite alpine vertical challenges eagerly concurs.
?It?s so amazing and soft, with consistently great fall lines and easy accessibility to double black diamond runs that are just the right length. In a word, amazing,? said Sullivan.
Adrenaline junkie thrill rides
Silver Star Resort is justifiably famous for its champagne powder and varied terrain, which attracts every level of skier and boarder. But it?s the mountain?s backside  ? the extensive Putnam Creek area ? that draws more advanced skiers and boarders looking for serious downhill thrills.  They come to carve fresh first tracks on wide open yet challenging groomed black runs with names like Holy Smokes and Bon Diablo. Some escalate the adventure by daring to dive headfirst into adrenaline junkie thrill rides like Gowabunga.
Need to know
Silver Star Mountain Resort
www.skisilverstar.com
800-663-4431
Getting there
Silver Star is approximately a six-hour drive from Vancouver and Calgary. A shuttle service also operates from Kelowna Airport, about a one hour drive away. vernonairporter.ca

Accommodation
10 hotels and dozens of ski-in/ski-out vacation homes and condos are available for vacation rental on or around the mountain village. Among them is Snowbird Lodge, located at the end of the village, offering 54 richly appointed units with the most stunning views of the mountain. http://winter.skisilverstar.com/my-holiday/accommodations

Dining
14 bistros, restaurants and cafes to choose from. Recommended: Paradise Camp Dinner Tours, the Den Bar and Bistro and the Bulldog Cafe, country cousin of the infamous Amsterdam tokers? den.  http://winter.skisilverstar.com/my-village/restaurants

Snowshoe Safaris
Includes on-mountain shuttle bus, snowshoes, guided tour, and hot apple cider by the bonfire.
http://www.outdoordiscoveries.com
 
?Gowabanga is the first pew of the church of Silver Star,? said Ken Mutcheson, a gas company manager from Winnipeg and the Lemmings? token snowboarder. ?Boarding the backside is a religious experience,? he said grinning like the Grinch who stole Christmas before launching into another kamikaze charge down his favourite run.
Double black side bliss
?People don?t think of Silver Star in the same ranks as hills like Lake Louise, Fernie and Red Mountain,? said Resort Services manager, Robin Baycroft, the next morning over Fresh European-style pastries and Dutch hot chocolate at Bugaboos Café.
?The fact that we?ve long been seen as a family friendly mountain overshadows our tremendous terrain,? he added, pointing to the backside?s 13 double-black-diamond runs, blanketed by over 700 centimetres annually of only the finest champagne powder. Comfortable daytime temperatures average -5 C. Cold enough to keep the snow light and fluffy, yet perfect for skiing.
No end of Nordic options
After testing their mettle on the backside?s steep chutes and pillow lines, many seasoned skiers opt to explore the more than 100 kilometers of Nordic trails that make up the recently combined Silver Star ? Sovereign Lake cross-country ski area. A favourite of Canadian Olympic champions Chandra Crawford and Becky Scott, this world-class circuit regularly hosts national team athletes from around the world as they train and prepare for international competition.   

?We?re the largest groomed trail system in western Canada and second largest in the country,? said Nordic manager Guy Paulsen as we set out to ski Bridal Path, a 4.5 kilometre cross-country circuit. It?s one of several loops easily accessible from Silver Star?s ski-in, ski-out chalets and hotels.

Light snow gently falls as I learn to rhythmically glide through the tranquil pine forest with this former Canadian Powder 8 champion and Nordic worlds medalist. We?re almost within shouting distance of downhill runs, yet engulfed in our own world of pure silence and serenity created by this beautiful thing called winter.

?Nordic offers something that alpine doesn?t,? said Paulsen as he stops for me to catch my breath. ?It?s quiet and peaceful, and can be as therapeutic and as aerobic as you want it to be.? 
Walking through a postcard
Weaving through the 16 kilometres of snowshoe trails that run deep into the snow-clad forests of Silver Star?s lower cross country network is another tranquil alternative to tackling the backside steeps.

?People who?ve been coming here for years for downhill skiing will finally try a snowshoe tour and tell me they never dreamed this is what the forest looks like on the inside,? said guide and resident naturalist Roseanne Van Ee as she leads me on my first ever snowshoe safari.

As we break trail through occasionally waist deep snow down a forest slope intersected by a creek, Van Ee, who operates a local snowshoe guiding operation called Outdoor Discoveries, demonstrates mountaineering techniques like glissading (descending a steep slope via a controlled slide).  Sliding down a steep slope on her behind, plowing through piles of snow, she lets out a ?whoop? of unbridled glee.  
?People tell me snowshoeing here is like walking through a postcard,? Van Ee said at the bottom, shaking snowflakes from her unruly mane of curly brown hair. ?And you don?t have to change our environment to enjoy it. You can just walk right on top of the snow and not have to make trails or anything. That?s real ecotourism." 

Ducking under powder heavy branches, zig-zagging through marshmallowy snow while gazing up at snow ghosts ? snow encrusted pines that resemble giant vanilla ice cream cones ? I quickly appreciate what my guide means. Seeing the forest from the inside out rather than as merely a downhill backdrop feeds my soul in whole new ways as the late December afternoon sun begins to set over the ?Dark Side? of Silver Star, where the Lemmings are no doubt making one last gonzo Gowabunga run. 
For more stories on Silver Star Mountain Resort, click here.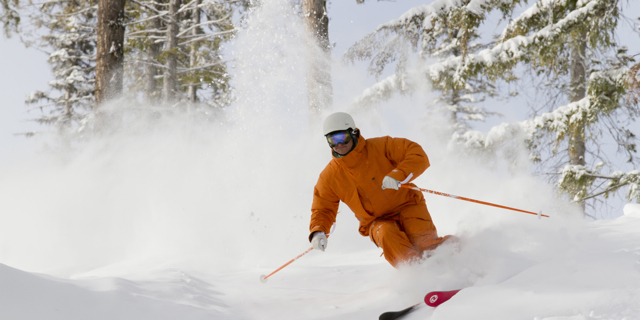 Silver Star's Darkside tends to attract advance skiers and boarders.
Photo courtesy of Kristen Heard 
For the latest deals, snow reports and contests, sign up today to our SnowSeekers e-newsletter.