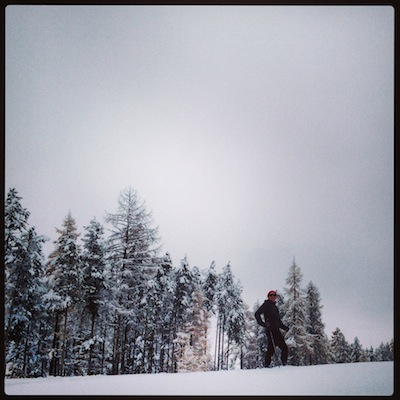 Kimberley's Nordic trails are great for all levels of ability.
Photos courtesy Susanne Dobler
SUSANNE DOBLER
Recently my dear sister registered me to participate in the 2014 Cookie Race, Foothills Nordic Ski Club's flagship event, the Kananaskis Ski Marathon.  An avid winter enthusiast and a lover of the downhill shred, I happily obliged. Here comes the kicker…I have never cross-country skied before.
Enter my saving grace, the Kimberley Nordic Center. Located adjacent to the Kimberley Alpine Ski Resort, this facility offers over 40 kms of snow-cat groomed trails. And like most things in Kimberley, the pace is chill and the crowds are minimal.
The terrain of the trails offers a wide variety of degrees of difficulty; it's the perfect venue for cross-country skiers at all levels.
Cross-country skiing, by definition is a form of ski touring in which participants propel themselves across snow-covered terrain using skis and poles. And propel we do, the double track, single track and a center skating lane are groomed every Monday, Wednesday and Friday. The bushwhacker in you might enjoy the narrow single track, but keep yours eyes open for moose on the trails!
The recent dump of powder has been a great incentive for me to get out and put some mileage on my skis. My favourite has been utilizing the two-mile (3.3 kilometer) long loop that is lit every night for night skiing. There really is nothing more serene than skiing by the light of the moon.
The history of this place is pretty cool too. Recreational cross-country skiing was a big part of the town for several decades on the mining exploration trails at the base of North Star Mountain, before the initial Nordic trail (Centennial) was constructed.
Over the years the trail system has expanded to become a first class facility us locals have the privilege to enjoy daily.
The Nordic Center also provides a gateway for touring and snowshoeing in neighboring Kimberley Nature Park or onto well-used trails in the surrounding crown forestlands. Bonus!
My Nordic experience to date has been rewarding both physically and mentally. These trails are a must, the perfect intro to outdoor winter fun.
See you at the podium people!
Have you used Kimberley's Nordic trails before? Tell us about your experience in the comments below!
For the latest deals, snow reports and contests, sign up today to our SnowSeekers e-newsletter.