Epic adventures await.
All photos by Cameron Bell
CAMERON BELL
 ?No celebrating until we see Prince Rupert,? read Alan's message.
We had already delayed our trip once, and tomorrow's forecast called for significant swells in the Hecate Strait. With an eight hour ferry crossing from our home on Haida Gwaii, to the mainland, it?s always an epic adventure. But this time, we were in search of that fresh powder that would be dumped on the mountains by those storms we were following.
It was the voice of a BC Ferries employee crackling over the speaker that pulled us from our bunks on the ferry. It was morning and we?d docked at Prince Rupert where snow-capped peaks backed by a cloudless sky surrounded us. It was time to look for breakfast and our rental car and make our way to Shames Mountain Resort - a 90 minute drive through a transition of topography only seen on the west coast.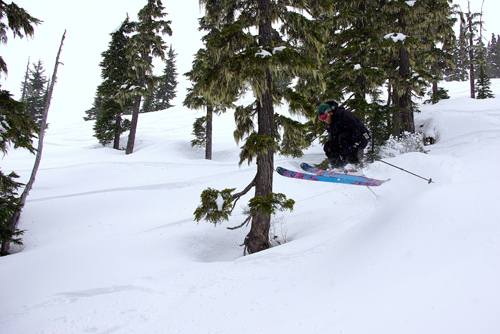 Shames is home to some incredible skiing.
The steep mountainsides along the Skeena River transitioned from snowy ridges down to deep green forests, and into the waters where oolichan (small smelt fish) were migrating upstream. Followed by hungry sea lions, gulls, and eagles, this annual run is a sign of spring to come, but winter hadn't left us yet.
The road up to Shames is surrounded by steep alpine terrain ? some ski-able, and some scary. Owned by a co-op, the resort provides for every level of downhiller and backcountry skier imaginable. We headed straight to the T-bar to do some glade laps, searching for fresh snow amidst the trees. It felt exhilarating and familiar to finally play in the snow. The powder was exceptional. We loved the challenge of finding features and fall lines hidden under it all.
With March's mild temperatures, every metre of elevation made a difference, so Mike and I grabbed our touring gear while Mait and Alan continued conquering black diamonds. The manager of the resort had suggested some backcountry to experience so we began the trek.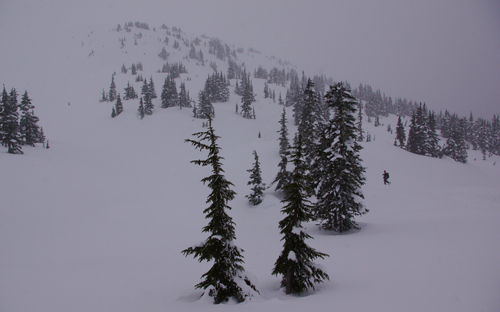 Enjoy the thrill of backcountry skiing and boarding.
Low clouds rolled in and obscured the mountain vista, leaving only Mike, myself, and a skin track to follow. I savoured the solitude of the alpine environment, searching for the boundary between snow and sky as we climbed. We found a fresh route and dropped into the steep, deep slopes of the ?Fay-zurs.? As we descended through the trees we made our way to the creek and crossed it to get back to the marked trails.
?Three fifty six!? I said as we emerged from the trees. We raced back to the base for the last chair and cruised a soft groomer back to the lodge as ski patrollers swept the runs for stragglers and the lifties closed things down for the day.
We filled our growlers at Terrace's bustling Sherwood Mountain Brewery and made the 2-hour drive to Smithers for the night. A quick sauna and hot-tub soak helped soothe our sore muscles before heading downtown. The small-town nightlife of Smithers kept us entertained long enough to delay Saturday's start, but we were happy to see some fresh tracks still available.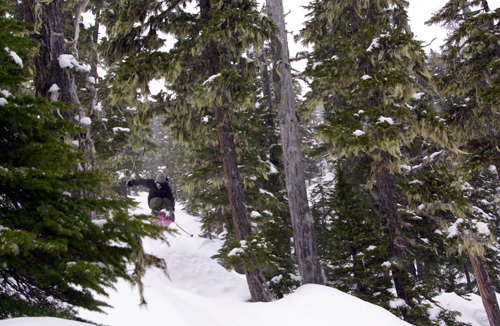 Getting in some awesome glade skiing.
An old friend who now calls Hudson Bay Mountain his home hill showed us the sweet new glades of ?Name that Run? to get the day started. With cold fresh snow across the slopes and a sunny forecast for Sunday, we decided to stay another night in Smithers only a short drive from the base. Plus, we found out a local heli company offers rides to the top of the resort for forty bucks. A quick phone call we were committed to an early morning flight.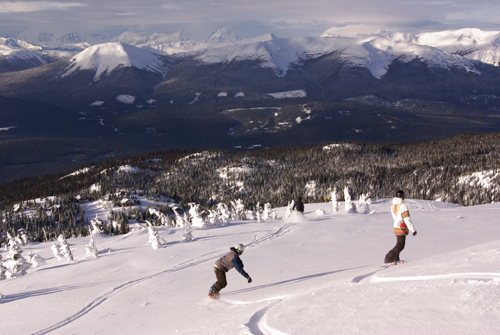 Wide open, powder filled mountains await.
The chopper lifted above a blanket of fog, emerging into the sunshine with brilliant white mountains on either side. In smooth, sweeping curves the pilot took us around the shoulder of the mountain and up a gully to the alpine some two hundred metres above the top of the groomed runs. The aerial approach provided a new perspective to experience and appreciate the scenic Bulkley watershed. We laid fresh tracks from the peak before the lifts brought the first of the regular crowd to the top. We spent the rest of the day finding fresh pockets of powder but could always see our freshies from the summit.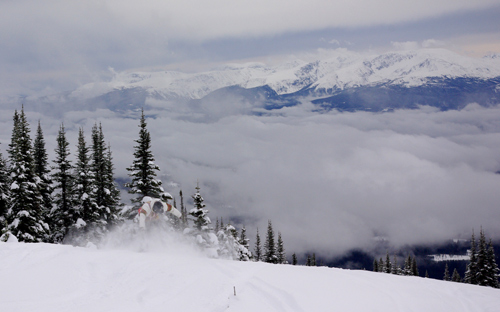 Hudsons Bay is one of British Columbia's best kept secrets.
?Tonight we go back to the land of blooming flowers,? said Mait on our last chair ride of the afternoon. It felt surreal to transition into and out of a deep winter environment in such a short period of time. We finished the adventure on the easy 4 km trail to town and loaded the car to return to Prince Rupert. Of course we stopped for more beer and a solid dinner. It was going to be another 8-hour ferry ride back to Haida Gwaii - but worth it. We were exhausted but satisfied; we sought snow, and we got snow.
If you go:
Check out the official Shames Mountain Resort website at http://www.ski-shames.ca/
Ski on over to the official Hudson Bay Mountain website while you're at it: http://www.hudsonbaymountain.com/index.html
Like this story? Share it with your friends and get adventuring!
With an average annual snowfall of 480 inches (1200 cm), Shames Mountain is a powder hounds happy place. Only 35 kilometers from Terrace B.C., it offers 28 runs and plenty of access to backcountry bliss. Planning a weekend get-away is easy with five flights arriving daily from Vancouver on Hawkair or other choices from Air Canada. Rent a car at the airport using the #SkiNorthBC discount campaign then toss the bags in a welcoming room at a local inn or lodge then hit the powder.
If you go
Visit the official Terrace website to learn more about the region http://www.visitterrace.com/stage.php/events/activities
Check out the conditions at Shames Mountain here http://mymountaincoop.ca
Fly into Terrace via Air Canada and Hawkair with daily non-stop daily service: http://www.yxt.ca
For all your Travel Northern BC details, the folks from Northern BC Tourism can help make the planning process smooth. http://www.travelnbc.com
#SkiNorthBC and explore more. SnowSeekers has partnered with National Car rental to secure you a SnowSeekers preferred rate. Make a reservation online, or with an agent and in the Contract field enter XVC4SNO for a savings that could cover your ski pass cost every day.